The other morning I put up a photo of my kitchen before dawn; it was very dimly lit and a couple of you asked questions about the pots and pans hanging over my sink.  Perfect timing, because I was planning to tell you about some of my favorite kitchen things; so we can start with this!
Almost every house I've ever lived in has had something in common.  Cupboards on both sides of the sink, with a window in between.  Is yours like that?  It can be very handy!
Lots of people hang their pots and pans over a kitchen island, but my houses never seem to come with one!  This turned out to be such a great way of getting all my pots and pans out of my cupboards, where they were stacked all on top of each other, falling out every time I needed one, and clattering all over the floor.  Now my frying pans are within easy reach, and my cabinets are free for pie plates, cake pans,  baking dishes, cooling racks, and cupcake pans.
 If you need some kitchen-cupboard space, and you have this setup with the cabinets on both sides of your sink, you might want to try it.  It's pretty easy; how you do it depends on your house; I have a high ceiling in my kitchen so I needed to have that little board made to screw the hooks into to get the handles of my pans down low enough so I can reach them (very important to measure for that :-)).  In my last house, the ceiling was lower, so I just screwed a finished-to-match-my-cupboards board to the ceiling and that's where I put the hooks.
One of the things I love about it, besides the pure handiness, is that when I hang my basket strainers after washing, they drip right into the sink.  Brilliant!
Which brings me to one of my favorite kitchen "gadgets."  I've used these basket strainers in my kitchens forever . . . they're so useful, I have two.  If I had three sinks, I would have three.  (BTW, Don't you love the heart-shaped sink stopper?  It cheers me up to look down there and see that!  That's a chicken in the other sink; they have all kinds.  I got them at my favorite kitchen shop here on the island —  btw, they also sell the most delicious aged balsamic vinegar I've ever tasted!  You may trust me, sight unseen, it is pure heaven.  Plus (I keep thinking of other things), the orange olive oil; fingers to lips, muah, delicious!  They do ship (508-693-0030).  Maybe you need a small pre-holiday pick-me-up in the form of a kitchen-care basket?
Anyway, the strainers are so big, they hang comfortably on both sides of the sink, leaving room underneath for a large pot, so I can just hang the basket over it to strain it completely! Perfect when making chicken stock, excellent for pasta!
And just the thing for washing and air-drying fruit and vegetables.  And by the way,
(Just thought I would throw that in! You know it's true!)  The more into cooking I got, the more I learned I could live without lots of kitchen gadgets . . . I've managed to get through life without a bagel slicer or a garlic peeler —  I'm amazed at what I see at yard sales:  battery-powered flour sifters, egg crackers (I mean, really!), pickle pickers, sectioned pie slicers, and even a Hello Kitty toaster!  I guess these must have been gifts!   But there are some kitchen things I just couldn't, and wouldn't want to, live without.  They seem so unimportant, but for me, they've been true bang for the buck.
This is one of them.  Silly thing. It's a scraper.  But it's a scooper too.  Mine is really old, I've had it a long time.  Now they make much prettier ones, here's an $8 one made from slate!
But pretty or not, its usefulness makes it beautiful to me!
Using the scraper and my other hand for scooping, I can transfer large amounts of chopped vegetables and herbs from the cutting board to the soup pot, much more than just with my two hands alone, plus they don't fall all over the floor. That's good, right?  But that's not all.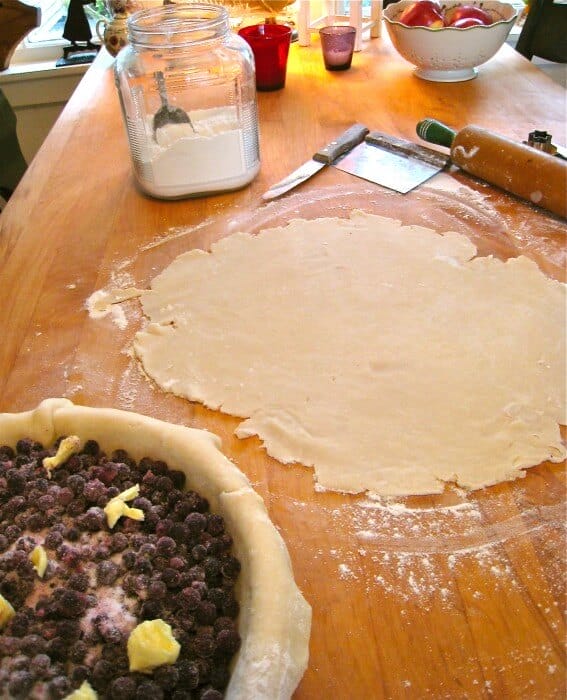 See my scraper up there near the rolling pin?  When I'm all done rolling out this pie crust, my table has bits of dough stuck to it like cement, and about as hard to get off; I scrape the table with my handy little tool, and it's all gone in a flash. It does make me very happy.  Yes, it's the little things in life.
I came out totally against electrocution the first time I heard of it.  I can't tell you how often I've seen Joe put a fork in the toaster; it always gives me heart failure.  Wooden tongs; I love them.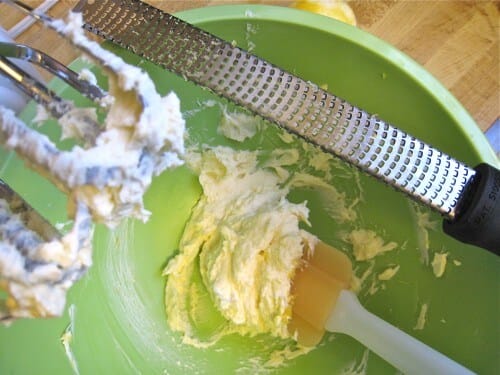 These new (ish) microplane zesters are unbelievable; if you don't have one yet, you don't know what you're missing.  Old-style zesting, which, for me, always included bits of stray knuckle, is over if you have one of these.  Just drag this zester across a lemon or lime, and the peel jumps off the fruit in thin strips, gathering in the top of the grater, and leaving the bitter white part far behind, where it belongs.  They come in different sizes, for me it doesn't matter which size I've gotten, I like them all.
What else?  Oh, this:
I've tried so many different tea balls, and still have these favorites hanging in my kitchen. They managed to stick around for various reasons.  The duck is good if I'm bringing tea to a guest who's having a hard time getting out of bed.  I found the Victorian silver one in the back at a flea market in England; it has wonderful dents in it, as if a baby played with it.  And was fun to paint!  But for pure
workability for any size teapot, including my really big ones, this stainless steel mesh ball is my favorite.  It has a twist lock on it, so no little breakable parts. It allows loose tea to float so all the flavor comes through; plus, there's room for the tea to expand.  It also works for herbs and spices as a bouquet garni for flavoring stocks and sauces.
My favorite kitchen shop is also where I got these wonderful deep bowls, all sizes, all great colors, lightweight, perfect for all the holiday baking we're about to do!  *And those are a few of my favorite kitchen things.*  Now I would love to know what your favorites are; every time we get together to talk, I always learn something new! ♥
I think I know what Patricia Wehner's favorite kitchen thing is right now . . . She was the lucky winner of our vintage recipe box — she received it and wrote us to say the cutest things:
Oh My Goodness – I got home from Dallas last night and opened my box and joy and happiness jumped out all over my lap and into my heart!!  I took out every precious paper, every precious little surprise tucked in here and there and every precious recipe.  My childhood jumped out of my heart and into that box and happiness spread everywhere!!!!  I love every bit of it and can't wait to get home and go through it all over again J  Thank you so much for making my fall!!!  Please tell all the girlfriends I will try to send a picture of it (being held tightly in my hands) so they can see it.  I can't wait to add to it and put it in my kitchen.  I am getting ready to move, and it will be riding in the car with me, NOT packed in a box on a van! Give your kitty a big hug for me – furry children are the preciousness of our days.
That was so much fun Patricia,
And thank all of you for your wonderful comments and stories, that was so much fun!!! And, now, for your reward, speaking of "furry preciousness," because I know what you really came here for today; you want your reward for sitting through Kitchen 101, right?  And maybe a little recognition for being the adorable people you are?  Oui?  OK.  Jack.  Need I say more, but why should I when a picture is worth a thousand words:
If you don't hear from me, you know who you can blame. 🙂  Pure cuteness, sweetness, and kitty kisses in the neck are just irresistible.  Girl Kitty is fine too, sweet as ever, but I think she thinks if she pretends there is no Jack, he will disappear.  ♥  Have a wonderful day!!!