A few moments in time, I thought you might like to see, caught by the camera lens, of our Thanksgiving 2011.  ♥  
The table's waiting, anticipating, Music's playing
Most of our lovely guests are still at home, preparing to be fascinating . . . ♥
A bouquet of alstroemeria is cheering the guest room; for our friends Rachel and Paul who came all the way from England to have Thanksgiving with us. ♥
More flowers are blooming in the living room.  The clock is tick-tick-ticking on the mantle.  And, finally it's time to get down to the business of . . .
Time to sprinkle the sugar over the cranberries and roast them at 350° until they are properly tart and bubbling. (The British language is rubbing off on me!! 🙂 "Properly," such a good word!  Now, say "tart" without the "r" — Tawt.  Uh-oh, I feel a kicking burrrd coming on.)
Time to taste my grandma's stuffing; more sage?  More salt?  More butter?  Where's my dad when I need him!!!?  Time to stuff the turkey!
Time to harvest pomegranate seeds for the salad (unless you live close to a Trader Joe's, who sells them in containers, all harvested and ready to go!).
And just about NOW in the proceedings is when we learn that our dishwasher is no longer working.  Doesn't turn on.  Joe looked at it, checked fuses; I did my part, I kicked it; nothing.  There was life before dishwashers, we assure ourselves.  Onward and upward.
Besides, Little Women is on TV making the perfect background noise, what more could we ask for?
Time to pour off the roasted turkey juices to make the gravy.
Light the candles, pour the wine . . .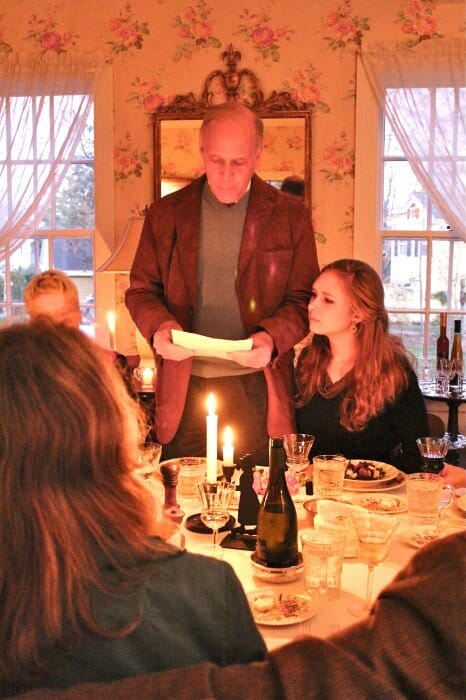 And read a beautiful poem that makes everyone cry; we toast Gerry and thank him; we toast each other and our friendships; count our blessings out loud; remember times gone by, thinking of our moms and dads, brothers and sisters, our grandmas and grandpas that can't be with us today . . . we are so grateful . . . for all of it, for what has gone by and for what is still to come . . . "touching hands . . . "
Then it was, "Please pass the cranberry sauce.  Did everyone get mashed potatoes?Johnny, could you pass the gravy please?  White meat or dark meat?; oops, forgot the rolls  . . ."   "Mmmmm," we are saying, "Anna, your potatoes are wonderful!!!"  "Joe, the turkey is so moist!" Fork and knife noises; spinach/apple/bacon/pomegrante-seed-salad scooping; gravy puddles forming; then spooning pumpkin flan and gingerbread cake onto dessert plates, coffee stirring noises . . . more toasting, pouring wine . . . "it's not what's on the table that matters, it's what's on the chairs," we are so wonderfully reminded, that we have fabulous chair material. ♥
After dinner, we put another log on the fire, Paul tells British turkey jokes while I play with Jack and an ostrich feather, on the giant scratching post Joe made for him  . . .
And Martha and her daughter Anna began to sing . . .
Our talented friends brought their violin and accordion; Rachel and Paul did a darling duet for us, Martha played the piano and we all sang along.  Jack and I were in charge of kitty acrobatics.  We laughed until we cried, taking turns, telling stories about our childhood escapades; the glee we felt, the delicious anticipation, when hiding in closets preparing to scare the bejeebers out of siblings; the glee they must have felt, the delicious anticipation, when siblings obnoxiously burst out of our own closets.♥
In the book Little Women, and in the Autobiography of Mark Twain, and all the Jane Austen novels, I learned that before there was recorded music, before radio and TV, people made their own entertainment.  They put on plays and played the piano and sang for one another (for better or for worse :-)).  TV, especially, took away a lot of that charm; we're so used to being entertained, we forget that we also know how to be entertainers ourselves.  We do have to be brave to recite a poem or make a toast, or sing a song, or put on a skit. But it's such a gift to everyone and so worth it. It gave us good reason to linger around the fire after dinner, making the evening last longer, and providing the perfect inevitable ending to a wonderful Thanksgiving: gratitude galore. ♥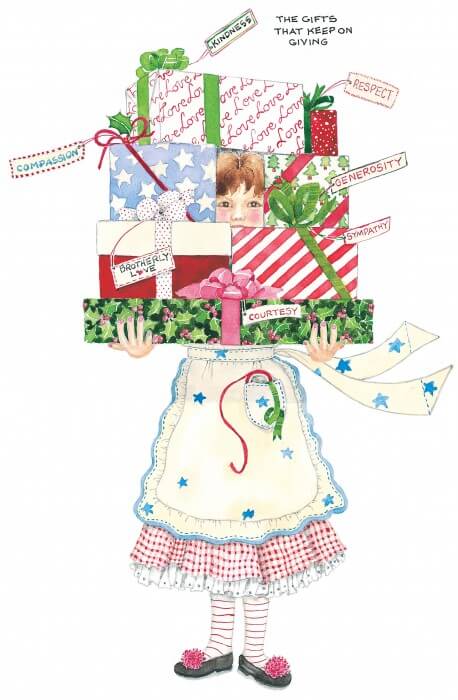 Even after everyone put on their coats, kissed and hugged us goodbye, and walked out into the cold starry night, the party didn't end; Rachel, Paul, Joe and I danced while we blew out the candles, washed and dried the dishes, put a load of napkins in to wash and spread a clean damask cloth on the table. ♥
Yesterday, we woke to a sunny, clear day.  We shopped the little stores on Main Street and did our job as elves to help spread Holiday Cheer.  We wandered through town, wrapped in our scarves and jackets, had a delicious lunch overlooking Edgartown harbor and the lighthouse, browsed in the used bookstore drinking hot cups of cider, and on the way home, we jumped out of the car at Bend-in-the-Road Beach to take photographs of the gorgeous sky that had lit on fire as the sun was going down.
I took pictures of Paul taking pictures . . .
Then I had to have this moment in time for myself.  Another "little thing" to be grateful for.
While I write this, taking many kitty breaks because I'm "in demand" around here, Rachel and Joe are upstairs, still asleep. Paul bundled up and went out the door a few minutes ago; he's riding the ferry over to Woods Hole and coming straight back this morning, not even getting off the boat on the Mainland; he just wants to take photographs of the sun coming up. When he gets back, we'll all walk out to the pond and be grateful because it's Saturday; we still have this last day together before we all have to go back to real life. ♥
Wishing you all a wonderful weekend.  Hope your Thanksgiving was great, that the leftovers are still going strong and that you're doing lots of elf-like things today! ♥ Your comments have been wonderful — Love reading them!!  Thank you! XOXO