Standing on our little balcony, with the wind and the clouds and the sun sparkling on the water, is awe inspiring and frightening.  What's between me and this endless view?  One really good gust of wind!  To describe it, I need words much deeper than "vast" although vast is true.  But others would be, infinity, desolation, natural wonder, loneliness; the power of Nature; these words still sound small compared to what we're seeing here; nothing stands between us and it, but this little ship bobbing incongruously on top of the swells.  Us looking out to sea and only God in the heavens looking back.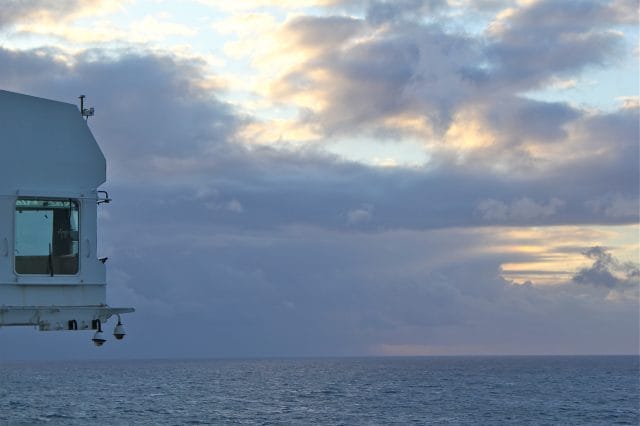 If you ever need to put yourself in your place, this is a good spot to do it.  We are SO not in charge.  What an amazing planet!  I took this photograph just before sunrise from our balcony.  I have videos too, which I can't wait to show you, but too much bandwidth is required for them from the ship; we'll have to wait until we're back on land. In them you will get to hear the wind, and see the movement of the ship on the water!
 And the ship isn't really all that small, but it sure feels that way in the immensity around us.  Here's the hallway outside our room.  I guess the reason people come away on vacation is to shake things up a bit; our little every day world and schedules are challenged, we don't have quite the control over our environment as we generally think we do!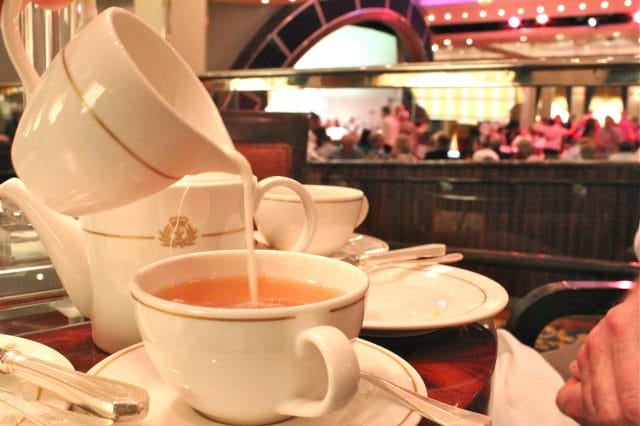 So we make up for it with tea and dancing every day in the Queen's Room at 4 pm!  As sweet salve to the travelers' souls, we get this kind of beauty. The orchestra plays Cole Porter and we are served cucumber sandwiches, radish slices on buttered peppered bread, smoked minced ham with mayonnaise, and egg salad; soft, powdered sugar scones with jam and clotted cream, and tiny cream puffs and napoleons.  Yesterday we sat with a darling young couple from Germany; heard all about their lives, their home in Hamburg (it sounds beautiful there!).  He travels to China all the time, for his business as a designer of LED lighting; they own a 19th century manor house in Hamburg that they rent out for weddings and anniversary parties.  So interesting to hear about the politics and cultures of other countries, not filtered through news media.  Yesterday, the Scottish couple we sat with, the husband was a policeman; although he looked to be about fifteen, tall, thin, blonde, wearing a blue checked shirt, and not a bit like a policeman; and his wife, darling in a cream colored shawl and top to match, was a water tester for their city.  They were both born and raised in Inverness; they met because she was his little sister's best friend.  In the evening our table partners are a British country doctor (who does watercolors) and his wife, who's lived all over the world and has stories to go with it.  We are not in Kansas anymore dearest Toto.
Four times I have done this post and four times it has disappeared.  As I said, I don't have quite the control over things as I do at home!  I got smart this last time, copied it first.  So when it disappeared, I just pasted it back up.  I'm going to now try to go directly to post.  Say a little prayer that it goes through.  Loving your comments, you funny girls. ♥ You are my anchor to reality! xoxo