Good thing we aren't in the north!  I just love that they say "sharp showers!" The first thing you see when you get up in the morning, if you turn on the TV is the time — which was 5:01 this morning (sleeping in) and then, LG (a brand name I guess), then the words "Life is Good" come up.  What a nice thing to wake up to!!
Yesterday we took our first walk. Headed between those buildings (about a block from our apartment) toward the church you can see in the back. Behind every small town in England are fields and fields, private farms that allow public walkways and there are a jillion winding grassy (muddy) paths, through gates and over fences, criss-crossing this country that have been used forever and ever.
Through the churchyard we went . . .
Can you imagine building this in 1180?  They did!  Read Pillars of the Earth (Ken Follet) if you'd like to hear about it!  Fascinating fun book!
Past the Vicarage we went …. although I have never met a Vicar (in person) and it was tempting to go up this driveway.  If you'd like to "meet" a Vicar (the only way I have), read any Barbara Pym book, which you would like Vicar or no Vicar.
 But we kept going, hitting the outskirts of town, walking past the train station.  Bluebells are everywhere, they are almost a weed here, isn't that just the luckiest thing?
And so here we go . . . just a little bit green . . . due to all the sharp showers they've had around here.  There were tons of wildflowers . . . the air is perfumed with deep grass smell, Queen Anne's Lace (called Cow Parsley here), bluebells, buttercups, and daisies.
Joe going through a "Kissing Gate" . . . the fences and gates keep the lambs and cows inside, allows the people go through . . . kissing is supposed to take place over the fence! My BFF Rachel is here, she stayed the night with us, she is British and she says it is so.  So it must be so. "Any excuse to snatch a kiss," she says.
Over the river and through the woods, there are rushing little streams everywhere, and little old bridges that span them . . . It's amazing all this nice infrastructure for walking enjoyment!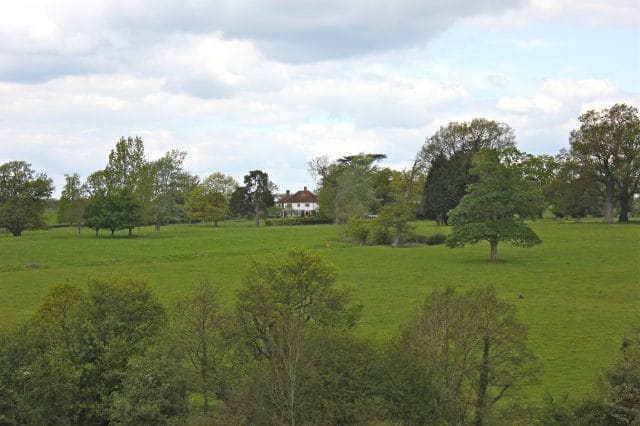 Across the fields, I spotted my new favorite house in England (there will very likely be at least one of these a day!).  What must it be like to wake up to the birds every day in this house?  The Wood Pigeons that peep "My-toe-hurts-Betty."  (Say this singingish, in a high Queen-Elizabeth-voice with a little slurring, for perfect pigeon noise.)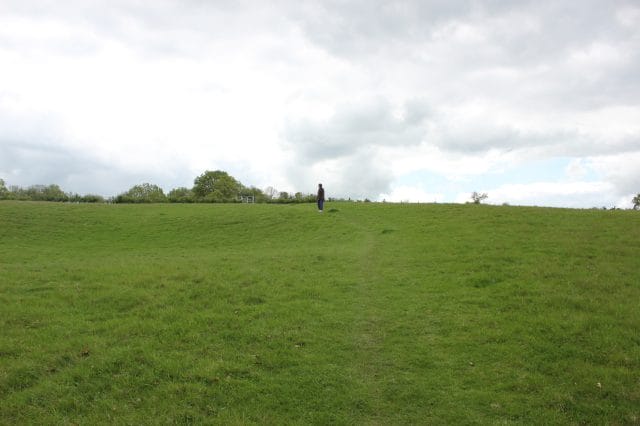 Up and over hills, it was so beautiful out there . . . and this is what we will be doing, day after day, the entire time we are here.
Time to go back to town, back through the old graveyard we go . . .
Because it was time to go meet our dear friend Rachel at the White Lion Pub for Sunday Roast — they have a special Sunday dinner in English pubs, roast beef or roast Pork, or roast chicken with Yorkshire Pudding, Mashed Potatoes and all the trimmings.
It was the perfect day, our long walk through history, a lovely late lunch, and as shadows get longer, we're heading "home" for a long evening of talking, knitting, and getting a refresher course from Rachel on what things mean, how things work, why this and why that.  She is our invaluable friend and brilliant interpreter of all things English.  Today we're off to gardens, along the narrow dodgy roads; is everyone ready?  Fresh batteries in the camera? Bring your raincoat, those sharp showers may sneak up on us!  Here we go!   XOXO