Right now, we're watching the Chelsea Flower Show on BBC  — I LOVE this show!  It's only on for a week each year, while the show is taking place in London.  It's the perfect thing to watch when you're on vacation!  Musica? (Inspired by the last photo of this post.)
They tour display gardens at the show, in detail, they talk about different types of gardens, about fences, paths and topiary, about water features and how to attract animals and insects to your garden — and they take us to visit wonderful gardens in other parts of the country; they show what creative things you can do in small spaces↓
. . . no space is too small to squeeze in a wonderful garden here!  And they show flowers that get you so excited, you have to run and get your pen and write down the name of them …  angelica with the purple leaf for example, I just wrote it down, it looks wonderful for a contrast plant; and they just showed a tiny hosta called "cracker crumbs!"  How can you not want something with that name!  The person they are interviewing now loves the same kind of garden I love, the natural garden of the Kent countryside.  Very hard to beat for plain and simple beauty.
  How can you not fall in love with a country that adores gardens so much that they arrange events and TV shows around them?  Or a country that has a four o'clock tea as a regular thing and stocks its outdoor tea rooms like this:
How can you not love it!  All the doors and windows are open here in our flat tonight (see how English I've gotten?  I used to call this place an apartment back in the old days); it's a beautiful evening here, the sky is pink, the sun is just about to go down.  Laughter drifts up to us from the outdoor cafe on the corner.  We have the last load of laundry drying outside on the line.   Joe is making lamb chops in the kitchen, gardens are on TV and I'm writing you!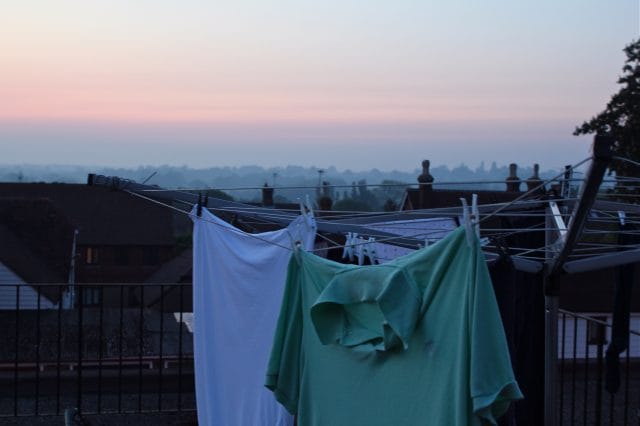 We're almost all packed … yes, boo hoo, it's already time for us to move on!  Two weeks gone in the blink of an eye!  Boo hoo because I want time to slow down, but I'm not really crying since we are going to our friends Rachel and Paul's house tomorrow morning (here they are, at our house on the island . . .)
aren't they adorable? (They're happy because they know they get to come back here!) . . . We're all taking the train together to London tomorrow night!  We're staying in London for two days, in a lovely hotel that has ROOM SERVICE, we're going to wander through Marylebone and Soho, doing whatever thing Ray and Paul want to, then we'll all be training back in time for Sunday dinner with Ray's mum and dad at their farm.  We'll visit with Ray and Paul a bit more, and then, slowly, we begin gravitating north, back to the beautiful countryside . . .
towards Beatrix Potter's Hilltop Farm (!!!!!) (that's it in the photo), stopping along the way to visit the Emma Bridgewater factory, to the amazing castle called Chatsworth, and lots of other smaller homes and gardens, many more walks in the country.  Plenty to look forward to from here!  But time, please, slow down!
 Oh it's a miracle alright!  I'm sure you can all see it is!  And even though I can't possibly keep up with every second of our day in these posts, I'm having fun writing about it all in the diary which I can take with me no matter where we are!  We took another walk through the woods today, our last in Tenterden before we go!  But right now, I'm just writing to wave bye bye.  Hopefully the computer will work where we next land . . . I will be checking in!  Do not lose faith!
 Later . . .  now it's this morning, just dawn; there's the cooing of wood pigeons outside the open French doors here on the quiet High Street.  Just me, pigeons, tea and you.  I'll leave you with one of my favorite photos so far; this is a bench just outside, below our French door
windows. I love English people, they do know how to make a picnic anywhere.  You see families, couples, and singletons, plopped down, way out on a lawn some where, everywhere you look.  These two are living the good life; she has her candy bar; they each have something to read; they have a thermos between them; they're dappled in spring sunshine; they're in a place for good people-watching; it's meandering at its best; the perfect way to slow down time!  (Look at his little socks!) Despite everything written about love, to me, this is what it looks like! ♥ I have to add, I have also enjoyed moments like this, alone, with a sandwich and a good book, on a bench, in nowhere'sville, and that feels a little bit like love too.
 The other thing, women wear skirts here, young and old, another thing I love.  I bought a skirt yesterday, in honor of the cuteness of English people!  Now I close my little window to the world, and pack up, and off we go …. Bye girlfriends, have a wonderful day!  Those of you coming along, better get in the car!  Suck in!  XOXO