When you come here, you have to remember not to plan your days too completely so you leave room for discovery.  We were reminded again about how wonderful that can be when we launched off yesterday "to take a walk."  For exercise.  We left the house around 9 am — thought we'd walk for about an hour, but didn't get back until 4:30!  Nothing was planned, just an accidental adventure which we find happens all the time around here if we let it!  Come with us!  Enjoy some gloriosity to go with it!
Connecting all the towns in England are ancient public footpaths that go from village to village, crossing through fields of wildflowers, into woods, through gates, near lakes and rivers, over bridges, across farmland and cow pastures, even through neighborhoods.  That's one of them, above . . . these are footpaths that people have used since the beginning of time (there have only been vehicles for the last hundred years; people have walked here, to trade, to travel, to farm, to visit, for many centuries). The paths are well-marked on any map (we got our map here at the bookstore) … you just follow the signs and see where they lead you.  Are you ready to go?  Within just a few blocks of our flat, we followed the path, through a kind of gate (called a stile), and ended up here . . .
Taking these walks is one of our very favorite things to do in England. The new little lambs are the best . . . at first, it made me a bit nervous walking this close to sheep (and especially when we got close to huge cows) — I'm not used to it!  But they just watch us with big eyes and seem to have no inclination to attack.  The lambs are so adorable!
Here's a shaky video of the darling sheep!
I used Joe's camera on this walk; I think his video settings are a bit different than mine, but I didn't know it until just a few minutes ago!  It will give you an idea of the place, but I'll have to use my own camera next time!
So up the hill we go . . . you can see, there are many places where there is no visible path to follow . . . of course, once all of us tramp through here together, they'll probably be able to see the path from space!
And in other places, our way is very well marked . . .  so beautiful in this wood, with birds flying out of the trees, and little creeks all along the way . . .
The fields are gated like this with "stiles" so the animals can't wander, but there are these wonderful little ladders so we can climb over them.  Plus, this way, no one can forget to close the gate!   We counted fifteen stiles on our way back home.   That yellow arrow is the marker for the path.  You wouldn't want to miss one!
As we were going along, Joe read that there was a small cottage owned by the National Trust in the next town over; built in 1500, it was bought in 1899 by a famous stage actress of the Victorian era named Ellen Terry who lived there for almost thirty years.  The house was in Smallhythe, which was a village only three miles from Tenterden.  Even though we had no idea who Ellen Terry was, we thought, Hmmmm, National Trust … usually means Tea Room!  And bathroom!  I said, "The girlfriends will love it . . . let's go there!"
We missed our yellow marker and got a little lost, but only once!  We are on the wrong side of the river from those cows!  But we're OK, because  . . .
. . . we have the amazing pathfinder, Joe. If it was up to me, a search party would have had to be sent.  Hello big cows.
The girls were all comfortable…there are babies out there too, mostly napping and enjoying the spring sunshine.  (Watch where you walk through here girlfriends!)
Past this beautiful farmhouse with oast houses we go . . .
And over this narrow little bridge … some of the bridges had no sides, but most have a wooden or metal rail…some you have to climb over on both sides and some are half this width!  It occurs to us that we could bring a picnic out here!  Sit in the lovely fragrant grass and watch the lambs play!  Have a nap, read a book, listen to the birds.  Next time!  "Doing nothing" at its very best!  As the saying goes:  "A picnic is a state of mind and can be made anywhere!"
Oooo, up the path to civilization . . . a neighborhood . . . we're almost there . . .
Just one more gate to go over . . . you can do it!
And then, just another block (watch out for the cars!); we're heading for the house next door to the brick church you can see there on the left (is everyone still with us?  I thought I heard a splash back there!  I bet it was Deborah, going for a swim!  Pat, will you please go get her!?)
OH MY; dry off quick any swimmers, because we're here!  This is the cottage called Smallhythe (pron. "Smallhigh-th") Place!  Look at it!!!!  How wonderful!!!  Door is open; we get to go inside!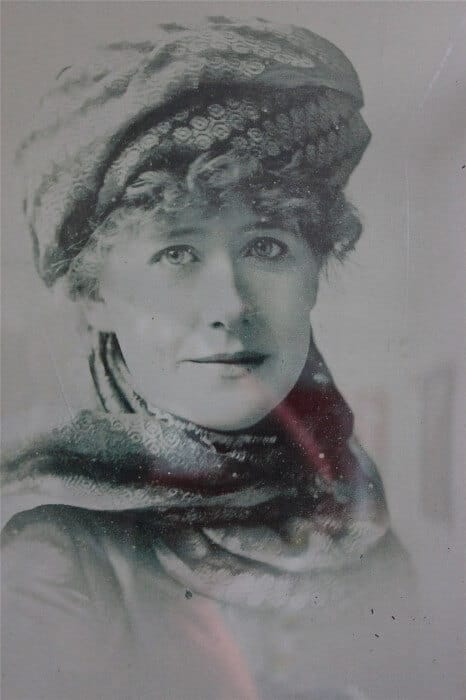 This is the beautiful actress Ellen Terry — she was born in 1847.  One thing for sure, she knew how to wear a hat!  (This photo was in the bathroom near the tea room!)  But there was a lot more to her than just the obvious!
I don't know where to start showing you the house, I took so many photos . . . so I'll start with her bedroom, since it was my favorite.  Most of the original features of this 16th century
Tudor house remain; nothing is perfect, except the inperfections; the floors are uneven, the walls and doors are crooked, and the fireplaces are like none I've ever seen.  Although she lived most of the time in London with all the luxurious amenities money could buy, Ellen Terry bought this cottage to be alone in the country with her children and grandchildren.  It had no running water and no electricity and she liked it and kept it that way; she prepared meals in an open fireplace and went to bed in this room with the wavy-glass window panes, by candlelight and moonlight.  The day she died, her daughter, Edy Craig, gave the cottage, and everything in it, to the National Trust.  (Edy had her own house, "The Priests House," next door, attached to the church.)  This room looks almost exactly as it did then, in 1928, when Ellen died.  The tea table, set with china, is ready for her tea.
Her bedroom reflects very little of her theatre life; on the walls are pictures of her family and those she most loved, her mother and her children.
I had to show you this lovely embroidery on her bed!!
Her dressing table is still set up with her brushes; pots of flowering geraniums are arranged on the window sill above it.
The cottage is cozy and small and filled with charm, there are flowered cotton curtains at every window.  Some of Ellen Terry's handmade stage costumes from her remarkable acting career are in one of the rooms; there's a library full of old books, and creaky wooden floors; every corner is filled with her personal belongings and old photographs; there are drawings and things made by her children, gorgeous handmade jewelry, lovely dishes and linens.  You have a great feeling for who she was when you leave here.  You have to come back girlfriends, and do it again, slower, with your own camera this time!
This is one of the pretty fabrics used on the windows . . . sweet peas . . .
If you peek out the window, at the end of the hall, in the photo above, you get a glimpse of the garden!!!  We'll go there too!  Can you believe that all this natural beauty and wonderful history is everywhere in this country?  It is!!!
This is Edy Craig's (Ellen's talented daughter) drawing of shoes; she did it as a sketch for theater costumes; she also designed some of her mother's costumes.  Edy was also friends with Vita Sackville-West and the people at Charleston; it was a small world, and a close neighborhood; you would have to imagine that sooner or later everyone's path was bound to cross!  So much history in this little cottage, such a lovely story, a whole interesting lifetime here, too much to tell in one little post!
"Sic transit gloria mundi."  Translates . . . "Thus passes the glory of the world."  Dame Ellen Terry lived to be 81 years old.  A yellow rose was named for her.
The roofline of the house alone could have a whole book written about it!  This is one of the very smallest and least famous houses belonging to the Trust, and still, too much to tell!
Behind the cottage is the Tea Room; through the door in the back, you can see Joe … he is wandering about on the other side of the thatched-roof barn (smells so good in there, like clean hay!).  Ellen's daughter built the Barn Theatre back there, with the rows of red-painted wooden chairs, in honor of her mother.  Many famous British stage performers have traveled the 65 miles from London to appear in this tiny theatre over the years.  It's still used; coming up soon is a performance of "The Importance of Being Earnest!"  It would be wonderful to join the small audience for a homemade play in a little neighborhood, in a tiny village in England!
Joe and I went for tea twice, both before and after we toured the garden; this was the second time, just before we left to walk home.  We soaked up the cool sun for an hour or so, Joe read maps; we drank everything that wasn't nailed down; we ate delicious carrot cake, and I wrote down what I had seen, not to forget, for the diary I'm making of the trip.  The lilac came from the churchyard next door!  Every National Trust property has a proper tea room, most of them have tables both inside and in the garden.
And here we go, into Ellen's garden! This is her rose garden, appropriately in bloom with mounds and mounds of tiny forget-me-nots; it's still too early for many roses. . . Ellen designed the garden herself.  (P.S. The neighbors have cute houses too!)  You walk down the grass path here, and find lots of little flowers that barely show in this photo.  The path goes all they way around the walled garden.
Of course there are hedges, azaleas in bloom, small garden rooms, and a wild garden . . .
. . . where the apple trees are blooming, the air smells of the blossoms . . .
There are lots of lovely walks through the lilac bushes — and a Nuttery!  Yes, an orchard of only nut trees.  And look out there, at that opening . . . don't you just want to follow that path to see where it goes?
Had to show you how it felt, with the breeze blowing through the wildflowers!
This painting is of Ellen and her family; that's her on the right, her beloved daughter Edy in the blue scarf, and other family and friends, including Snuffles, the kitty.  This painting is said to very much depict the life Ellen Terry created at Smallhythe Place.
Very, very hard to leave this peaceful place, but look how much we learned!  What a wonderful discovery!  I wonder what we would have done today if we'd planned something!?  Could not have been one bit better than this!  And we still have our walk home to look forward to!
. . . and old friends to say goodbye to (at least until another day) . . .
Goodbye cow!
Goodbye darling little lambs with your happy wagging tails!
Goodbye gorgeous path through the countryside!  And a big THANK YOU, by the way, to the National Trust volunteers at the houses we see; these charming English people are full of interesting information that adds so much to each visit!  Hope you enjoyed our peaceful day girlfriends ♥ . . . Bye for now!