Hi Girls!  What an August!  And here we go again.  This time it's a Kitchen Makeover instead of a party!  Thank goodness I have you, my girlfriends, with me; so much more fun when there's public lamenting!  Ahhh, soothing musica!
Here's what our kitchen looks like this morning!  Notice anything missing?  The floor man is coming today to sand down and refinish our poor old floor!  Which means there will be sawdust everywhere!  Joe says the workmen will cover the dish hutch with plastic … so we don't have to move all the dishes out right now, thank goodness.
But we had to remove everything else in the kitchen; everything off the walls, off the shelves.  For the next week there will be no cooking, no making tea, no getting to that fridge or the sink!  The only downstairs bathroom in the house is off the pantry in the back, which would have given us a downstairs sink, plus our other fridge is out there too . . . but the only way to get there, once they start working, is to go out a side door and cross through the garden, and come in the back door of the pantry.  Which would be good, but not that great at 4 am, which is when I get up, when it's dark and skunks and maniacs are roaming the neighborhood.
Once the floor is dry, we are repainting everything!!!  It's going to be so clean!  I guess this isn't much of a "makeover…" Nothing is going to change all that much.  I'm even kind of leaning toward keeping it this color; it's cheerful, I've always liked it, and it goes with everything.  But my girlfriend Elizabeth is here . . . we picked her and her husband Chris up at the ferry yesterday; she's a decorator and thinks it might look good in light brown.  What do you think?
Right now the dining room is filled with everything from the kitchen, my cookbooks, teacups, wine glasses, wooden spoons and cutting boards; all in the dining room now.  Kitties have to eat in the dining room too.  I don't know how I'll be handling that since I can't get to the sink!  Like camping; soon I'll be outside washing dishes in a tub with the hose!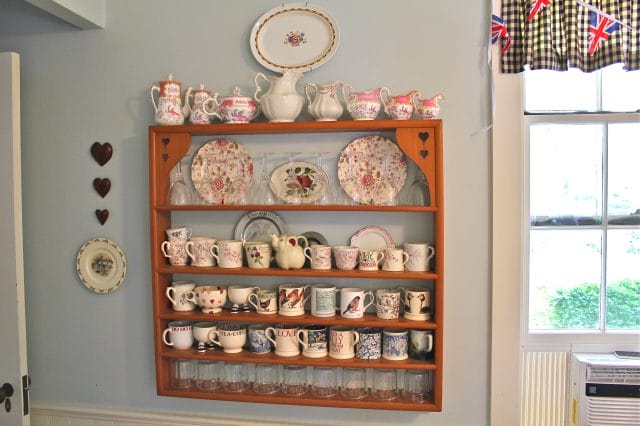 We knew we'd never remember where everything went, so we took photos of the kitchen before we took it apart so we'll know how to put it all back together in a couple of weeks when it's all done.
Joe put an ice chest in the living room, for the seltzer water and lemonade and ice which we drink all day, plus it has the cream for the coffee and all the tea things.  My studio is in the very next room, so it's handy.  I'll just have to fill the kettle from the upstairs bathroom!
We're lucky to be doing this on just the most gorgeous (dry) summer day!  All the doors and windows are open; the floor should dry very quickly.  I got all our laundry done too since it will be hard to get to the washer and dryer this next week . . . we are ready, and when it's done I get to decorate it for September!  Oh Boy!
  Besides periodic trips to fill the bird bath and visit the garden, I am painting every day, painting and writing, and making a beautiful book!  I think you are going to love it!  So I'm still in England, basically (in my book-writing imagination), and I promise, I will be taking you back there again very soon!  Hope you all had a wonderful weekend, happy Monday! ♥