My kitchen update is done!!!  We need some celebratory MUSICA!  I haven't put everything back yet; it's SO clean; I almost don't want to overwhelm it with my stuff!
So far, my new magnet✪ is the only one that's made it back onto the fridge.
We had a wonderful weekend, the weather's been beautiful, definitely sweater weather, chilly in the morning, but sunny, fresh island air — this is how it looks in our living room right now . . . my book is waiting for me!  Kate Morton is folding me into her world!
I've been getting so much done, I'm on page 71 of our book!
But I did get a start on putting things back in the kitchen, beginning with some of my cookbooks!
When I was about twenty-two I decided I wanted something cute to get me to the high shelves in my kitchen, so I went to an unfinished-furniture store and bought this little child's chair.  I put it on newspaper in my driveway and spray-painted it red, and it's gone everywhere I have since then.
First thing's first for a new kitchen, get some flowers from the garden.
Time to hang up some pictures — these two have been in my kitchen forever . . . the bottom one I found at a yard sale years ago; the apples, I painted in 1978, one year after painting my first painting; the glass is all shined up.
Jack's helping, as usual.  Guiding me.
Jack follows the ladder wherever it goes.
He may be moving to the barn when we are done.
This leg from our kitchen table is indicative of the distress the whole kitchen was in at the time we decided to update . . .
Joe took them off, sanded the wood top of the table; I oiled it, and he repainted the legs.  It looks like new!
One reason I'm so glad we have our kitchen back is because all this stuff came off the floor.  That's not a bug, it's just some sort of thing on the cardboard, but every day when I would come around the corner I would catch a glimpse of it and jump three feet!  I'm so glad it's gone!
Joe sanded and repainted all the doors.  There are six doors going in and out of this room!
The old brass doorknobs are so beautiful, they are like jewelry.
But they seriously needed a good polish!
Aren't they gorgeous?  They don't make 'em like they used to!
Joe washed and put the glass knobs back on the cupboards.
He painted the set of shelves that fits next to the stove.  The previous owner of this house, Mr. Bowditch (he and his family bought it in 1949), was a wonderful woodworker; he made so many things for the house, almost all the charm around here came from him.  He made the arbors, the pergola, the adirondack chairs, we think he made the kitchen cupboards and counter, and he made this shelf.
It fits next to the stove and is the perfect place for the phone book and all the little office things you need in the kitchen.
We did not work all the time.  We've been taking advantage of the lovely weather and having lunch in the garden.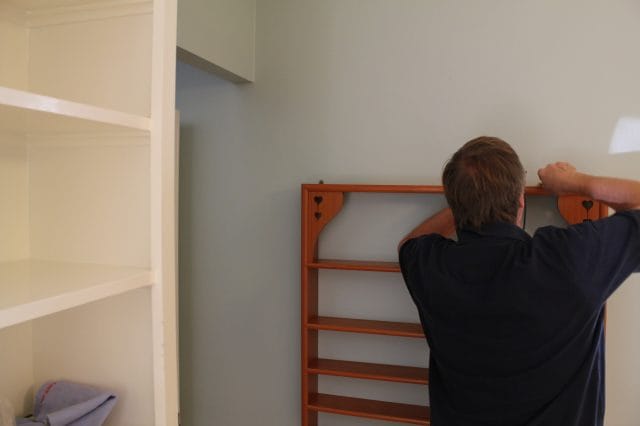 I'm getting my cup shelf back!  We're almost there!
While Joe is doing that, I was hanging sheets on the line . . . it's so fall around here, and sheets dried in autumn wind smell like heaven!
 Jack and I washed the kitchen windows, might as well do a little fall cleaning and eek out as much sparkle as possible.  (See my handy little chair?)
Then it was time, it was done, and all we needed to do was figure out where everything goes.  Here are the pictures I took to remind me!
I almost don't want to put anything back, it's so perfect and clean.
But it's time . . .
I started slowly, cleaning everything as I go . . . back go the cookbooks . . .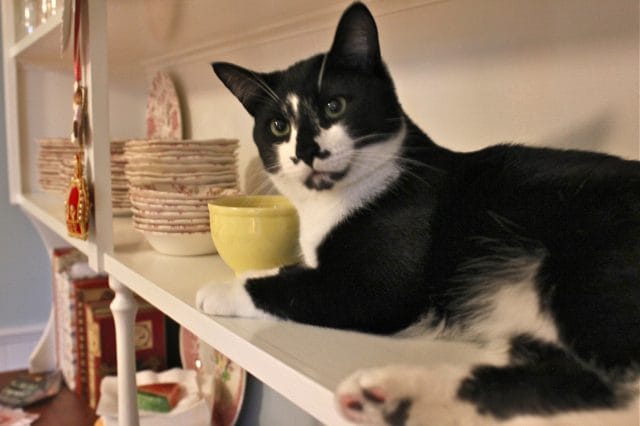 Jack is wondering what is going on . . .  "Are you saying this in NOT my throne?"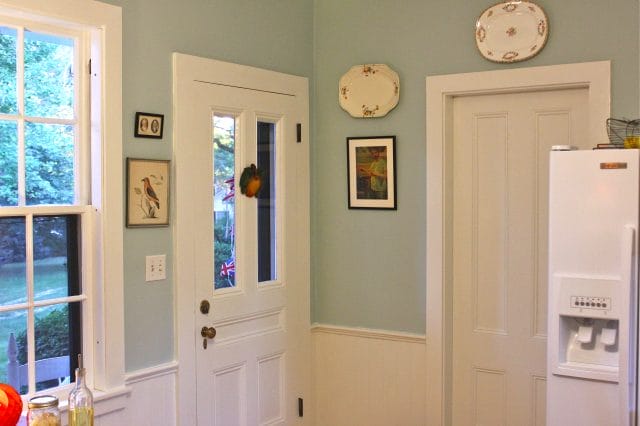 I washed the platters, and shined the glass on the pictures before they went back up.  I love the color of the walls! (Benjamin Moore Woodlawn Blue, and the white is Swiss Coffee OC-45, also Benj. Moore.)
 I got enough done to make it feel like home again, it was about time for dinner, so I went to the garden to get the last cabbage and made fresh coleslaw with honeycrisp apples — if you can find these delicious, organic apples in a store near you, snap them up!  So good!
 By the way, this coleslaw is made with thin-sliced cabbage, apples (any good, crisp, sweet apple),
golden raisins, and a dressing made with mayonnaise thinned with lime juice, salt and pepper, and that's it.  SO good!
And while I did that, Joe made lobsters!  And that was the end of our red letter day!  Happy we did this big job, now it's all ready for the holidays!  I have to say, what would I do without Joe! ♥
And FYI, I'm sure someone will ask where that little magnet✪ came from, and I think, from this photo, you can see!  This is a new recipe scrapbook that just came in . . .  it's the only place this magnet can be had . . . it has the same cover of another of our scrapbooks, but it's different on the inside and is an inch or so smaller . . .
This is what it looks like . . .  I think we have ten of them in stock … and more coming in about ten days . . . here is a LINK so you can see it!  OK, back to our England book I go!  Have a wonderful day girlfriends! xoxo