I wasn't going to post until after we got home, but I just couldn't wait to show you how pretty it is out here … a gorgeous fall they are having in New England . . .

We got off the boat, and drove across Connecticut, following all the dotted roads on the map that indicate "Scenic."  When we got to the far west side of the state, we made a right, went north and now we are in a darling town called Great Barrington in MA.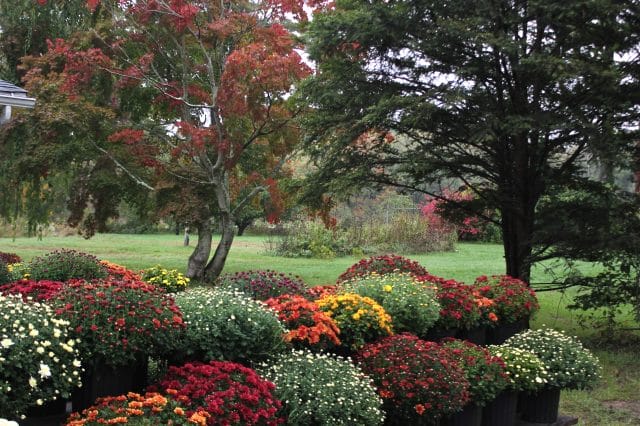 Following the scenic routes was a good idea, because we have passed wonderful farms, with colorful farm stands full of pumpkins and apples . . . barns, fields, cows, little towns …
I just love picket fences with spiders and dew weaving their interconnected sparkle-magic . . .
We've stopped at many antique stores, and one of them had this amazing doll house!  I'll give you a full tour of it when we get home!  But I couldn't wait to show you . . . . isn't it wonderful?  Wait until you see the little fireplace . . . You would need an entire room devoted just to this doll house, it's so big . . . but I'll show you soon!
The trees aren't in full color, they still have lots of green, which makes them even prettier!  When we drive, the leaves whip up and swirl around us . . .
Took this from the window of the car as we're speeding along . . . the houses are so charming, this one looks a lot like the doll house!
We pulled in here to turn around to go back and look for our hotel last night … just your basic lake scene!
 So much more to show you!  There was a turkey attack (caught on video)!   We went through a covered bridge (also took a video of it so we can take you with us)!   And Joe found the perfect thing for me to wear to booksignings when our book is done, have to show you that too . . . but I can't do it now, because the sun is up, and all the leaves are calling me!  (Or is that Joe?)  XOXO