How would you like lots of kitty pictures today?  I hope I am hearing a wildly excited YES!  If so, you are in luck!  MUSICA! This would be a good time to bring your kidlets in for a little kitty tale. ♥
This morning they did something they just don't do; they calmly allowed each other to be, not only in the same room, but on the same level. Usually Girl likes to be physically above Jack.  But there he is and she's fine! She has him pretty well trained not to jump joyfully on her now.  It was so nice, I grabbed the camera for a little photo shoot in peaceable kingdom.
Even he seemed surprised.  Like, Do you see this? There she is, do you see it?  You might notice how much room Jack leaves me to do my work.
Whenever she's around, he can barely take his eyes off her. She might be getting a persecution complex.
But mostly this is how we roll.  I try to eek out two square inches to work, while Jack makes himself comfortable.
I move him, but he comes back.  This all seems very normal to him.  I think I have painted at least one kitty hair into every page of the new book.
 I will not be charging extra for the good ju-ju DNA of kitty fur that will come with every book. It will simply be an unseen part of the overall package. And I promise, just in case, to render it allergy-free before it goes to the printer.♥
 And this is where Girl lives when she is in my studio.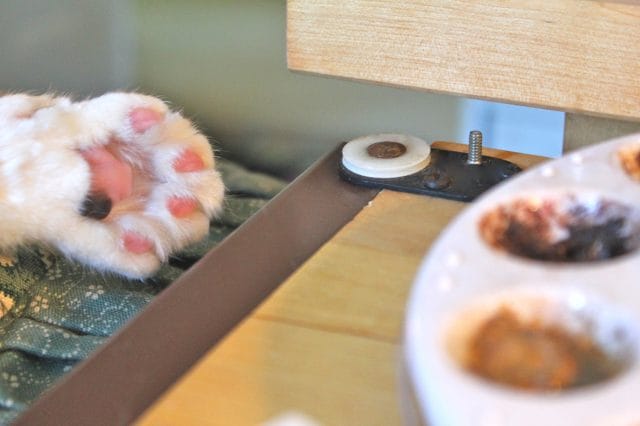 Never very far away, but she mostly sticks to the pillow.
Although this is exactly the kind of face she gets just before she walks across my art table, and climbs up on my shoulder to get in the same position as burping a baby, for a back, neck and ear rub.
And very often,  I go to her, first for rubbing, then for a kitty kiss.
This was a hard photo to take; it was kind of a guess.  Because I had to put the camera behind me without seeing through the viewfinder, and just push the button. I am sitting in my chair and Jack has wedged himself between me and the back of it!
Of course, I had to paint these two into the new book. Even though they didn't come to England with us, what would a book be without them, my little talismen!
I've been painting my kitties for a long time, this is my first Man Cat; this painting was called "Immortalizing Man Cat." He was a living doll (too).
This is Jack, ready to play.  That's his very own scratching post in the foreground.  His property and he knows it.  He brings me the rubber band and then he rustles me back to the scratching post to play there.
I put the rubber band on the top of the post, he climbs it, gets the rubber band, and brings it down to my feet so I can do it again.
He LOVES this game.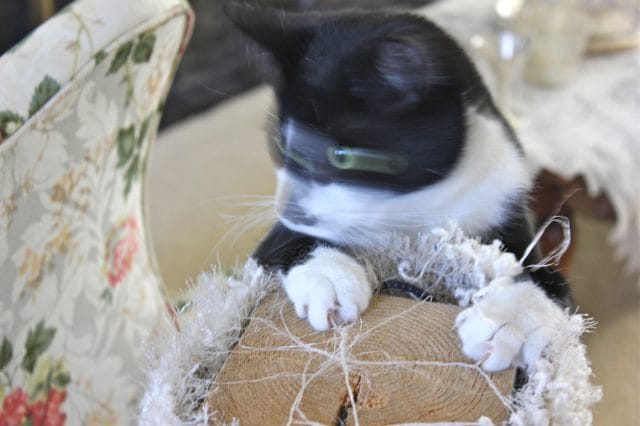 He is maniacal … where the heck is that rubber band?  I saw you put it here, where is it??  (shhhh don't tell him!)
Aha . . . yes.  Got it. Bite it.
After we do this about a thousand times, I shoot it across the room so he can chase it and bring it back. He tells me if we shoot it, or if we put it on the top of the post.
He's not quite done here yet … he moves fast!
This is Kitty Motto Number One. The light comes on in his eyes the moment I start to make the noises associated with taking Joe his tea in the morning.  He knows water-boiling noise signifies playtime.
Sometimes he likes me to throw the rubber band to him in the drawer . . . see those eyes?  That's because I'm holding the rubber band just below the camera.
He is always ready to play, with the sweetest most trusting face in the world.
And once in a while, he will actually sleep.  He prefers warm laundry for his bed.
OK, Girlfriends and Kidlets, I must go now.  I have a book to finish!  I hope your days are going well, and all your dreams are coming true!  We, here in kitty heaven, love reading your wonderful comments!  Thank you so much! Have a wonderful day! xoxo