Just a little Valentine mood MUSICA for some of my very favorite people . . . ♥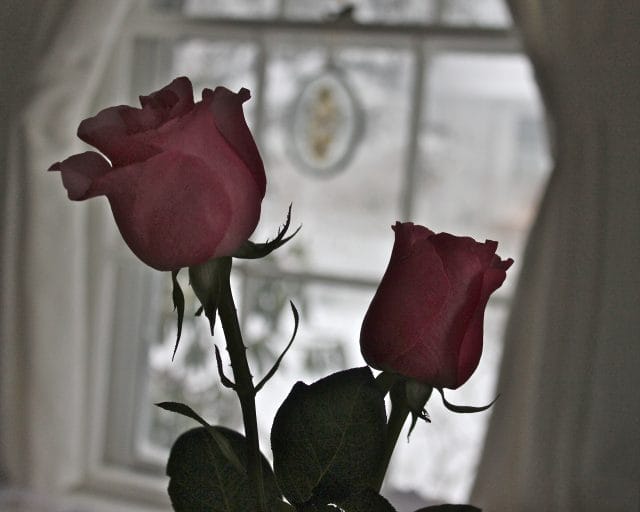 Yesterday most of our snow had melted, the grass was green, and I was having little pangs of Spring Fever . . . and today, as the sun began to come up, I looked outside to one of the prettiest snowstorms I've seen in a long time.
Just a beautiful day on the island.  My girlfriend Margot called at 6am to say, "You have to go look at the sunrise!"  One look and I burrowed right back into winter . . .
And now, the wind is blowing clumps of snow off roofs and trees and making it look like it's snowing, but it's not.
It's just adding to the romance of an already romantic day…
As does this . . .
It's the feet I love the most.
I took Joe his breakfast a while ago.  His Valentine's present.
I made it in a cookie cutter.
Happy Valentine's Day Girlfriends! I hope you've all received your Valentine Willards! Just as you read, we're having a drawing for a pre-publication copy of my new book A FINE ROMANCE! 
To be entered, just leave a comment (click on the tiny grey word "comments" just under this post). Sometime after the 20th, Vanna, our resident chooser-in-chief, will pick the winning name! When the book comes in, I'll sign it and send it to the lucky winner. Until then, especially for today, I'm sending you virtual chocolate kisses and red roses and hope (sweetheart or no sweetheart, no one needs a sweetheart to celebrate Valentine's Day) that your day includes something special just for you. xoxo Make all your Valentine dreams come true no matter what and be your own darling sweetheart!  Love you, THANK YOU!  I'm thrilled about the book, you just have to know … yesterday, I wrote the ending and I made myself cry!  Thank you for joining me on this book-writing adventure! xoxo P.S. Just in case you need it, you can view WILLARD here!