Not to scare you or anything. . . but my world is always a year ahead of everyone elses.  People say, How come you don't know what year it is?  This is the reason!   (MUSICA?)
That's one of the bits of art I've been making these days . . . It feels so funny to be in 2015 when we've barely tapped into 2014, but that's just the way it is.  I'm really not even done yet with 2013 and I'm living in months that no one has even dreamed of yet!  It's May 2015 and I 'm planting my garden!
 I've been getting up at my normal almost-middle of the night time ~ very early, like around 4 am, having the house all to myself (and my kitties with Joe still asleep), painting my little heart out, working on next year's calendars, dipping my brush into water then into the colors and onto the paper (trying not to take a bit of 
cat hair with me because then of course I would have to charge extra).  Moon shimmers through the wavy glass of studio window, furnace hums with white noise, head buzzes with thought, clock on the fireplace mantel echoes with ticking right through the quiet, and me hovering over a clean white page: what shall I write?  What can I give them?  Which recipe shall I use? What subjects shall be explored?  Being "consciously creative" ~ and then thinking, oh!  That sounds like a good subject for the March page . . .
and so it is . . . and thinking maybe a lamb for April?
Oh, how fun, let's let Lambie Pie Cuddle Bunch from A FINE ROMANCE do some 2015 spring cleaning in . . .
for us. ♥
My world is very small these days, after all we live on an island and it is winter and I am working.  Since I have introvert tendencies, especially when I work, I am beside myself with silent joy.  I'm one of those people wishing winter could go on a little longer, regretting the sunset each night because of it.  The quiet is my refuge and I don't particularly love it to be disturbed.  Come on snow storm, you do not scare me, I revel in your muffled tones.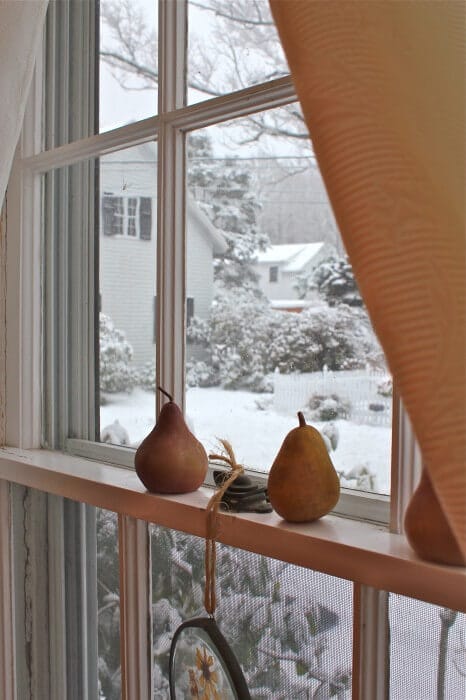 Of course, there is a big storm coming.  6″ to 10″ and -20 wind chill.  I may regret my uppityness.
 Joe is a quiet person too, he would not love a yakking woman around him at all times, so he is lucky, because I am definitely not yakking, he can make his fires in quiet, hear his oak and pine logs crackling, the crinkling of his New York Times, the clicking keys on his computer.  We wake ourselves up by taking freezing-cold, wind-
blasted walks to the water, going to the movies, out to dinner, but mostly, my world could fit inside a pan of watercolors.  It's like when I was a child and I laid on my lumpy white chenille bedspread in my room and watched the leaf shadows play on the walls and day-dreamed for very long periods of time.  I write in my diary every night before bed, just random thoughts, plan my next page of art, and time my life around Downton Abbey and 4 pm tea.  It's a good life. ♥

And speaking of spring cleaning (remember Lambie Pie?), I have begun.  Slowly.  Starting two days ago, I have a new rule.  In my pantry there is a tall narrow set of shelves, just deep enough for a can of soup or a bottle of olive oil, but lots of shelves, maybe twelve, and each is about 4 feet long (and about 3″ deep).  There are things on there dated 2006.  Honestly.  Cute packaging sometimes gets to stay on the shelves longer than it should (excuses come so easily!).  It's been bothering me.  My new rule, starting at the top, I'm doing one shelf a day ~ remove everything on it, check the date, if it's no good, it gets thrown out.  Today is shelf #3.  My other rule, as you know, is start slow and taper off.
Don't we know it.
We were just back from our walk yesterday, stopping to visit with our friend Dave Maddox who's house is at the entrance to our favorite dirt road in the world.  While he and Joe shot the breeze, I ran into this group of waddling guinea hens who were also out for a walk . . .
You can see I have not perfected my guinea hen call yet!  Nummy-nummy-nummy?  What is that.  Here, chicka-chicka-chicka?  Showing off my expertise in barnyard techniques. What do they answer to?  One of you must know.  Pat?  This was my first up-close and personal with this noisy type of part road-runner-part partridge bird ~ but I did know they mate for life.  You can tell, this was a family.  They also eat ants, spiders and ticks!  And, as you could see, they always knew where they were going.
That's because they trust their instincts.  Not always as easy for us.  I used to worry myself silly when I couldn't seem to find my path ~ it was very frustrating, and still is sometimes, until I get my bearings. Now I try to trust my instincts and . . .
And that's all for today Girlfriends, time for my purpose under heaven these days and back to work I go.  Hope your winter is bringing you your own favorite kind of fulfillment.  If not, there sure are a lot of wonderful books out there . . . and so much inspiration lies between the covers.  Have you read Outlander by Diana Gabaldon?  2,419 five-star reviews can't be wrong!  You will love it and I'm sure your local bookstore will have it in stock.   And, BTW, I ordered us a new batch of Girlfriends Charms.  It will take a couple of months to make them, but for all of you asking, they are coming!  And as soon as I get my calendars done, I'm going to write you a new Willard!  XOXO ♥ Byeee for now, love you, me.