There's something new in the saga of Lambie-Pie Cuddle-Bunch, the lamb I painted in England which I've been wanting to show you and finally, today's the day! (Here's MUSICA, in honor of 1920's Downton Abbey. ♥)
So here we go . . . You know I've loved lambs for a long time . . . here's one from my artwork that probably looks familiar to you . . .
They've been in my calendars and a few years ago I added them to my BABY LOVE Fabric Line (there's a teeny bit of this left in case you like it).
But the real and true falling-in-love-forever took place while we were in England.  Can you see why?  Bubble gum pink ears.  How could you not?
Look at the smile on that mama . . .
Of course it was spring . . .
When a young girl's fancy (and mine too) turns to . . .
Lambs . . . baaaaa!
Sheep dotted the landscape everywhere in England, baby lambs were jumping and leaping and playing in every meadow ~ across the Dales, up in the Peak District, in a field in front of beautiful Chatsworth.  Even next to freeways; they kept everything looking like a manicured park.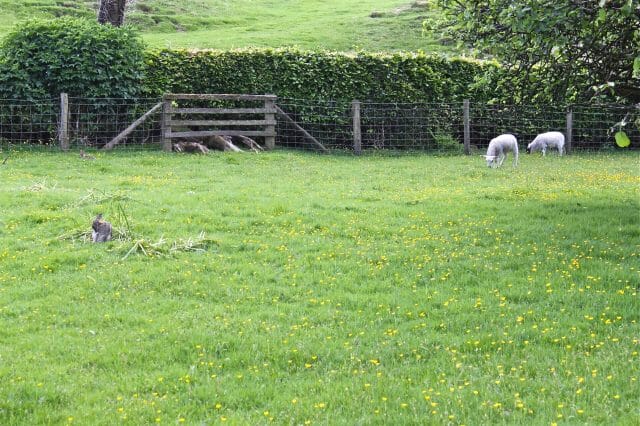 They had them in the buttercups at Hill Top Farm (with a bunny, of course) . . .
And in front of Castle Cottage . . .
Artists have been painting lambs since the beginning of time . . .
. . . representing a peaceful bucolic lifestyle . . .
. . . in pastoral country settings . . .
And of course I included lambs in A FINE ROMANCE . . .
What would a book about England be without them?
You all remember the bookmark I made from one of the lambs I painted in the book? (If someone's new to our blog and didn't get one yet, HERE it is)
Then we put him on our Fine Romance Van for our cross-country tour — now back home in our driveway outside this frosty morning . . .
And then this arrived at my door last year ~ a little felted lamb made for me by twelve-year-old Maddie, the daughter of Sheri who works at our studio in California!  Isn't it adorable?  Such a sweet thoughtful surprise!
While we were immersed in thoughts and baaing of sheep in England I noticed that although Beatrix Potter was very proud of the prize-winning sheep she raised on her farm in the Lake District, heroically saving the rare breed called Herdwick from extinction. . .
. . . She never made one of her darling characters a sheep.  A sheep with an apron and some children, a straw hat or a basket.  She's got everyone else, but no lambs. I can't help but wonder why!  Seems like a no-brainer for her, her cup of tea, and mine too. I think she probably got too busy with the real thing and just forgot!
So with time on my hands, painting and writing in my diary one early morning in England, I imagined Lambie Pie for myself and put her in our book. (More MUSICA? Same Vintage?  Okaaaay…♥)
When I got home, I painted her for the second time . . . this one was for . . .
. . .this limited edition of the Peter Rabbit book I bought at the Hill Top gift shop . . .
. . . and when I got home we had a giveaway for it here on the Blog . . . Betsy Flannery won the drawing and the book, and that little piece of Lambie Pie art . . .
And here's Lambie for the third time (which they always say is the charm) ~ she's coming alive to me, I gave her some gloves and put her to work to do some spring cleaning in our 2015 calendar.  I've already named her children even though I haven't painted them yet.  They are penciled in.
Now look:  Here's the point of this post, it's what I wanted to show you . . . my Christmas present from Maddie this year!  A complete surprise!  Just before Christmas, Maddie read  A FINE ROMANCE . . .
. . . and then she made Lambie Pie from clay, matching my drawing and putting her next to Lake Windermere just like I did . . . because that's where Lambie Pie was born.  I couldn't believe it!  This is how it is, from Beatrix Potter, to me, to Maddie, and then, where else will it go?
Maddie knew I wished I had a Lamb to go with my other Beatrix Potter people, so she made it happen.  Isn't she brilliant?  I'm still not over it.   Proof that there's nothing you can't have if you just make it yourself. ♥ And look how she fits in!
Three dimensional!  With curly back of the head, apron and flowers on the lawn!  How did she DO that?
Signed and dated!  Precious to me. ♥  Thank you Maddie, and Happy Birthday!
That's Maddie in the green and she is turning thirteen-years-old tomorrow!  She's with some of my favorite people: her mom, Sheri, Bonnie, and Kellee in front of the picket-fence garden at our California Studio. ♥  They're the ones that wrap all your orders from our webstore so cutely!
I knew you'd want to see Lambie Pie!  Isn't our world full of wonderful things?  And wonderful people!
I hope you had fun dipping your toes back into England today.  I thought we deserved a little shot of fairytale springtime.  It made me think to tell you, if you remember places in England you'd like to see more pictures of, let me know, because I do have lots of photos!
I love this Blog!  It's playtime!  How did I ever go through life without it?  I don't know!  But I've got it now!  Thank you all for coming!  Have a wonderful day!  One more photo of lovely English Spring for you:
Wild orchids in Stourhead in Wiltshire, the place I hope we can all meet for a picnic when Joe and I go to England again.  It's a wonderful place.  There are lambs there.  Byeee!  (oops, forgot to say, when Kellee gets in to work today she's going to put up some Lambie Pie Wallpaper for your computer.  Just click HERE. ♥)