Dearest Girlfriends, Happy Sunday and Happy Mother's Day and Happy Unmother's Day too XOXO . . . Happy May!  Here's a song to celebrate this lovely special day . . .  MUSICA  I have a little story for you . . .
A wise Cherokee grandmother told her granddaughter about a battle that goes on inside people. She said, "My darling, the battle is between the two "wolves" that live inside us all.
One wolf is Evil.  It is anger, envy, jealousy, sorrow, regret, greed, arrogance, self-pity, guilt, resentment, inferiority, lies, false, pride, superiority, and ego."
"The other wolf is Good.  It is joy, peace, love, hope, serenity, humility, kindness, benevolence, empathy, generosity, truth, compassion and faith."
The little girl thought for a moment and then asked her grandmother, "Which wolf wins?"
The old grandmother put her hand on her granddaughter's chin, tipped her head up, looked into her eyes and replied, "The one you feed." ♥
I have the perfect day planned.  First I write to you, then I go bake this blueberry angel food cake to take to a Mother's Day party at my girlfriend's house tonight . . .
Light and lemony . . . I've made this before, the recipe is below if you haven't tried it, it's a perfect cake for spring and you can use fresh or frozen berries.  Rather than separating the 12 eggs yourself, just buy plain egg whites, then it goes together in a snap.  And just think, it's fat free!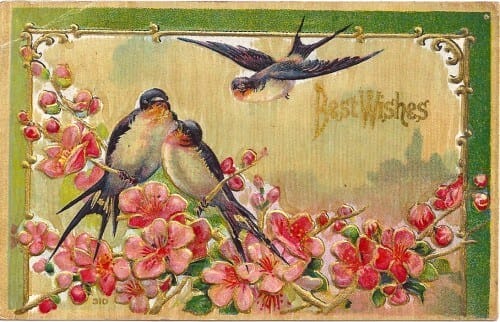 And then I call and shoot the breeze with my mom for a while ~ we have exciting family news to talk about . . . my niece had her baby yesterday, a 6 lb. 8 oz. baby boy, her first.  He's beautiful, would you like to see him?
 Isn't he the perfect Mother's Day present? For my mom and sister and her daughter, perfect for the whole family. ♥  My dad is going to love seeing this picture! xoxo
Ain't life grand?  Oh yes!  Our tulips are still going strong ~ and I started my salad garden yesterday, crunchy fresh homemade organic salads, crisp tender leaves from our garden, I can't wait!  I planted arugula, two kinds of parsley, lemon thyme, rosemary, and three kinds of lettuce so far.  And right now (it's 6 am here) we have the softest gentlest rain that is going perfectly with my cup of lavender earl grey tea and Anne of Green Gables on TV  . . . it's also making all my new little plants drippy, immersed in delicious rich compost and very happy.
But this is my most exciting thing in our garden right now.  The strawberries jumped out of the strawberry pot where they were originally planted and made themselves at home all over the garden!  Even into the path.  But that's OK with me.  This looks like a bumper crop ~ and there is nothing like a juicy strawberry fresh from the garden, still warm from the sun.  I'm already thinking about jam and freezing and we haven't even gotten to strawberry shortcake yet. But we will!
I hope you all have the most wonderful day.  Call all the mom's you know and spread sunshine . . . and don't forget your "Other Mother's" ~ the women who've inspired and nurtured you. Forward them this post, they will have a Mother's Day "card" with Musica to dream a dream on . . .  Sending love to all of you! XOXO