Good Morning from rainy Danbury, Connecticut and hello everyone, especially Blog Daddy!  You know what?  I had planned to announce the winner of our Anniversary Drawing last Tuesday!  But every time I went to do it, there were
another 200 comments! So I've been waiting. And "moderating" — which is what I have to do because there is too much spam mixed in with all your nice comments and I need to delete it.  Plus, I love to read what everyone says, so it takes me a while to get the comments all up ~ especially when we are traveling the countryside in our Fine Romance van!  BUT, I just did it.  Your comments, dear Girlfriends, are like manna from heaven.  Thank you so much, you know how much I love our give and take . . . it's a two way street, the love boomerangs off me, and back on you, back to me, back to you ~ and that's how it's always been. ♥ XOXO  And now, MUSICA for our Blog Daddy. 
I think I should wait til I get back home to announce the winners for the drawing.  #1, because I'd like to make sure everyone has this last chance to sign up, but #b. we're away and I think Vanna had a party at the house last night with all her elegant and enchanting friends, because she won't answer the phone this morning!  We can't do it without Vanna!  So why am I here you may ask? Well, Father's Day is Sunday!  And so, no matter where I
am, my dearest Blog Daddy needs to feel the love.  Here we are, my dad and I in Durango Colorado, listening (and dancing) to my brother Chuck and his band.  My brother wrote a song once that goes "I'm so lonesome in my saddle since my horse died" that is beyond hilarious.  I should write the words for you someday. I keep trying to get him to sing it on Youtube so I can put it up here.  He is the highlight of our family reunions. ♥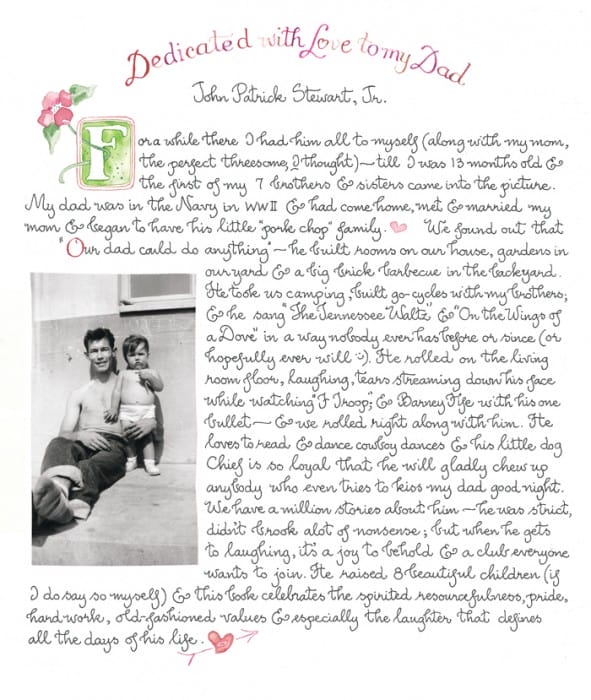 That's me and my dad up there, I have a pencil in my mouth . . . why, I do not know.  But this message is for all our dads,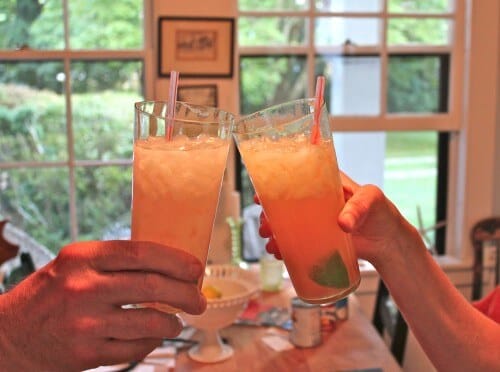 brothers, uncles, husbands, boyfriends, and all the good garden-building, grocery-shopping, animal-loving, memory-making,funny-song-singing, laundry-doing, blog-reading, bacon-bringing, hammer-wielding, non-tail-gating, mommy-hugging, baby-kissing, help-providing, Good Daddies of the World.  Here's to you! ♥  We really do adore you!  (Dad, Harfaparfy farfatharfer's darfay tarfu yarfu, tharfuh tarfee sharfirts afar arfin tharfuh marfail. 🙂 ) Secret message in family language to my dad from the last of the big time spenders ♥. 
 And so, that's all for now . . . Tomorrow is our big event here at Gladys Taber's house (Stillmeadow) in Southbury.  It's very exciting for me ~ I've got my camera and Joe has his and we'll give you the full rundown very soon.  Until then, a couple more days to sign up for our drawing, and I will see you soon!!! Love you! Gotta go practice my speech!  XOXO