Here we are, leaving Nantucket Harbor . . .heading home to Martha's Vineyard . . . MUSICA . . .
It was a short trip, but oh so sweet, we really needed a little summer break, all work and no play makes us dull boys.  It's just so amazing to me that this "other world" is only a one-hour-and-ten-minute boat ride away.  Must do more of this!  I promised you lots more pictures Girlfriends, and here they are . . .♥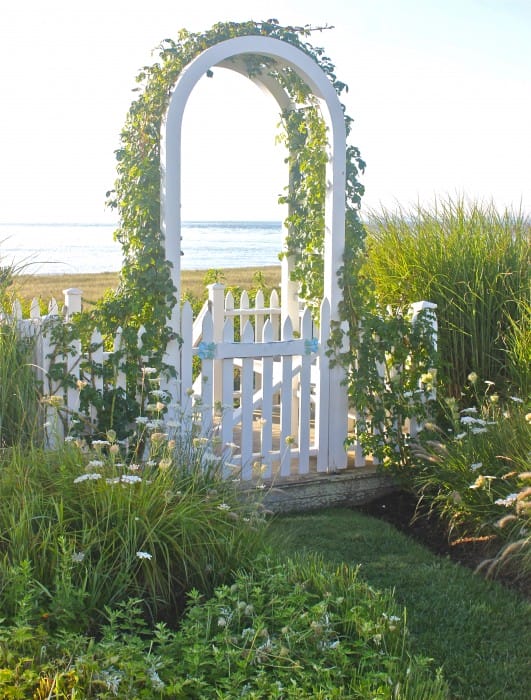 This gate with the little pathway and trellis in Sconset . . .
reminded me of one of my favorite paintings by Beatrix Potter . . .
I showed you some photos of the tiny village of Sconset at the eastern end of Nantucket in my last post, but I'm from the school of "there can never be enough" when it comes to this charming village . . . so here we are again . . .
With small closely-packed cottages, picket fences and porches, and streets made from clam shells . . .
And lovely flower gardens wherever there is a patch of dirt . . .
You can see the rose trellises they put on the roofs here . . . lots of houses have them.
Another trellis on this house . . .The oldest house in Sconset is called "Auld Lang Syne" and was built around 1670.
Could you ever tire of this?  No, me either.
We went to dinner one night here at the Chanticleer Restaurant, just up the street from those little clam shell streets.  One of the prettiest places I've ever seen. If you ever get the chance to come here, I think you would love this.
There are several eating areas to choose from . . . this is one of the outdoor porches . . .
There is another outdoor porch on the left of this photo . . . the two porches go down both sides of this lawn . . . that's the main dining room inside those windows, for those chilly nights when you need a crackling fire to have dinner by.
But not this perfectly mild evening . . . By the time we left, these tables were full of people eating outside under the stars.
We chose to have a table on the indoor porch overlooking the back garden . . . this is the table across from us.  Do you see the roses?  It was really just this beautiful . . . There's also a bar where you can eat where they had live Jazz.  But in this room (our room), they played French music.
We had Pink wine . . .
Our toast . . . Here's to beauty! And Mas MUSICA . . .
The fresh island-grown tomatoes were so sweet, they tasted just like they look . . .
And what vacation would be complete without these?
The Chanticleer is almost covered in ivy . . .
And then, off we go the next morning to Nantucket Town . . . this is the main town on the island . . .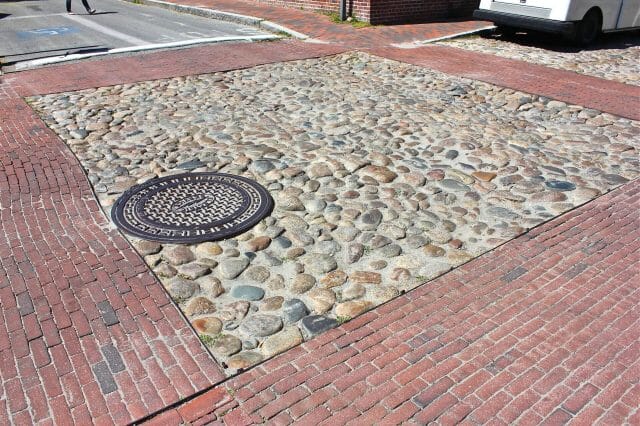 The crosswalks are brick, the original roads are still cobblestone . . . the island is very much protected by the Nantucket Conservation Foundation.  There are many rules about what can and cannot happen here. I'm not a person who loves rules, but I'm glad they have them on Nantucket.
Because it never changes.  The cobblestone streets were built one stone at a time many years ago, not many towns in America have these! They aren't that good for stiletto heels (if you thought you might be wearing them, I would suggest you think again . . . ) and they are bumpy to drive on, but they will be staying despite all of that.
There are lots of interesting one-of-a-kind shops too, it's truly a browser's paradise.
This three story brick building was built in 1772 complete with widow's walk to get a good view of the ships coming back from sea . . . you can read about Historic Nantucket here ~ Nantucket was the home port for the ships that took part in the Boston Tea Party. How about that!
Downtown Nantucket just after alighting from the way-back machine. Of course I love color, but there is something about these wonderful old black and white photos.
All roads lead to Nantucket!
For lunch this day we went over to Galley Beach Restaurant . . . Could it get any better?  No, really, this is just about as good as it gets.  That is our table right there on the left, the first one. If I lived here I would bring my book and come here every day!
If we looked out to the right, we saw the beach, if we looked to the left, we saw this . . .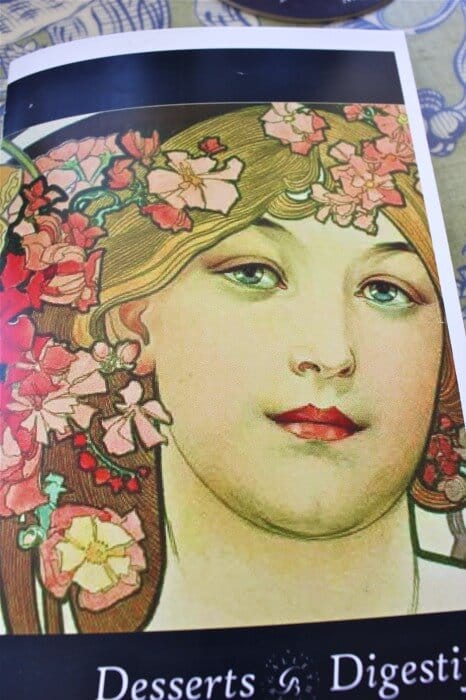 If we looked down, we saw the menu . . .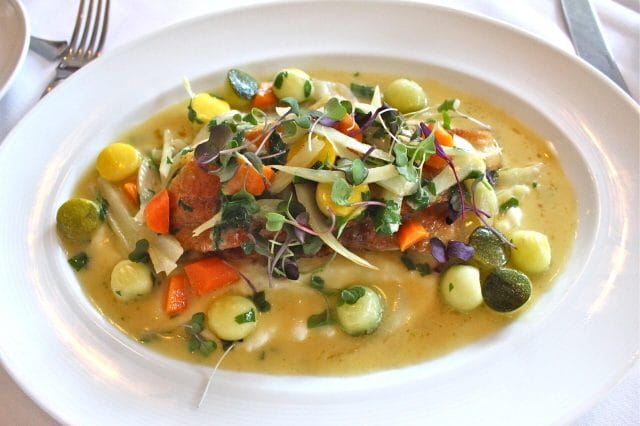 And then this . . . under all these crisp-cooked island vegetables is fresh melt-in-your-mouth codfish surrounded in Lemon Beurre Blanc Sauce . . .
Then back to the house for a nap on the porch amongst a yard full of bunnies who seem to trust us (except the look in that eye says, "Yes, I trust you, but don't try anything.")
This is where we were staying . . . I think the original part of the house was built in around 1860.
This is just part of the reason I think that . . . the house is filled with photos like this . . .
You can just see the widow's walk behind the white chimney in the photo of the house above, and here, we've climbed the attic stairs and gone through a door in the roof for a bird's eye view  of the bay. . .
More view from the top . . .
And I took a few more photos inside . . . this is one of the cozy guest bedrooms . . . Every room has books in it, good ones too.
It's a house of memories . . .
Another peaceful bedroom . . .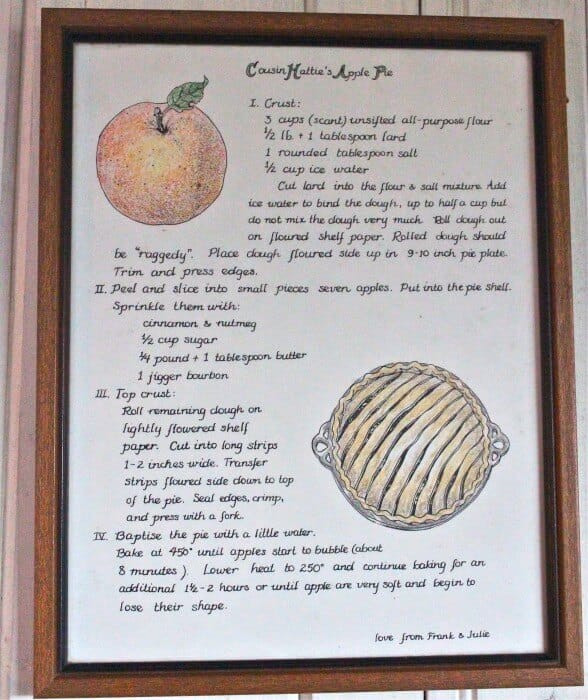 This recipe was on the wall in the kitchen, Cousin Hattie's Apple Pie, a family recipe I'm sure . . . It must be delicious!  It has cinnamon, apples, nutmeg and bourbon in it!  Worth framing!
A house with kitty feet on the stairs.
A house of history.
Old photos, paintings, quilts, pillows, books and rugs, nothing matching, everything old and homey and real . . .
A whole wall of family height measurements, initials and dates . . . you see 1928, 1957, 1971, and so many more . . . amazing . . .
And lots of paintings of the house . . .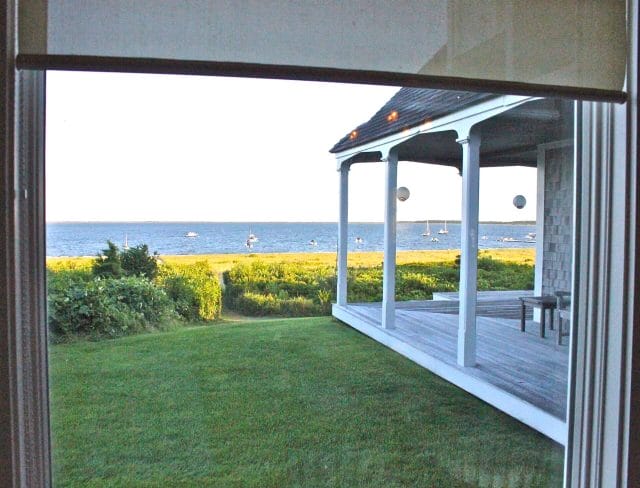 I worked on my book in the early mornings, with this as my view as the sun rose. Oh Girls, I'm loving writing this book.  
 Time marches on, our last sunset, so quiet and peaceful, and time to go home . . .
Here we are, in Nantucket Harbor, on board the Hyline, getting ready to depart . . .
This is what it looks like on the inside of our boat . . . quite comfy, there's a snack bar, and we have a table.
Here's the view out the front of the boat . . .
And, we're off! The view from my window . . .
Leaving the harbor, past the lighthouse, and this big boat just coming in . . .lucky them!
I took this from the window, that's the same big boat curling around the harbor . . .
And off we go . . . Our little getaway is over.  But we learned one thing for sure . . . we should not wait ten years before we do this again! Deep breath, ocean air, sparkling day, cry of seagulls overhead, good memories . . . so lucky. ♥  Now back to reality . . .
Love you♥ Hope you liked that! See you soon! XOXO