Maybe because it's Leap Day, and maybe subconsciously I've decided it's a "free" day, but something has come over me . . .  MUSICA
I have the worst spring fever, I'm getting 100% nothing done.
Jack too, getting nothing done!  We are besotted. We have . . .
It has taken me until 1:30 in the afternoon to start a post that I've been trying to write since I got up this morning. But I couldn't. Because of this . . .
Remembering the apple blossoms in bloom in Ellen Terry's elegant garden in England, yearning to be there again . . . so I finally decided just to write about the Spring Fever and quit fighting City Hall. The fever has crowded out all the normal thoughts from my head. Now I have the yearning thing and I thought maybe some of you might have it too ~ It's that time of year! 
I was looking through my photos and found this. The very next photo I took after I took the one I used for the cover of A Fine Romance, as we were driving
through the magical Yorkshire Dales on our way to nowhere, to do absolutely nothing except serendipity as it came.  Playing this music as we wound through some of the most beautiful, wide open, fairy populated countryside I have ever seen, filled with lambs and wildflowers, crumbling stone farmhouses and views of the Dales that went forever, stopping the car every ten seconds because we just had no choice. Sigh. Homesick for it, fevered. . .
It has taken me since 2014 to turn my diaries . . .
and my box of stories into The Fairy Tale Girl and Martha's Vineyard Isle of Dreams, and another two years of solid focus for A Fine Romance for the two years before that . . . and suddenly I see the big light at the end of the tunnel. Monday is my day for
setting week's end goals . . . by the end of this week, unless the spring fever takes me out of the picture entirely, I will have all of the 2017 calendars done too. And all I will have left to do is 16 new pages I want to add to my very first book, Heart of the Home, to celebrate it's 30th year of existence.  And then I will have kept all the promises I made to myself and off Joe and I will go for a long drive across country, a long luxurious, deadline-free, non-face-down painting, drive across this beautiful country to meet our Girlfriends . . . and then, in the fall, back to England again.
So . . .
Every night Joe and I plan our trip, looking at cottages, and castles. I can't quit thinking about having tea and cake in beautiful gardens the last time we were there, while making notes so I wouldn't forget how gorgeous it was . . . so I could tell you.
MAS MUSICA, more Vera Lynn, the voice and spirit of England during WWII (in this one you get to hear the soldiers singing with her). It was the perfect musica for winding through stone walls and hedgerows of cow parsley.
Dinner next to our rented stone cottage near a field of buttercups in the Peak District with Darcy (a peacock) and his friend, a pheasant, who Darcy chased all the way across that field and over the top of the hill while we watched ~ their heads popped up every so often above the wild flowers, they ran like the road runner cartoons and we were laughing ourselves silly.
And long walks over hill and dale with my darling Joe . . . my own personal in-house pathfinder . . . and cow protector.
Through the ruins of King Richard III's childhood home, where now wild orchids grow from the stones. I just stopped myself, Were those wild orchids? It doesn't sound right. So, I turn to page 185 of my diary, there they are, and of course, they aren't orchids, they're Fairy Foxgloves!  How could I forget! (And that's why I keep a diary!)
And Petey, our wide-eyed mascot, our lucky sailor guy that Joe won in a game when he was 12 and on a ship crossing the Atlantic with his mother, here on the roof of Rachel's parents' hen house. I hope I am giving you spring fever too. It's not the kind of thing one wants to suffer alone.
I mean really. Pink ears? How much more spring fever could there be? Right there, in front of us, all this beauty.  Beauty in Bibury!
XXX
Walks like this all over England and you never know what you're going to see. Except for one thing, it will make you cry. 
HERE are the wild orchids, in the garden at Stourhead. Acres and acres of this beauty, where we will be having a BYO Picnic Basket party on Sunday, September 18th, 2016 (a September Sunday as Shirley Temple would call it) for anyone who can make it to the English countryside, to Stourhead in Wiltshire, England, on that day. I'll be there, and so will Joe, and so will Rachel.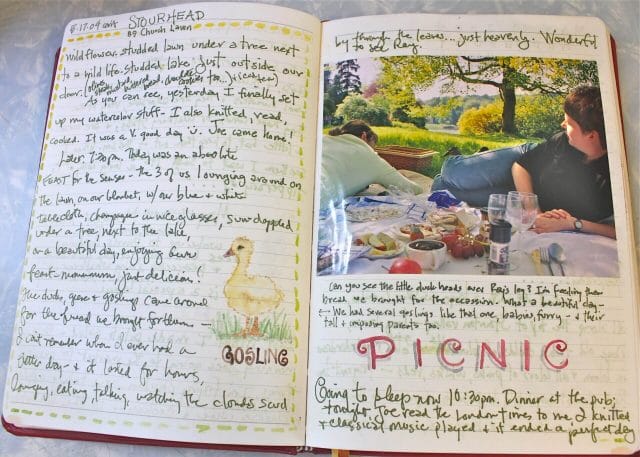 And we'll have our picnic in the same exact spot we had it back in 2004. This is the diary I kept then . . . in the photo I am trying to feed the ducks you can
barely see over Rachel's leg . . . we had the loveliest day there and I would love to repeat it with you!  If you can't make it, don't worry because we will send zillions of photos via the Blog and you'll feel like you were right there with us! This was the diary that I kept on our trip to England in 2004 . . . it was the inspiration for A Fine Romance . . . my friends liked this one so much, I thought I should do one for them and whoever else might like a trip to England without leaving home!
This diary is one of a kind . . . but you can see how A Fine Romance was born.
Slightly messier to say the least, it never occurred to me that I might want to show it around very much so I wasn't as careful as I was with yours, and I still had a problem figuring out what day it was! But for sure, because of it, we will never forget the loveliness.
So, anyway . . . Sigh, spring fever . . .
Although this is what our house and garden looks like today . . . a bit on the barren side . . . but still, snow free and sprinkled with snow drops (the flower, not the ice!) . . .
But a trip through my photos brought me to this . . . a photo from June, when the arbor is covered in roses and twinkle lights . . .
And more spring fever  under the weeping cherry trees . . .
After all, it's only three weeks from now!
And there is so much excitement coming up, pretty soon I won't have time to be feverish . . .  a brand new, very fun WILLARD will be coming to you beginning April 19th (it still takes about four days for them all to go out, so from the 19th to the 22nd to be exact, sign up someone you love for this good surprise) . . . filled with spring fulfillment to take down any fevers, with a new recipe special for Mother's Day, new book (which will very likely be in your hot little hands by then!), new dream charms (!), and a brand new giveaway that is guaranteed to send you girls to the MOON. I've been saving it, as you will see very soon. SO hard to keep secrets!!!
Good bye for now Darling Girls . . . I will return. And only one week until Downty Deliverance.  All so good. XOXO