News from the Road: Run get a cup of tea ~ because this is a long one! We'll start here with road-trip MUSICA 🎶, and what I like to call "the aberration" or maybe the "miracle" because it can't be true and I'm sure it was a typo that will be fixed soon, but while it lasts we must glory in the moment, because it's the very first time for any of my books. LOOK at THIS!!!!⬇️
Even though it's not really a travel book, but if the New York Times Book List said it was Number 10 in the category of books about ditch digging, I would take it! And I have you to thank for it. 💞 Word of mouth has always been the way my books have found new readers, and word of mouth, in this case, would be YOU. There are 100 reviews for Isle of Dreams on Amazon as of today, and 99 of them are 5 ⭐️⭐️⭐️⭐️⭐️'s. Amazing! And all because of you! Look what a little Girltalk can do!
Oh, yes we can!
So, THANK YOU!!!! (And you, too, @FarmGirlGeorgie for making the cute NY Times Best Seller thing💝)  
Right now, I am writing you from my home state of sunny California. Yup, we made it all the way across, from sea to shining sea.  Tonight is our 13th book signing so far, with more Girltalk at Rakestraw Books, here in Danville. We still have ten more signings to go before we get back to Martha's Vineyard, Jack, Girl Kitty, and Home Sweet Home. (Check HERE and see if we're coming to a store near you.)  But first, today, I'm having lunch with California girlfriends!
I thought I'd show you a bit of our trip 'cross country . . . There are so many wide open spaces, you would be shocked unless you were one of the ten people that actually lived in one of them!
Because it's been gorgeous . . . amazing skies . . . we could see weather coming from forever away  . . .
No snow though, we seem to be past that now . . .
But a few wicked downpours . . .
Then up and over the top of the world . . . (I met a girl working in a gas station in a tiny town in Wyoming, at around 6,000 feet altitude, where the wind rocked our car all the way down the road, and asked her how much snow they got up there, and she said, "It's hard to tell, the wind blows it all away." Freezing frozen wind, so much that the MOUNTAINS of snow that MUST be coming down, gets blown away? Eeeek!)
through bucolic farmlands . . .
across the plains . . .
And out to your basic nowhere . . . On our way to one bookstore after another, on our way to meet very gorgeous people.
Like this one.  I love her. I love her hands, her headband, her shirt, her shorts, her shoes and the expression on her face. And most of all, I love the stars in her eyes.
And no matter what age, all our Girlfriends had those same wonderful star-filled faces . . . 💏
I don't think they would be here if they didn't have a bit of fairy tale girl inside them too. We had such a good time together!
We'd never been to the Tattered Cover Bookstore in Denver . . . it was so wonderful! Built inside an old theater, I can't say enough nice things about this gorgeous place. With an amazing magazine section too! You can read its history Here! Go there if you can, they have big comfy chairs to sit in plus a coffee shop. You could live there!
That's Daniel in the yellow shirt. He's the Events Coordinator, and made it all happen in the smoothest way possible!  We had some fairy tale boys come to the signing too, manning the cameras for their wives . . .
And every signing we've been to has been a family affair . . .
Moms and daughters, sisters, Aunts and nieces, best friends for life…See what I mean about the stars in the eyes . . .?
I am grateful every day for the rewarding work I have been blessed with.💞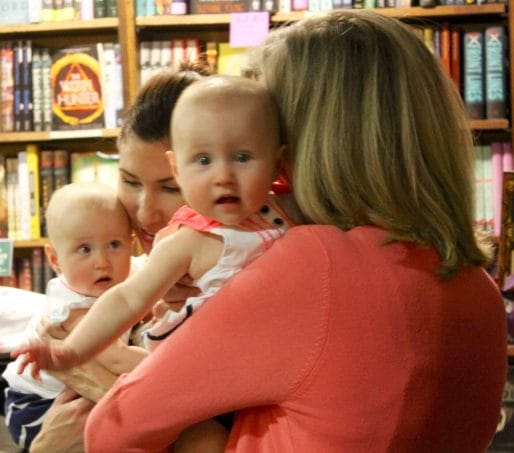 How could I not be . . . Three generations, grandma, daughter and my newest, just hatched, Girlfriends who don't even know they are girlfriends yet, and best friends for life . . . twins!
I always say I would rather be standing in line . . . there is so much laughter and happiness out there, I can hear them from where I'm signing, people meeting people . . .
These girls had a tea party in a restaurant before they came to the signing!
I feel so honored, truly . . .
This was at Main Street Books in St. Charles, in Missouri.  Poor Missourites, just don't know how to have fun!
And this darling girl is one of the owners who also manages the store, Emily Hall (she and her family own it, but no discernible relation to Joe).
Joe took lots of great photos!
The store was tiny . . .
But it was such a nice spring day, no one minded being outside . . .
And, sooner or later, I got to meet everyone . . .
And, as you can see, they treated me royally . . .
Here's picture of the Main Street Books staff with Joe . . . and right behind me are Twitter girlfriends ~ Cindy (@granny2626), and to her right is Alisa (@AlisaMS) who, together, single handedly, made this book signing happen by calling Emily until she could no longer take it!
And while we were at Main Street Books, THIS came by to entertain us all . . . a fife and drum band! Just to give you an idea of how cute St. Charles, Missouri is! In fact, this is where the Lewis & Clark Expedition began their westward Ho!  All of Missouri (that we saw) was wonderful.
We drove the back roads, and made discoveries! Like that ⬆️ If you're ever near there, try to visit the quaint historical town of Hermann, MO. Worth a trip just to see it . . . SO darling, practically all brick, lots of antique stores, and tiny little free-standing bed and breakfast cottages that ooze so much charm, you just WANT to move into one of them.
We also went to Mark Twain's House in Hannibal, MO, our second time there, which I will tell you more about someday soon, because he deserves a whole Blog post about him. He grew up in that little white house. And just around the corner, by the way, is the birthplace home of the Unsinkable Molly Brown. Hannibal is a double-whammy town, and filled with historic buildings.)
Look how close Mark Twain's house is to the Mississippi River . . . what a childhood that river must have provided for an adventurous, brilliant boy like that wonderful Sam Clemens!  Then it was off to Kansas City!
With a little of this . . .
And a little of that . . .
And a lot of this, thrown in for good measure . . .
Because we are the ramblin guys . . .
Here we are at Rainy Day Books in Kansas City . . . these girls brought quilts they'd made from my fabric for me to sign! Are they not cute or what?
It was another wonderful night . . .
of meeting and greeting . . . and smiling for the camera . . .
Jane (from Twitter @artistswriter) brought us this cake!
A beautiful cake, with a fairy and little fairy dust and everything, that she made herself! We have the MOST creative Girlfriends!
Vivien Jennings from Rainy Day Books set us up for local KC television, this was CBS. Do I like to go on TV? Oh no, I do not! I am way too normal for this!
But I did it twice! This was NBC. I smiled and tried to keep all torture expressions off my face. Because A. It's my job, and B. I sat in my studio for four years writing these books, the least I can do is try and tell people about them. I will be doing it again when we get to Memphis. Luckily that's a long time from now.😜
Then we went shopping because Vivien knew all the best places! This is a famous Kitchen store in Kansas City called Prydes . . . They have EVERYTHING!!! Need a dishtowel?
This is Prydes, worth a trip all by itself!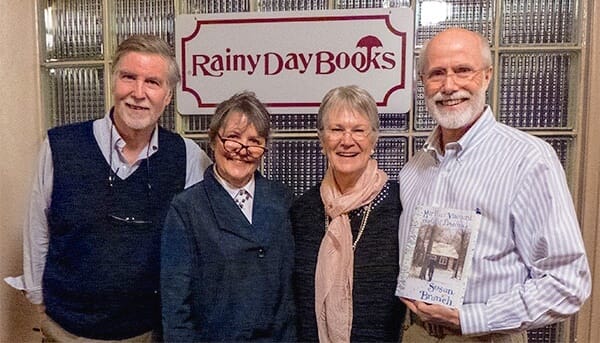 Us and Vivien and her partner Roger, wonderful people, with a very famous, very community oriented bookstore.
After the book signing was over, I signed LOTS of books to leave at Rainy Day Books . . . "with love." In fact, I've left signed books at every bookstore I've visited. If you need Christmas or Birthday presents, and want to support our wonderful Independent bookstores . . . call one of them, they'll ship!
Over the Rocky Mountains into Salt Lake City we go! A little bit straight down . . . for several miles  . . . whimpering occurred but I held his hand and told him everything would be okay.👍
And here we are, meeting more starry eyes at the King's English Bookshop in Salt Lake City.  Joe took the best pictures! He visits with everyone in line while I'm signing books.  And everyone asks him about the incident with the teabag on his glasses . . . and we all still laugh!
Our Girlfriends who come by themselves arrive as strangers but leave with new friends . . .
So many beautiful smiles . . . I could post pictures like these for the rest of the day and still not show them all! If you were at the signings and don't see your face here, it's only because I had better get in the shower soon or I won't make it to the next book signing!
And more fairy tale boys . . . we actually had a lot of them, and they were great guys, every one of them. As you might expect!
See what I mean? More starry eyes!
Doesn't the line look fun?
I loved every moment of it.
Here's Rachel, Rob, and Paula . . . our host and hostesses for the evening at The King's English Bookshop  . . . we are so happy to hear how good the independent bookstores are doing these days . . . seems people really don't want them to go away!!! New ones are opening every day, in the smallest towns too. Seems people love real books to decorate their houses and smell while reading! We can be proud, they couldn't do it without us, it's a triumph of the people over the machine!
 Poor Rachel who works at the store,  no personality, and no way of relating to her customers . . . poor thing, and all this with a box of books under her arm. 👏
And the store itself, how perfect is this for hosting fairy tale girls??? It's a cottage-shop in a tree-lined neighborhood (previously owned, I think, by Goldilocks and the Three Bears).
Here's Rob introducing me . . . the talk was held in the art gallery next to the bookshop. You guys ask the best questions!!! I can't begin to tell you how wonderful these things are. It's more like a conversation than a talk. I start out scared, but within about 60 seconds, I'm talking to you, you're talking to me, and I'm just loving it.
So guess who I get to see tomorrow????🎉
🎵 MAS MUSICA! 🎵
Yes, we'll be at my Studio near San Luis Obispo . . . and (don't be jealous) we'll get to SLEEP with our studio kitty, freckle-face Sammy . . .

. . . and our other Studio Kitty, sweetest Sasha!!!
This is our Studio, where the Kitties live, and where Kellee and Sheri and Alfredo work . . .
We designed the garden for this place right after we got back from our first trip to England in 2004 and were SO INSPIRED by what we had seen . . . the house is in an ancient riverbed so there is good dirt, and it's five miles from the Pacific Ocean, so there is moisture, and there is a year-round flowing stream at the back of the property, so miracle of miracles, in California especially, there is water . . .
And believe it or not, that little building behind the garden is where we ship everything from ~ your books, the Emma mugs, dream charms, everything! We're a little company, but we are happy.
This is Sheri and Kellee just after I got my kitty, Jack!  BTW, I couldn't do it without these girls!
Here's Jack. I think you can see why they felt they needed mustaches . . . they sent us mustaches too.
This is inside the house/studio . . . That's Kellee's desk in the left corner, usually her dog is asleep under it, and Alfredo's is on the right, and the kitchen is on the other side of those barstool chairs . . .   Sheri is down the stairs that go off to the left. It's a mess, because Joe and I are there at the time, and we always bring too much stuff with us!
Soon we'll be having dinner at our favorite restaurant enjoying one of our favorite views in the world . . .
As you can see by these UN touched photos!!!!
Mine all mine. For the price of a seafood salad and a glass of wine.
That's where I'll be, with my BFF Diana . . . 💞 who hasn't sprawled yet in this photo but will soon! See the painting behind my head?  I took my one and only oil-painting class when I was out there and painted that picture of the garden . . .
Here it is in my studio on Martha's Vineyard when I need to remember how nice the weather is in California!
Now I'll leave you with two things . . .
First, this is maybe the sweetest kitty plus reading photo I've ever seen.  Look at that cat's eyes! Is he in heaven, or what?  Thank you to Twitter girlfriend Heather for sending this darling thing . . . (@heatherbyhand)
and this . . .
A note we found under our windshield.  SO sweet. Thank you Texie! We'll be back! ❌⭕️ And I'll be back here too . . . for a new installment in the never-ending story. Thank you for sticking with me! Love you all, wishing you a very loverly Memorial Day Weekend from the two road warriors! Hope to see you out and about!