Hello darling Girlfriends . . . I just wanted to do a quick update so you can see why you haven't been hearing from me!  Today is Joe's 64th Birthday🎈 and we will be celebrating this afternoon with about a hundred of his nearest and dearest friends, we're going to let him know that we will still need him, we will still feed him, even though, he's 64  . . . So we've been keeping ourselves very busy getting ready!
Old friends have come from far and wide ~ we've been planning this party since last January ~ and even invited everyone before we went on our cross-country book tour, but with everything that's happened in these last months, the actual organization part was put off until maybe these last two weeks, but even so, the tent showed up right on time . . . we have lots of tables ~ I've been cooking, and today we
decorate! Party starts at 4:30 pm. The man bringing the music system comes at noon, the birthday cake (to serve 100, three tiers, coconut lemon cake) comes at 4pm … I spent all day yesterday with three of my dearest girlfriends making a playlist for the party!!! 🎵 🎶 It was SO MUCH FUN.  We included my Dad and had Tennessee Waltz on the list, and for about 4 hours, we sang along
with the songs, decided whether they should make the cut, said yes or vetoed, and jumped for joy when we remembered the perfect song… like this one MUSICA … we chose a mixture of 70s and 40s musica from Dancing Queen to I Only Want to Be with You, plus La Vie en Rose, and Fly Me to the Moon ~ my niece Holly has already requested I send the list to her …. We hope singing and dancing will break out all over! It's a once-in-every-15-years-type-party to celebrate Joe with all our good friends ~ actually, the last time we did a party like this was for his 40th birthday!  But this boy deserved a party, and anyway . . .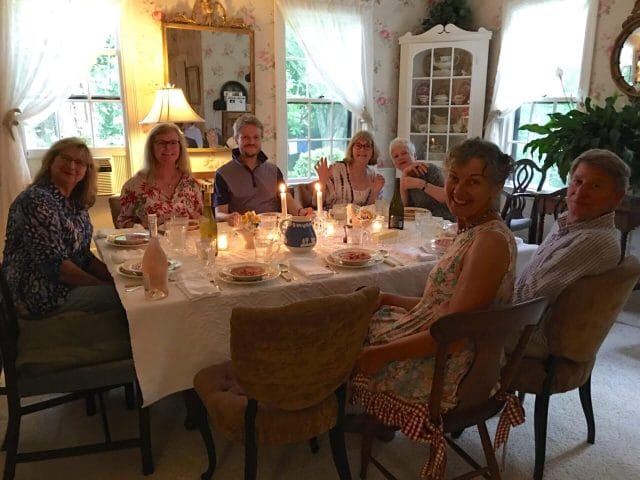 ⬆️ This was dinner last night . . . There's Diana from California on the left (BFF from Martha's Vineyard Isle of Dreams), our dear old friend Peggy, then Paul, of "Rachel-from-England-fame," then Elaine (BFF who hired me to work in the record department in Fairy Tale Girl in 1971), then Rachel herself, then darling Bob, Peggy's husband, and then Siobhan, from England (from that adorable stone cottage in A Fine Romance). So this was a fairy tale dinner . . . 💞 with the freshest farm-stand corn that just jumped off the cob, and with people who love to sing over dessert!🎵
⬅️ Remember cute English Paul? He calls Vineyard Haven, "Haven," and Cape Cod, "Cod." We love him.  This little portrait was HIS birthday surprise last year . . . . 🎁
Here's Ray and I . . . pen pals is how we met, she in England🇬🇧, me in America🇺🇸 …. she's 20 years younger than me ~ we're going to England to celebrate her 50th 🎂 this fall ~ a few years ago, Ray and I discovered that we both wrote to Queen Elizabeth when we were children, AND we both got letters back from the same Lady-in-Waiting to the Queen (the longest serving Lady-in-Waiting in history) …. 20 years apart!!! Now this is a friendship that was meant to be.💕
So now I must go . . . so much to do, but I had to let you know what was going on so you wouldn't think I was just ignoring you!!! Never! XOXOXO
Have a wonderful day! 💛