Sunday was the 35th anniversary of my move to Martha's Vineyard, that step I accidentally took into the unknown, and the beginning of 
my brand new life. A good day to celebrate! Let's have MUSICA! And yesterday was mine and Joe's 30th Anniversary of wallowing joyfully in said life! I love February! Not only is it the month for our best anniversaries, and the wonderfully sweet holiday of Valentine's Day, it's also my mom's birthday. And it's also the month Joe and I will be taking the train out to California to be with her! A red-letter month if ever I saw one.❤️ And look who else thinks so:
The robins are back and frolicking! For some reason, in the last few years, robins show up here in droves (actually it's a "round" of robins, not a drove) when they get even the slightest perception . . .
against all visible indications, that it might be getting near spring. They just know.
It's definitely not spring here, but they don't care, in they come for a landing . . . to splash and play in ice water.
They are believers.  And then, partly because of them, so are we. Here comes spring!
Our 30th Anniversary. This is the guy I fell in love with. A lilac-cutting kind of guy. Just my cup of tea. No one gets everything right the first time, especially me, queen of hit and miss, but we shouldn't blame ourselves because it's true that we're all doing the best we can. There's always another chance. As Oprah said, "Now that we know better, we do better." And so, perhaps, a reward such as this is what happens.
Some people come into our lives, leave footprints on our hearts, and we are never the same. 💞 Franz Peter Schubert
Our house, we bought in 1989, dressed for the season, in white hearts to confuse the snowflakes.
Isn't he cute? I just love his plaid shirt and tie in this old photo! He's a good fabric mixer! And so, speaking of plaid . . . shall we?
Here we are in Edinburgh (say it Edin-burra), Scotland. An amazing city in an amazing country, and I am definitely not a city person, except this one. I loved the whole country. Land of plaid and cashmere, castles and kilts, scotch and bagpipes, Highland fairies, and J.M. Barrie, the man who wrote Peter Pan who said (among other things), "All the world is made of faith, and trust, and pixie dust" ~ and this too . . . 
So let's start here. There was the MOST darling store on the Royal Mile (fantastic main street of Edinburgh that I will show you more of later) that I would love to go back to. We didn't have long enough! We were traveling! So all I could do is run around the best store I've ever been in, and take pictures, because I knew you'd want to see it too. It's ridiculous, so-so-so-so cute. Called "Ragamuffin." If you ever get to Edinburgh you have to save time for this store. It's worth it for fingerless gloves alone!  Have you ever seen cuter ones? No. Neither have I.
Scarves anyone? Like you have never seen before?  Oui! I should have grabbed the blue and orange one top right and just paid for it and run! But, I didn't. What was I thinking?  Nope, they're not on-line. I checked. 😢 You have to go there.

Soft sweaters? In vibrant happy colors? They have them.
And then, unbearable, tops and skirts in cozy cottons and wovens and wool and all the real fabrics we forgot they ever made because they're so hard to find. Moosh.
I did not get to try on one single dress. Nothing. Don't you feel sorry for me? Me, too. I didn't know this store was going to be there, so I didn't plan for it, and we were booked up with places we had to BE. Don't let this happen to you. Write it down. Ragamuffin. You'll need at least two hours of no-man time. You'll want to plan for total concentration. You're welcome. ❤️
But you'll love Edin-burra for lots more reasons than this store. I'll show you in a future post. Doesn't it look unreal? This was the view from our hotel room. Between us and that hotel over there was the train station down below. We could see all the tracks and trains lined up. So civilized, hop a train, and the world is your oyster.
It's a beautiful old city with cozy plaid scarves everywhere… very hygge.
Plaid capes . . . and plaid skirts
And this is a purse! A plaid tweed skirt-purse!
A window-full of plaid. How do you choose?
Here's a photo in a wonderful shop that IS on line. A huge store, filled to overflowing with wool, plaid, cashmere, and tweed and so much more. Coats, jackets, sweaters, skirts, cute shoes too. Called Bruar, House of Scottish Country Clothing. Another place that requires hours of concentrated attention. It's room after room of this and so much more.
I did get a hat. I look like Paul McCartney in it, but what else is new.
Kilts everywhere, and in all the clan colors a heart could desire . . .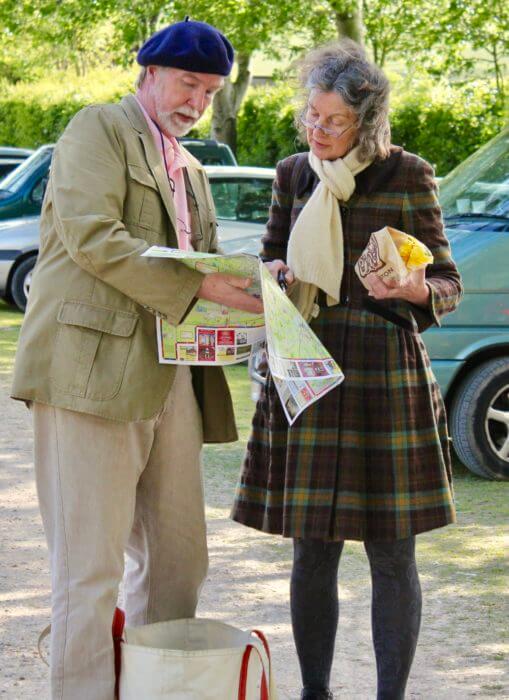 Here's Siobhan (with Map Man) in her darling plaid coat. Coats. They have the cutest coats in England. I kept noticing how cute everyone looked in their coats. All colors and prints, not just brown or black. Around here, we usually wear jackets, but this coat thing, I grew to like it very much.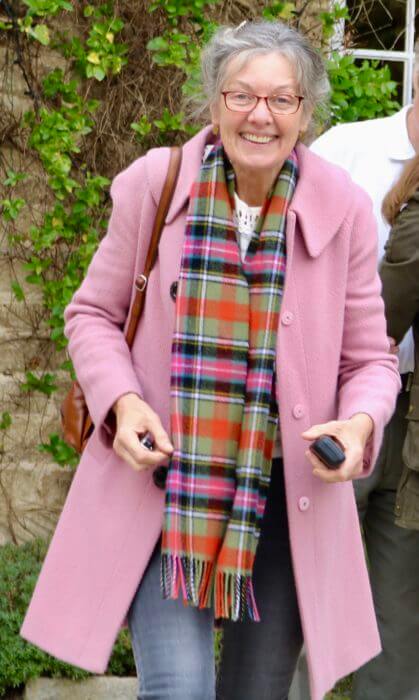 You didn't have to be dressed up. They just wore them with jeans. Just throw it on when you go to the market. I thought it was so feminine. And cheerful, all the colors.
Rachel too. All the English girls were wearing them . . .
Here we are on the train . . . Ray in her cute coat, and me with my jacket off. (We're wearing poppies ~ for remembrance ~ in these photos ~ for those not familiar with poppy history, I'll do a post and explain soon.)
Here's another of Rachel's coats. (But it's the expression on her face that I love more than anything. Isn't she cute?)
I got this hat too, and those gloves, because I love the bows. Sometimes in the winter I feel like a mountain made from sweatshirt material. It's not cute. I was noticing in England you could be warm and still dress like a girl! So when we were in Oxford, and shopping with Carrie, I found a coat! And she made me buy it. And I'm so glad I did!  It's plaid. I don't have any photos of it yet, but I'll show you someday. I love it, although I'm like a headlight at midnight mixed in with all the dark jackets around here. Still it makes me feel perky. Dark winter + bright colors = good thing. 🌤
'Course, the dogs wore plaid too . . . some were decked out in it . . .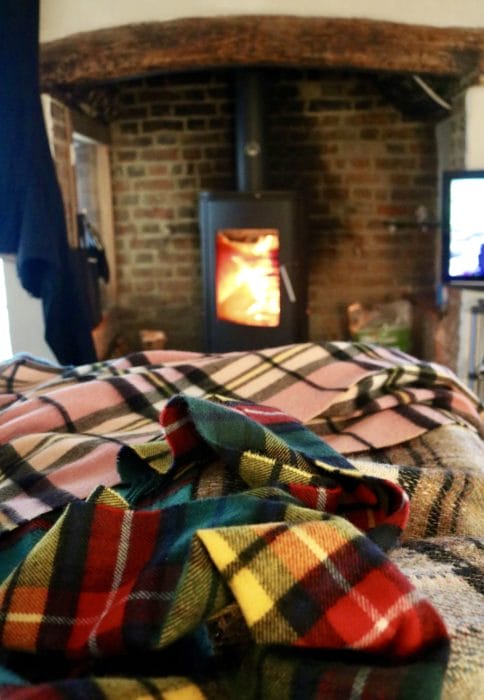 So, with all this shopping inspiration, the place we were staying ended up looking like this . . . hygge to the nth degree, in front of the wood stove . . .
and this . . .
And our Christmas tree got plaided up too.
So here's something else I noticed. See the deer heads on the walls? Very popular in the UK. An old tradition, I imagine, left over from King Arthur and his ilk. I'm not sure, but there were lots of them. Remember the unfortunate stag in The Queen being a sort of magical symbolic thing? Well, deer heads are everywhere . . .
. . . In restaurants, pubs, and homes, but they aren't so much the real thing anymore.
 Now they look more like this . . .
So of course when I saw these in one of the gift shops . . .
I thought, yes! What our wood room (where we watch TV, it's paneled in wood, hence the creative name "wood room") needs is a deer head. So here he is, over the door. Isn't he cute? I'm extremely impressionable in case you can't tell. Trying to grasp and hold on to the wonderfulness of our experiences. And I LOVE nature! And we needed a deer head too! Like everyone else! But, you'll be interested to hear, not everything we saw made it back with us ~ so far, since we got home, I have not once made haggis! You can fool some of the people some of the time!
Cuteness ⤵️
Here's a spy-cam-in-action moment. I loved what this family was wearing despite no plaid. I had to chase after them to take this picture. Look how they are dressed . . . all five of them. Ready to walk and no rain storm or mud puddle would slow them down. I took this picture to remind myself, THIS is how to dress for traveling in a rainy country. (Also loved the red heads! Very cute family. Note, there's bunting too.)
Wellies! (and dog, of course)
And you can get them in every imaginable color and print.
I'm reminded.
So Girls, I just finished the 2018 calendars, 💖 (yay) and today, with all these anniversaries around me, including that 2016 was the 30th year of my first book, is the first time in all these years that I don't have anything due. No deadline! For the first time ever. What shall I do with myself? Leap and shout hurray? Yup!
I have loved every moment of my work, but I have to say, I'm wallowing in this feeling for a while. It's only been two days and I know when we get home from California in April I'll be excited to start something new,
but I'm allowing it all to float around right now, like being on a merry-go-round, knowing I could grab that ring, but choosing not to for a while ~ to just enjoy the ride and feel the wind on my face without the stress of missing that little ring!  Choices. A lovely thing. I'll get the ring later.
And, did you notice the groundhog did NOT see his shadow? That means an early spring! So I've started a little spring cleaning. 🌷I went to the flower store today (wearing my cheerful coat), and then I shopped at the supermarket, read labels and perused all kinds of new this and that and just took my own sweet time about it. Joy oh Joy. I hung up our heart banner in the kitchen and wrote Valentines and got stamps on them, and now I'm going out to dinner with my honeyman to celebrate 30 years of feeling like the luckiest girl in the world.❤️
This is a card I made for Joe from a past Valentine's  Day 💞. . . and here's one for you . . .
I hope you are watching A Place to Call Home! It's as good as Downton in the totally addictive way that you can't WAIT to see what will happen next! You will love it! There are four glorious seasons already . . . and another is coming soon. Joe and I are almost through the fourth, so I speak from experience! Watch, and then we can gossip about them!  We'll start with Regina! 👿 She's hideous!
Don't forget, I'll be at the Apple Farm in beautiful downtown San Luis Obispo, California on Saturday, March 18, at 2 pm, speaking, answering questions, signing books, and hanging out with everyone. They're selling tickets because there will be a tent and food ~ it will be very fun! 🍎 I hope some of you can come! And those mugs I designed? Coming soon! I'll let you know!