All the flowers of all the tomorrows are in the seeds of today . . .  Hello darlings! MUSICA
Sometimes, and tell me if this happens to you too, I have so much on my mind it's overwhelming and because of it nothing really gets done! And I don't like it when nothing is getting done! So when that happens, I do what my mom did, I settle down and make a list. I get rid all those overlapping worries that are subconsciously zapping my energy and blotting out my joy button; I get everything out of my head and onto paper. 
and voila! It's like my worries go away. See my list? It's that out-of-focus thing on the right. Stuff I want to do, like have a yard sale, paint the garden fence, write a new book (all the ideas for which books are on the list), paint for the 2018 calendars, fix the gutters, grind up the tree stump, plan a summer party, design some kitty dishes, wash my kitchen cupboards, plan another ocean liner excursion, etc. etc. Joe and I got home last Sunday from a six-week trip to California. And here we were, suddenly
home, with all the choices in the world in front of us, free as birds, to seed the lawn or not to seed the lawn, to make sun tea or to not make sun tea, but for some reason, I found myself fretting. Our trip was wonderful, but I came home worried (I think 2017 in general is making me mad) ~ every little thing was weighing me down, missing my dad and worries about my mom, but smaller things, like turning 70, and about our world which now looks like a reality TV show, the media playing every detail over and over, like it's all just a game, an addictive Xbox game, that pits the Democrat team against the Republican team, American against American, Avatars versus Aliens, no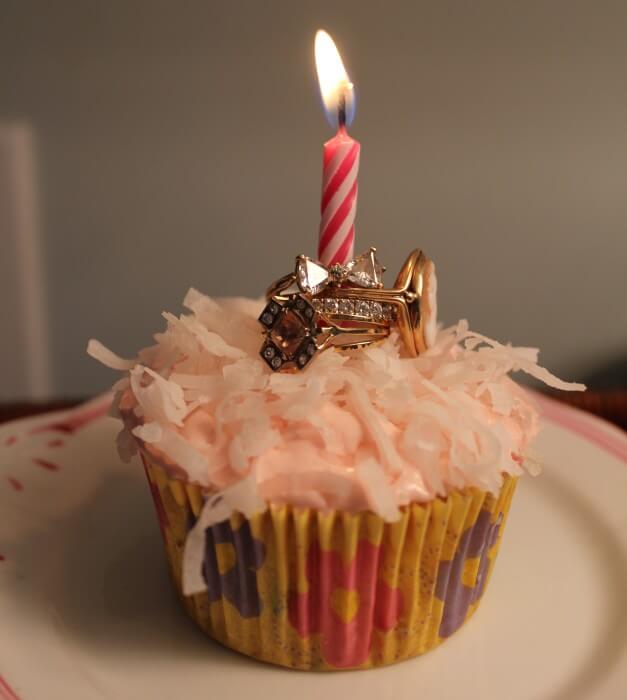 holds barred, no rules, and all that matters is winning and who cares what and who gets hurt. They treat our delicate world like old cowboy movies, as if when the cameras go away the dead guy just gets back up. It's like our leaders are seven years old, not to disparage seven-year-olds, who are way better than our media (in fact, please put them in charge). Plus, the laundry soap my mom used, the only one I've ever used, is no longer being carried by our supermarket! Why? I don't know. 😡 Everywhere I turned something was disrupting my equilibrium, plus, I had to flop over and be 70 when I really didn't want to, because what 12-going-on-24-year-old can fathom turning 70? 😜 ~ all out of my control . . . Then I remembered one of my favorite quotes . . 
Ahhhh, yes. And remembered I do too have control, so when I made my new list, I called it "SEEDS."  Because I need more flowers in my future, and I'm determined to have them. Oh yeah, you can't keep a good girl down can you? NO. And then I took a huge deep breath, closed my eyes, and made my birthday wishes ~ I began to feed myself from the well of sweetness, and I gave myself some Red Letter Days, and you know what? I'm better. 
I turned off the TV and wrote in my diary, and took myself to England by reading this entire book! It's always hard for me to read a book when I'm writing a book, so I don't get to do it as often as I'd
like. A whole book, what a gift. Five a.m., still dark but I got up in my quiet old house, the only sound was the creaking of my footsteps on the stairs, Jack padding down in front of me, tail stuck up in the air, the ticking clock on the mantle, my cup of tea, sometimes a popping fire, curled in my orange chair with my grandma's knitted nap blanket and Jack next to me, and my book. Heaven. The book was a good one too. A mystery. I figured it out though. I KNEW what happened to that baby. 🤓Total satisfaction. And then I went out into the cool salty spring air and inspected the garden.🌷
It's still very early here, no leaves on the trees yet, just a few of the earliest flowers are in
bloom, a couple of daffodils and about 3″ of tulip stem are showing, but out behind the barn, we have a dewy meadow of tiny Spring Beauty (squill) … mostly volunteers because they naturalize themselves. I didn't plant them, which means Mrs. Bowditch did. She owned our house from 1949 to 1980 and I still bless her green thumb every time I walk through our garden. Until last year these little flowers were hidden under a thicket of blackberry brambles, which we finally ripped out, and this magic meadow was waiting underneath ~ just a little sunshine, that's all it needed.🌞
Still so early, the old cherry trees (that Mrs. Bowditch planted) are just budding now . . .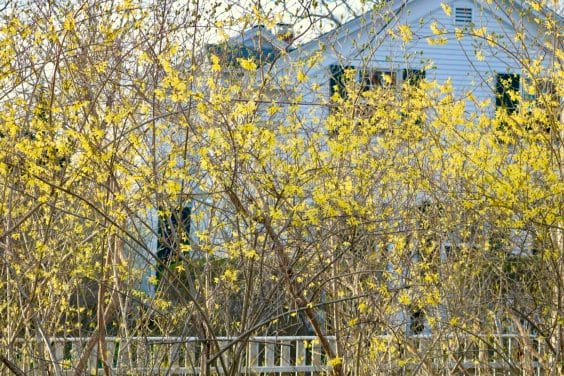 And clouds of yellow forsythia have just begun to open in our neighborhood . . . on this day we opened all the upstairs windows in our house for the first time this year, and let all the old winter air blow out, and all this forsythia-infused fresh island air come in . . . we dried our sheets on the line and slept like baby lambs. Red letter day.❤️
We brought this bunny home from California, pansies are in at the nursery, so my porch Peter got his basket filled . . . doing my part to making a prettier world . . .
And my little vases are blooming,
And the top of my stove is ready for Easter . . .
And because I'm a lucky April baby and I've spent this last week opening cards and thoughtful gifts, and getting phone calls from everyone I love . . . My brother Stephen (an excellent cook!) called to say Happy Birthday . . . and he gave me a recipe for his favorite new healthy veggie dip … He buys cashew butter at Trader Joe's, then he browns two large onions slowly in a little mixture of olive oil and butter . . . he puts the caramelized onions in a blender with 3/4c. cashew butter, whirls everything smooth, and then spreads it on celery. Doesn't it sound delicious? I can't wait to try it! 
My big vases are filled with birthday flowers . . .
It smells like a flower store in this house!
And sweet smelling bulbs, with interested parties standing by, as always . . .
And there have been birthday toasts and cakes . . . this one is Tres Leche Cake, made by Margot, and the new winner for best Tres Leche Cake ever 👏 I'm waiting for her to send the recipe.💝 I'll be sure to give it to you when I get it, it was heavenly!
There's Margot, helping me make a wish! We are very serious with our wishes, they look a whole lot like prayers!
Another birthday cake, this one was made by Lowely, but seriosity of wish-making continues. 💚
And the pink moon continued to watch over us all . . .
My Red Letter Days all have one thing in common, our morning walk through the woods, out to the pond, the very best part of our day . . .
And we don't walk just because we love it, but also because it clearly loves us back . . .
All these wonderful things that walking does for us, from boosting endorphins to burning fat! (So they say!) Plus there's the sky, the clouds, the birds, the trees, the fresh air, the way it smells and feels, the wind in your hair . . .
Elizabeth and Mike came from California to visit us . . .

So we took them along . . . you can see, it's still cool out there . . . and the beach roses look like stick piles!
Sea shell and sea glass hunting . . . Oooooo Elizabeth found a piece of blue glass! Very exciting!
Vineyard booty!
Easy to be happy when the seagulls are swooping and crying and you're enjoying it all with your "little sister" BFF. . .💕
And when you get back, your "big sister" makes you a cup of tea in her brand new most enchanted bone china tea cups direct from England! 👏
Yes, the final samples of the new cups were waiting for us when we got back from California! They are in production now! For all of you that bought yours already (presale), yours will go out first, the moment they come in, which we are still hoping will be before Mother's Day! If it looks like they won't make it in time, we'll make a little card you can print out and give to the person you may be gifting for Mother's Day. Watch this space!💞
And these two cuties are finally back in stock, available everywhere, and we have them signed, here in our web store!  Let's see, what else. . . Well, there was a wonderful Blog post about falling in love with New England, so sweet ~ I put a link for it on Twitter, but not sure you saw it, just in cases I don't give you enough to read! Also, I'm going to be speaking and
signing books for a Mother's Day Tea Party to benefit the South Shore Stars on May 11 from 2-4 pm, at the Indian Pond Country Club in Kingston, MA. There will be
more information later, but if you're nearby, pencil in the date and try to come!
I'm filling my creative cup, plotting a new book, whooshing my paintbrush in my water dish, and loving every moment, making time for the things that matter, like playing with Jack, planning our garden, cheering my days with wonderful old movies on TCM ~ and next, month, in May, I'm excited because there's something new coming along called Filmstruck ~ it's a partnership between TMC and Criterion Movies, their new channel is projected to be available on Roku in May, and as far as I'm concerned, along with Masterpiece Theater, it's all I will probably ever need TV-wise! All the movies on my favorites list will be carried on this new channel, available at any time! I couldn't ask for more!
From my diary . . .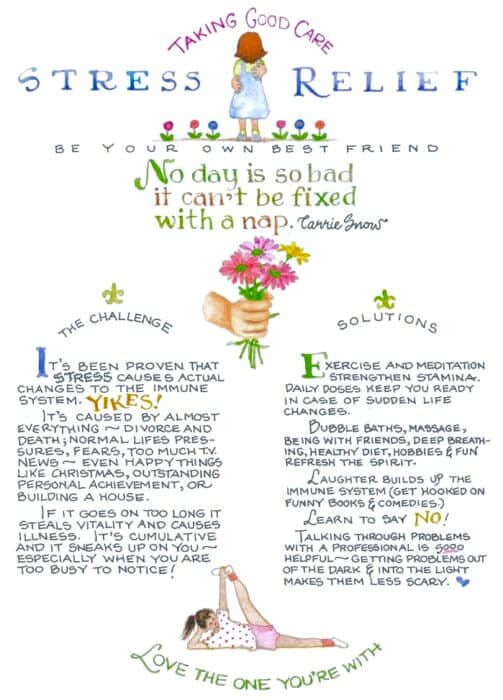 And if you have also been having trouble with 2017 . . . read this ⬆️ because it's a big help, our own stress relief is up to us, and really, compared to many places in this  C R A Z Y  world, we are lucky people, by the simple good fortune of being born where we are. Pray for the world, cook something wonderful, hug your neighbor, be an elf. Thank you for all of your Birthday wishes, you make my day.  💛 HAPPY EASTER! XOXO