I bought 240 minutes of computer time, I have 54 minutes left and all I have are photos …  I haven't even written the words yet! Yikes, so here we go! MUSICA
Sunrise on the MOST delicious boat ride of my life. 🚢 It has been beyond gorgeous. We could even lie in the sun! Trying not to fall asleep. I've read one entire book and started on another. I cast on the stitches of my scarf/shawl. I had a massage. Joe got wrapped! Then I got wrapped. Seaweed. Most heavenly. Warm, sunny, like the best of spring days, or early summer mornings, just beautiful. Hard to believe we pack tomorrow, and leave the ship on Friday morning! I keep getting snow photos from my English girlfriends, it will be a whole new world!
Here's our ship, coming in to the Azores, which I had to look up to see exactly where it was! It's part of Portugal, as I understand it, hard to believe because these islands are miles from any other sort of land, but yes, they do speak Portuguese ~ and many speak English too, thank goodness!
So pretty, and very self-sufficient as you would have to be out here. This is Terceira … a patchwork Garden of Eden of emerald greens divided by stone walls, punctuated by active volcanos, where the houses are white stucco with terracotta tiled roofs. It's warm, subtropical, average temp about 65 degrees ~ it was sunny AND it rained while we were there.
It's a lot like California!
Until you see the rock walls. . .
They took us to town on buses, into this charming downtown area, with lots of local shops and little restaurants . . .
And darling houses and gardens . . .
. . . and streets all tiled in designs with tiny cobblestones . . .
in every kind of art expression,
Mixed together shapes and sizes, all handmade and very interesting …
My first job in town was to find an umbrella, and I was thrilled to do it BEFORE it started to rain!
When we first arrived the sky was blue . . . we didn't even need jackets!
But, see me over there, in the nick of time, umbrella's up! And you can see even more of the cobblestone tile decoration in the streets and on the sidewalk.
Here too . . . and these musicians showed up with guitars and began serenading us!
See that woman with her hands together? She said with her hands EXACTLY what I was thinking! It was wonderful.
Here we are, at O Pescador, where the umbrella lady said we "must go" for lunch!
She was so right! You each get your own bottle of wine! A very congenial country! I don't think I've tasted Mateus since around 1974! It was Yummy!
We had fish . . . how could we not? Joe's was Cod, and mine was Swordfish, both with locally-grown vegetables.
We sat there, drank their delicious coffees, wrote postcards, and got stamps and even got them posted with Azores post mark!!! (Sometimes we amaze ourselves!)
Beaches the world over say the same luv-lee things to passers-by.
Across from the beach was this very old wall. See the "holes" just past the "door?"
That is home to some very curious pigeons who came out to say, "Hey, strangers, what's up?".
This perfect little wildflower was growing between the plastic thing and the concrete! I took this photo . . .
And Joe took this one! Our ride, way out there, waiting for us. And it was time to go find our bus and head back . . .
 It was a lovely day in the Azores, we need to come back soon and stay longer!
But right now, we have a pre-planned VIP destination in mind . . .
But, until we get there, for all practical purposes we are "in Rome," so we do what the Romans do! Which has a LOT to do with eating!
And sitting around, taking pictures of each other!
This is our assigned dining room. And that is the purse Sheri and Kellee got me for Christmas! It was the belle of the ball! Tiny but plenty of joie de vivre!
Every morning we get one our Daily Programme, about six pages of what surprises await us each day. . . you have to decide if you are going to make it to the Vegetable Carving Demonstration, or to the Ball, or if you just might stay in bed all day with your book?  All things are possible.
Yup.
Our dining room again. They have very few actual candles on board for good reasons I'm sure, but they have managed to figure out the softest prettiest lighting in all the rooms so you don't really miss them!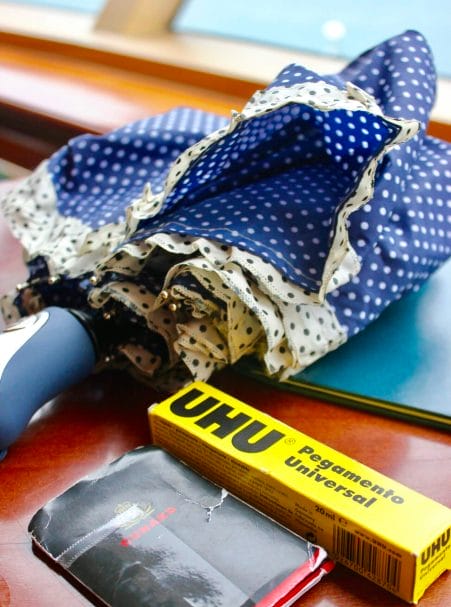 Here's my new umbrella, result of shopping in Terceira. SO happy to have it. What was I thinking, going to England without an umbrella??? Cur-A-zee. And Joe got himself some glue!
Because my ladybug fell off my ring! (Ladybird as the Brits say so adorably.)
It's not a very expensive ring. I paid a dollar for it, and now, Joe fixed it, so I am ready to visit garden after garden wearing the correct jewelry.
OK, I will try to come back later, but if I can't, at least there will be something. It's unfinished, and even worse, no MUSICA (fixed!). But I will return. I have a 4 pm facial! Must go! Life is so terrible here. Don't ever make me do this again. Miss you, love you, thank you for coming along! XOXO