It's already Castle Cottage time . . . I know I'm so late!!! But we've had tons of visitors💞. . .  Ray and Paul were in Dublin for my birthday, Elaine too, and then Elaine came to our house in Galway Bay for a week, then Siobhan joined us, then friends from the Island, Barbara and Annie, then Elizabeth and Mike, so we were running and seeing and eating and being, and I just couldn't force myself to stay home! So here we go, make-up day, and prettiest new favorite MUSICA we listened to while driving around Cornwall! All for you . . .

Spring has finally sprung here. We're in the Lake District up in the North of England and just experienced three of the most beautiful days of our trip.
Long walks along Windermere and wild flowers galore . . .
So pretty on the tablecloth I bought in the antique store in Florida (on our way to the ship) for our Picnic in Beatrix Potter's Garden!
I've been saving them since we got to Ireland . . . making a little wildflower book.
This pink delight was a photo I took just yesterday in Grasmere . . . looked up and there it was!
I don't want you to think I haven't been thinking of you, I'm a two-fisted photo taker and you are always on my mind! No place to set your camera? No problem just put it on the hedge!
No bird gets by me . . .
And I've been capturing all the precious little details that British hotel rooms have to offer . . .
And no pub-fire escapes the clickage of my camera!
Not to mention the antique stores . . .
This saves me from spending too much money and stuffing my suitcases, a photo is like owning something and not taking up space with it!
Luv-lee . . .
But this little silver spoon I had to buy ~ time to take it home! Tiny, slips in easily!
I'm still peeking in people's windows  . . .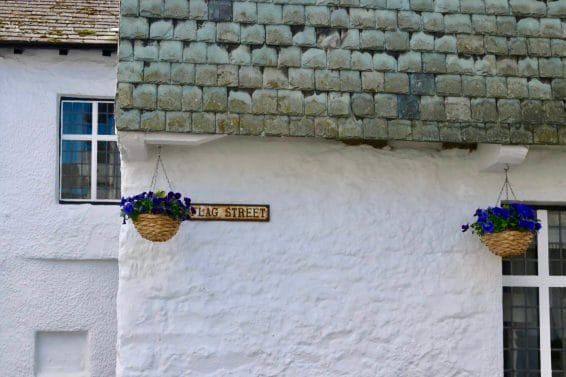 And marveling over the simplicity of the old things . . . other new favorite MUSICA, just in cases . . .
But today I want to tell you about the day we crossed Windemere from Bowness . . . we'd come from Ireland the day before, back across the Irish Sea on the ferry, with a night in a Welsh hotel, and this day, last Friday, we'd driven across North Wales and up to the Lake District. (Whew.)
Now we had a very special destination . . . on the other side of the lake . . .
Me, telling Twitter where we are! This is how I look when a big dream is about to happen! (PS you don't have to join Twitter or Tweet yourself to see the photos I put up, and there are a lot of them since all I need for photos and Twitter is a phone, much faster and easier to do while driving than a blog, fyi).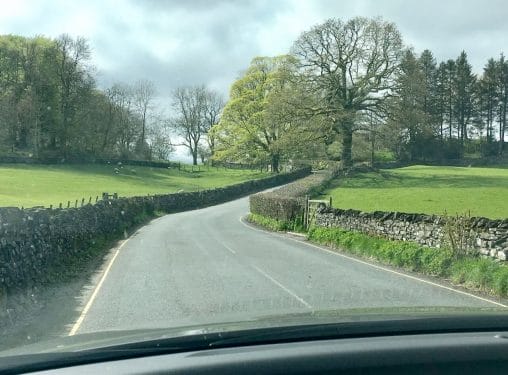 Driving hill and dale heading for Near Sawrey, hearing on the radio, ABBA is getting back together for next Christmas! (Knew you'd want to know!)
Getting close . . .
And there it is, I would know it anywhere . . . home of Hill Top and Beatrix Potter . . .  Eeeek. Have not been here for a while, but never so far from my thoughts.
We could tell by the street signs that we were getting closer . . .
And there it is, Castle Cottage! And I know Mandy is inside waiting for us, and if I could jump for joy in the front seat of the car you know I would. If you are saying, "Mandy? The name is familiar, but I don't remember . . ."
Or, if you're new to the blog ~ Let me catch you up.  You may not know that Betsy (she's American and on the left), one of my Beatrix Potter Society American girlfriends, introduced me to Mandy (who is English and on the right with Joe), who just happens to live in Castle Cottage, the house where Beatrix Potter lived with her husband Willie Heelis for thirty years. Last summer Betsy brought Mandy to our house on Martha's Vineyard for lunch in our garden.  Such a lovely time. Beatrix Potter has brought so many nice people into my
life. Instant something-in-common ~ kindred spirits, aspiration-centered, beauty-based. During our happy conversation I mentioned that we were coming to the Lake District again next year (=this year!), whereupon Mandy invited me for tea at Castle Cottage! 💘Be still my heart. The first and only time Joe and I had been to the Lake District was in 2012 and for only one teeny, rainy week for my first visit to Hill Top, a long time dream, which many of you read about in A Fine Romance. This time, we'd be renting a cottage there for two weeks. So of course I said YES, PLEASE, thrilled at the thought of being so close to the actual place where Beatrix Potter became her real and true self.
During our lunch I told Mandy about the BYO Picnic Basket party we had in 2016 on the lawn at Stourhead… and that I thought I might try to do another one on this next trip ~ and she said, "How about you have it in my garden?"  The Castle Cottage garden is what she is saying, and I'm thinking, "Beatrix's house for my Girlfriends!" I saw Castle Cottage from far away last time we were there, coming from Hill Top and looking across Post Office Meadow with longing. I tried to be calm. Brain doing back
flips of reorganization sparking with mad thoughts. Waiting for her to change her mind. Even after we toasted on it. But she didn't and now, we are here, and it is happening, and our Picnic is on Friday! And, in addition, for frosting on the happy-cake, when I told Mandy I had Blog, Facebook, and Twitter Girlfriends who really wished to join us, but for all kinds of reasons, like not having a traveling partner, or not wishing to drive on the wrong side of the road (on the skinniest streets in the history of the world), couldn't. And she said, "Hey, why don't I put together a tour?" Eyeballs to heaven. And she did, and I told everyone on social media how they could join, and as of this very moment she is leading thirty-one happy campers through the highlights of the Lake District for ten glorious days, and bringing everyone to our Picnic in Beatrix Potter's Garden!!! I met them all the day they came in! I know. How can this BE?
And then, as Mandy had directed, down the narrow back lanes of Near Sawrey to the house we went . . .
As slow as I could make Joe go, very, very slow, please do not hurry, windows down, crunch of gravel, song of blackbird, through the green gate we went . . .
Where we were royally welcomed by Mandy and the fluff ball in her arms, Stanley the pup. I'm done being overwhelmed and tearful with joy here in this pic, I did that as I walked through the green iron gates, and saw it all up close ~ in this photo, I am only just happy.
And here for two delicious hours, looking at the view, at what Beatrix loved so dearly, the rolling hills and undulating stone walls, the sheep and the peacefulness of it all . . . while Mandy explained the garden layout, what she and her husband Bill had done in the seven years they'd lived here, what they'd discovered about what Beatrix left behind, how Mandy had come to know Beatrix Potter through her house and gardens. Verklempt. Silent. Staring. Listening. Soaking.
Some of the hedges and plants were so overgrown, Mandy cut them back to the nubbins, but if you look at the trunks, they are HUGE, and you know they were planted by Beatrix. Another thing I found out. See the first two chimneys on the left? That's how big the original cottage was when Beatrix bought it. You know how you feel about your home? Well, that's how she felt about hers. A refuge. The middle window on the bottom was the door.  She added on part two, in the middle, with the porch in 1913 ~ so the house was long and flat-ish … and the far right of the house, with the peaked roof, was added in 1923. So this house is totally Beatrix and you can feel it.

Such an adorable little cottage she bought. This Victorian genius, city girl, could have lived anywhere, but, with utmost good taste, stepping over the norms of the times she lived in, honoring her heart's desire, sensing life is short, she chose a teensy little cottage, far from London in the English Countryside. She never updated it with electricity or running water. Her small, 17th century barn is still exactly the same as it was in her day. And she died there, overlooking the wonderful world she built for herself, in 1942.  This was her view . . . and she owned most of it. Of course, what you smell, is fresh cut grass. Cut by the little teeth of sheep . . .
. . . that graze the fields around the house . . . leaping and running little lambs with their patient moms . . .
These are Mandy's two darling dogs, Stan and Ollie. Father and son. Son LOVES to play!
Mandy took us room-to-room inside the house, telling us about each space, what it is and what it was, about the secret exits Beatrix built so she could be alone when she wanted to be, her grandfather clock, the room she died in, the views she had . . . and she shared Beatrix's personal photo album . . . this wonderful photo had another little black dog. And that hat. The little pleats. They just don't make them like they used to.
Here with her dad . . . I love her little linen clothes, see the patterned underskirt and stripped leggings and leather boots, don't you just want them? The flower at her throat? The buttons and the wide scarf wrapping her waist?
And here, I took a picture of one of Mandy's photos, of Beatrix in her later years, with her two dogs, ON her porch, in FRONT of her porch . . .
Castle Cottage is wonderful, I'll show you more pics of the inside later ~ Joe and I are picking up Kellee and Sheri at the train station at 5pm Lake District time (they're coming in from London), and it would be nice if I wasn't wearing my jammies!  But this darling towel quoting Beatrix's famous "first words" was hanging in Mandy's bathroom. So cute, I found a shop that sells them in Grasmere, I got one for me and for when I come home, another to be a giveaway, for YOU!
And then, ahhhhh, time for tea on the porch, milky Earl Grey tea and cake . . . where I made a video for you . . .
XOXO
I promised you I would bring you along . . . what I lack in quantity, blog-post-wise, I try to make up for in quality . . .💞
And a little close-up of deliciousness . . . yum! During tea Mandy told me all the secret surprises of what's going to happen at Hill Top on the day of the Picnic which I can't tell you now because then they wouldn't be secrets, and I told her my surprise . . .  that I was contacted by Victoria Magazine and they are sending a photographer to our picnic! Not that there will be any lack of photography going on that day, but now we'll have a professional doing our "class photo!" I'll be sure and show you everything, it's still all in the future, oddly, after it happens, I'll show you how it went!
I'll get to see our kindred spirits wearing their name tags, meeting each other in person, from sea to shining sea, and all over, at BeaStock, half a jillion strong.
Stan, the puppy, asleep next to my leg, Ollie on my lap, surveying the goodness. Thanking my lucky stars I bought that little figurine of Jemima Puddleduck all those years ago . . . it's funny where the little things of your heart can lead you in this mystery of life . . .
With hugs and promises for later, we left Mandy so she could get ready to welcome our Tour Girlfriends . . . and Joe and I walked Beatrix Potter's walk, into the village for our 6 pm dinner reservation . . .
 Look at this adorable building! It's Tower Bank Arms, the historic pub right next door to Hill Top and just one of the places in the village that Beatrix Potter illustrated for her little bunny books.
As requested, our table by the fire . . .
Then off for our first vision of the cottage we'd rented for our Lake District stay … it's the downstairs part of the cottage at the end …
We walked the next day and this is it looking back from across the meadow . . .
And the view from our driveway . . . Baaaaa! And SO MUCH MORE . . . but I have to go. Before I can even tell you about the Milkman . . . I'll have to come back, maybe tomorrow, early, maybe before you've gone to bed tonight, due to time difference, but while Joe and Kellee and Sheri are sleeping, I think you should hear about the Milkman!
Also…Mother's Day . . . Just around the corner! Don't forget this delicious cake!
The new cups are still going out, although I believe the Mother's Day cups have all been sent by now . . . they went first! The rest are on the way . . . hope you've been getting them! I'll tell Kellee and Sheri hello for you!