I promised you "a surprise" in my last post (about a hundred years ago, oh my goodness, I'm so late)! MUSICA (nice old Frank)🎶 I don't usually start things off with a photo of me, but I had to make an exception to add oomph to my explanation for why I've been away so long! In the photo, I'm dressed and on my way to give a talk at Island Writes, but you may notice something not quite right.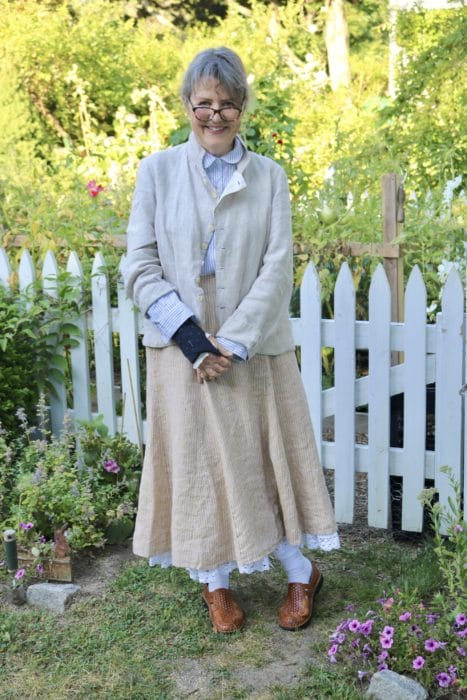 Yeah, why is she wearing that black glove? What an odd-looking glove. Hey, that's not a glove! No. It. Is. Not. It is a (stupid) cast for a broken wrist. A broken right wrist. The hand that does everything. So anyway, I broke it a little over a month ago while packing up things for the yard sale. Tripped over bags, hand-to-floor, caught myself, the end. Which also ended the infamous yard sale for this year. Ended almost everything, because I had no idea what all this hand
did until I lost it. Besides typing, writing, and painting, it opens cat food cans, washes hair, signs books, holds a freaking fork, puts on earrings, uses scissors, deadheads roses, DRIVES, and chops onions. Hello. At first I couldn't do any of it, I gave my brain a new kind of workout by practicing writing with my left hand, but one-by-one I've been getting things back. And Look Ma, I'm typing! I think I MIGHT get the brace off Sept. 14, my Doctor keeps little secrets to himself, I've learned, but I am hoping! It wasn't a bad break, no surgery; I glowed like a 7 year old when he called me a "good patient." It's the little things in life. Yes, physical therapy will follow, but I've been doing exercises to keep my arms strong, so I hope normalcy returns soon. Thank goodness for Joe! He's been taking such good care of me!
But I promised you surprises, and you're going to get surprises! 🌸 Our Courage Charm has arrived . . . isn't it wonderful? Gold with a streak of pink that goes all the way around. Pink, the color of nurturing, for yourself, and for others. The color of love.💝
It comes on its own little card . . . the charm is engraved with the words "Courage, Dear Heart . . ."💞
Thought you'd like to see my bracelet . . . I think I have them all so far!
And this? This is not for sale! This surprise of all four-seasons of my cups (which are all sold-out and no longer available anywhere on earth), is for the lucky person whose name gets drawn by Vanna in the next post! I told you I would have surprises! Just leave a comment, and you'll be entered! It can be for you, or maybe you'll want to take it apart and make four Christmas 🎄 presents out of it! Leave a comment!'Tis almost the season! Here comes
And this? This is for everyone! A brand new bookmark for all my Anglophile, Corgie-adoring, Queen-admiring girlfriends and the people they love! Just click HERE, print it on card-stock, have it laminated if you like . . . it makes a very sweet stocking stuffer or book-gift accountrement.(In case you're new here, the bookmark is tucked into a copy of my book A Fine Romance, Falling in Love with the English Countryside.)
And what else? Oh yes, for everyone that preordered and waited so patiently, I'm thrilled to tell you the new cups are scheduled to arrive in California TOMORROW, on Thursday! And yes, I ordered extra so we would have some to last through Christmas, just in cases.
The heart cup is another Courage item. The world is so wild these days, we need as much of this as we can get. And there's another secret about this cup . . .💞
I didn't design it! I designed a red cup with hearts on it which Joe thought was a little boring, and said, "Why don't
you make it look like champagne?" I said, naturally, "What are you talking about?" He tried to tell me, but I couldn't picture it, was running out to lunch with girlfriends, and said, willy-nilly, over my shoulder, "Draw me a picture!" Because I know Joe is an artist even though he never does it. But I didn't expect THIS. Champagne bubbles made into hearts. Of course I fell in love with it. My boy is a genius! 
Very appropriately, this is Joe's first cup ~ Champagne Hearts! He will very likely never do another one, not sure I can figure out how I tricked him into this one!🙃
I designed the bottom and the handle, so it was a group effort. From the Heart of our Home.💖 You'll have them by the end of next week!👏
This one too! The Martha's Vineyard cup, arriving at the Studio tomorrow, and in case you're coming to the Island, it's already available in the shop that carries my things here ~ which, by the way, has changed their name to Vineyard Arts Gallery, it's still in the same place in downtown Vineyard Haven, and Robin still runs it. And one more by-the-way . . . another reason for you to leave a comment ➡️ Yes! I'll be sending some lucky person their very own Martha's Vineyard cup too! It's an Autumn extravaganza!
This too! Leave a comment to win this Pumpkinhead cup! So far that makes three lucky winners and you only need to leave one comment to be entered for everything! Why you may ask? Because I can! (Writing now, from day after I published this post: Reading the lovely comments ~ can't answer so many with bad hand, but reading 🤗, loving, sometimes tears, THANK YOU.💞 This is why. We are the world!) I detect a need for cheer and doing my best in this little world of ours, to make some of it for my Girlfriends! And, to make it more fun, the winner of this Pumpkinhead cup will also get a box of my Inspiration Notecards.
Hope you love them!
Jack also wanted me to let you know, in his own unique way (by draping himself on the thing I'm trying to photograph), that the 2020 calendars have arrived! If you preordered, you should have them!
Other good news, our teapot plates are back in stock! We've gotten lots of requests ~ sooo happy they're finally here!
Great for holiday cookies, as a little serving dish and. . .
also looks great hanging on a wall!
And brand NEW, two night lights!
Blue dots on a scalloped porcelain shade!
And little flowers too!
You can read about them HERE.
I have soooo much more to tell you, but this is my first day back at typing and I've just been made a wee bit painfully aware, it's time to stop! I'm only half done! Wah! Guess I will join Jack doing what we do best!
Still eating yummy whole food! 
Have devolved to one-finger typing, left-hand ~ but one last thing, I'm reading this helpful book I think you might like.
Interesting book that reminds us of our lovely humanity . . .
We need to remember in our crazy world . . . also, from me to you💞, want to remind:
Don't forget to leave a comment (one word is fine!) to be entered for Surprise GiveAways! And sign up HERE to have this blog delivered to your email box!