Good Morning You! February One! Already! In the middle of a storm, a wild nor'easter, on our way to Springtime! MUSICA!
Here's to a month of good luck!
Our world is very basic these days: the house, the walk, the house, the walk, the PO, the market, the house, the walk. So grateful for the house, for the walk, and for all the wonderful people keeping our PO and market going! Not walking today, big storm here . . . but we still have the house! And the refrigerator, and the stove! We are doing good!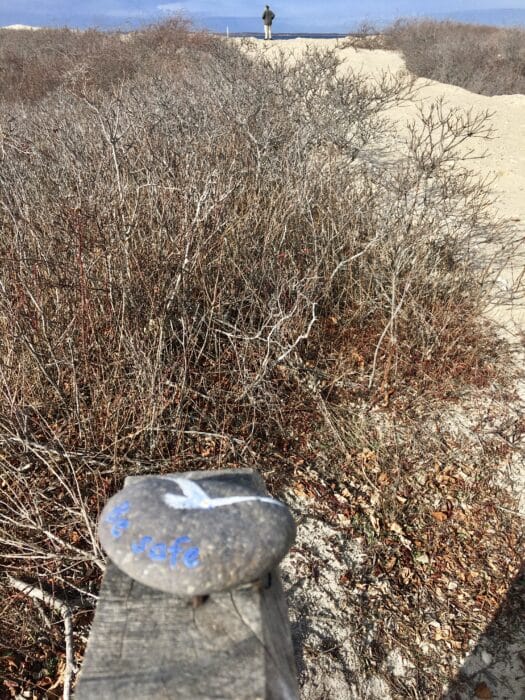 We were out the other day . . . it's beautiful, even in winter, icy, peaceful, spirtual, healing. 
No two days are the same. This was waiting for us on the fence post. Someone dear trying to light up our world.🕯
When we walk I keep seeing these foot prints … I think it's my shoe actually …
And when we're heading home, I see it like this, upside down. Finally, I couldn't help myself . . . I had to bend over and add a little bit to it . . .
Our frosty road meanders through the woods . . .
It's beautiful in all seasons . . .
And then home . . . this is a big reason I love winter! A fire, right in the middle of the living room . . . still sort of amazing if you think about it!
Jack loves it too. He sleeps in my desk drawer (lined with a thick knitted blanket) while I work, but yesterday I walked through the living room, and there he was, all independent, a person of his own, enjoying the fire. My boy.
And these are our upstairs windows at sunrise . . . (note green seaglass for contrast in more ways than one)!
No two snowflake trails alike . . .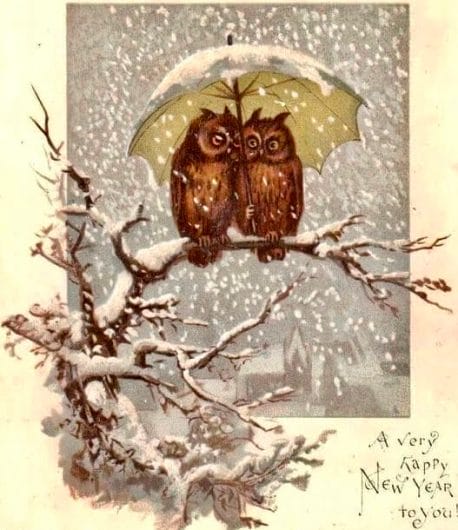 A luv-lee start to the new year . . . hoping February brings us an abundance of good news and hope, lightness of heart, wisdom, closer friendships, a peaceful mind, divine guidance, and all of it sprinkled with lots of critter cuddles. And an early Spring! We'll find out tomorrow … it's GroundHog Day! 
Here comes the sun!
And in the kitchen, we are ready in case we lose our electricity today! Oil lamps are filled, candles at the ready!
And in my studio . . .
I've been busy these quiet mornings . . . painting for the new 2022 calendars . . . thinking we will all be free by then and those calendars will be filled with travel and hug dates! Very joyful!
And here I am, making quilts the easy way, with watercolors! I'm also designing new Girlfriend cards for the Studio … and working on the quote book . . .
In case you're new here and haven't seen my studio, this is where I work! I've read that in the olden days, they called this room in our old house the "Music Room." I love that it has creative DNA from before me and I
get to add my own to it ~ in my house of creativity. When I first moved into my perch on the world … my old friend Carlton came and lined the walls in bookshelves, and painted them white. But I only had that one little art table, and nowhere to lay out big projects except the floor! (Speaking of Carlton, I saw him at the post office the other day … he came to my car window and said, "Hey Girlfriend!" Made me laugh!) (PS, don't know who Carlton is? See my book Martha's Vineyard Isle of Dreams. You'll love him!)
Anyway, all that was required was a trip to Ikea… Fitting this room together was like putting together puzzle pieces . . . We took our measuring tape with us and found some nice long work spaces with shelves that surrounded my art table perfectly . . .
Plus another long table against the wall . . . With a shelf above
it for pictures of my beloveds, my mom and dad, my cats, and grandma and brothers and sisters and dearest friends, all here with me . . . and next to the clock, the signed photo of Mark Twain Joe gave me.💞 A treasure. The whole thing is a treasure room to me.💖 
And still more shelves on the other side of the room for special old books and Beatrix Potter . . . and another table. I am SET with the tables. Yet, I STILL need to use the back of the sofa and the living room floor when I lay out calendars! Sometimes my studio is nice and clean, but when I'm in the throes of designing . . . it looks like this ~ controlled chaos!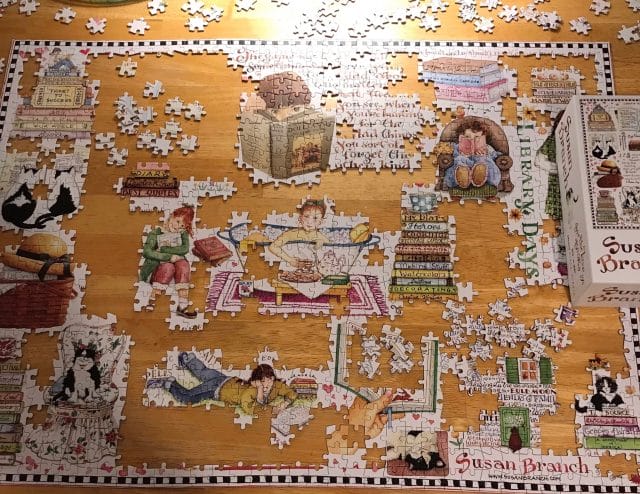 So what else? Our girlfriend Peggy sent me this photo of her work in progress ~ Look how good she's doing! I've gotten so many of your photos . . . so fun to see! And our "For the Love of Books" Puzzle is back in stock in case you missed it the first time!
Joe handed me this article the other day . . . Light Up Your Brain!!! Staves off anxiety! Need lit, happy brains! Love it!
And here is the front window of my Studio. I feel responsible for the entertainment out there … brand new from Janie for the Valentines in our lives, my BELIEVE banner! 
Here it is in Janie's cabinet! Nice big letters!
She made the perfect little envelope to go with it!
Perfect timing to turn over the February page of my calendar to this! Everyone I know is feeling stressed out, many experiencing anxiety and even anxiety attacks ~ we're helping each other with reminders
of self care … so this page could not come at a better time! I can't TELL you how important it is during this time to take care of yourself…Stress is cumulative, chronic empathy is a wonderful thing, but these days, it could cause trouble, you will go along fine, thinking you are handling it, and then suddenly, it can turn to anxiety and be a threat to your health. So take a little time for yourself. One way to do it is turn off cable news and watch your sweet soft local news station. You'll get news that matters, and some of it is even GOOD! Please try to give yourself as many Red Letter Days as you can!
This wonderful thing was made for me by one of our creative Girlfriends, Rachel! Isn't it adorable? I get it out every year, I love it so much. So romantic! Makes snow look good!💞
This was breakfast last Valentine's Day . . . oatmeal with walnuts, apples, and pomegranate seeds!👏 It's the little things!
And this is the February page of the other wall calendar I did for 2021 (in case you don't have it) … the Photo calendar . . . where I wrote about the Romance of Home . . .💓
Like this, because I enjoy perfecting . . . 
Valentine's Day is perfect for it! This was from a party we had a couple of years ago . . . pure mooshey romance!
I got out my little collection of old valentines … in the olden days, these are the Valentines we exchanged in grammar school!
And Janie made us an adorable little banner to bring back those memories! She also made the envelope from pages in A Fine Romance (no two alike) just for Valentine's day…💞 
So many of you know Sheri and Kellee . . . they've run my Studio in California for the last 20 years … close to 20 for Kellee and 10 for Sheri . . . very dear people to me. Here they are in the fall of 2019 out on our walk with us here on the island.
 And here they are, with Alfredo in the middle, another darling friend that has worked for me since 2001! Love these people! So, must tell you (hate to say this!) with lots of notice, but still a loss … Sheri has quit to focus her time on her very own Farmstand where she spends her days in still MORE creativity. I'm so happy for her … she deserves it! You can follow her on Instagram @honeycuttfamilyfarm. She lives very near the Studio so I'll get to see her when we're out there. She can't get rid of me that easy!💘💘💘
This is the Studio in
One day last June a friend we knew who worked at the Apple Farm in San Luis Obispo (one of
our favorite places) stopped by to say Hello to Kellee and Sheri and tell them the Apple Farm Gift Shop was temporarily closing.😢 Her name was Lauren, and she ran the warehouse there. One luv-lee serendipitous moment led to another . . . and after a nice long training from Sheri, Lauren is now working for US!!! How lucky is that? I don't have a picture of her yet, but I will! So when you need help with an order, you can contact Lauren@susanbranch.com 💖 And when you do, be sure to tell her Welcome to the Neighborhood!

Watch tomorrow and pray Phil doesn't see his shadow (which he won't if Pennsylvania is having weather anything like ours)! Then celebrate with what is now our traditional Phil dinner! Oven on to warm the house and cook dinner at the same time. A win-win! Stepping right over those 60 mile an hour winds and wild blowing snow!
Jack sends his everlasting love and wishes you every good thing! He says it will help if you remember the modern rule . . .
You are in charge of what you do, what you believe, the people and inspirations you surround yourself with, and how you treat yourself.💞 See you later! Have a wonderful day! If our storm gets interesting, I'll post some pictures on Instagram @susanbranchauthor!If you need something new and wonderful to watch, we are loving Ken Burns History of Jazz on PBS! Amazing old films and photos, history of our country, gorgeous music and dancing … you will love it!💌
HERE'S TO YOU, BE A