I've been baking too! I'll try anything with Cranberries in it.
So when our Girlfriend Mary Holland sent me this recipe I knew I had to try it! (I'll type it out at the very bottom of this post!)
Isn't it pretty? Doesn't it just scream Christmas?! You could almost hang it on the tree!🎄
So I gathered all my goodies and did some measuring . . .
Into a medium-sized bowl went 2 cups of flour . . .
add 1 cup granulated sugar . . .
1 1/2 tsp. baking powder,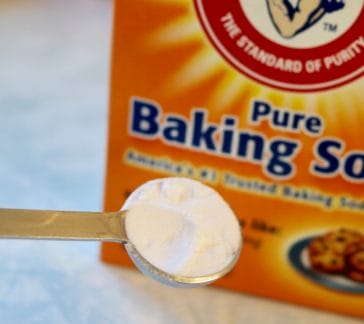 1/2 tsp. soda,
and 1/2 tsp. salt . . .
Whisk it all together well…
Stop and find out what Jack is up to. ⬆ But of course. . .  Time out for some shooting and retrieving of the stretchy unit! His eyes say to me, "You have all the power." And then he whispers, "I know if I look at you like this you will stop and play with me." And he is right!
Then it's time for wet ingredients ~ The original recipe called for 2 Tbsp. melted crisco … but you can use melted butter, or coconut oil ~ I used avocado oil ~ it's all considered "shortening."
One beaten egg . . .
grated zest of one orange . . .
and 3/4 c. fresh-squeezed orange juice . . .
Mix it all up! (A spoon is better than a whisk in this case as I learned the hard, thick way!)
I thought nuts would be good in this bread so I added 1/2 cup coarsely-chopped walnuts . . .
And because I LOVE cranberries, I didn't cut them in half as the recipe called for … I put them in whole (and probably saved a half hour of tiny cutting!).
Stirred it all up and poured it into my buttered bread pan…
Ready to go! Into a 350º oven for 55-60 minutes … 
And voila! 
It's done if the knife comes out clean!
Cool completely before cutting into it.
And there she is … perfectly delicious and gorgeous too! You can make them in the little pans and give them as gifts! If I would have had some on hand (which I will next time) I would have sprinkled this bread with sanding sugar before I put it in the oven. I have to say, for some reason, this Orange Cranberry Tea Bread tastes better the second day, and every day!💞
CRANBERRY-ORANGE TEA BREAD
2 c. flour, unsifted (just lighten it by stirring before measuring.

1 c. granulated sugar

1 1/2 tsp. baking powder

1/2 tsp. soda

1/2 tsp. salt

2 Tbsp. shortening: melted Crisco or butter, coconut or avocado oil

grated zest of one orange

3/4 c. fresh squeezed orange juice

1 beaten egg

1/2 c. coarsely chopped walnuts

1 c. raw cranberries

Sanding sugar
Preheat oven to 350º. Butter a 9x5x3 bread pan. In a medium-sized mixing bowl, whisk together first five ingredients.  Stir in shortening, zest, o.j., and beaten egg. Fold in walnuts and cranberries. Pour into pan. Sprinkle on sanding sugar if you like. Bake 55-60 min. until knife comes out clean. Cool completely before slicing. ♥️