I love glass. I love it for the same reason birds love it, it's shiny.  Cleaning the glass around my house, including my windows, mirrors, and the glass on pictures is one of my chief (and some would think, strangest) decorating tips for the holidays.  Glass makes the perfect palette for candlelight and twinkle lights to shimmer and shine which does a lot to make magic in any room.  Like the trail Tinkerbelle leaves as she flies by. ♥
Receiving this dish in my early 20's was probably the thing that alerted me to the possibilities with glass and started the obsession.  It was a gift from my Aunt Maroline and Uncle Bob when I got married.  When I first saw it, I didn't know what it
was or what I would DO with it; there were no bananas in it when I unwrapped it, so I wasn't sure what its purpose was.  I love things with a purpose, so when my aunt told me it was to hold bananas, I jumped for joy.  It had a reason to exist!  I could have it!  The pure charm and whimsy of the thing took hold of my heart, and this banana dish has been on every kitchen table, island, or counter in every kitchen of my life.  It is a mainstay.  I would be bereft without it.  We are never without bananas in our house. ♥
Inspiration is funny.  You never know when it will hit or what form it will take.  One summer afternoon, many years ago, we were sitting at the picnic table in the backyard belonging to a French man we know here on the island.  He spread a white table cloth over the wood table, brought out beautiful cheeses on a board, and served us cold white wine in short, straight-sided thin glasses like these, while French cafe music drifted out the open French doors to his house.
 I thought, oo, la, oui!  How continental!  How adorably foreign!  How Charles Trenet!  I must have this!
And so it began, the glass collection that will never end.  Because
it was becoming obvious that to lead an original romantic life, on the model of the early Zelda Fitzgerald, where dreamy French music and entertaining would take place, I was going to need to gather the ingredients (props); these glasses looked like a good place to start.
We've collected ours mostly one at a time.  We'll see one on a shelf in an antique store, it will cost a dollar, and we will jump on it like it's a trophy.  Our eyes narrow and shift around the store, to see, does anyone else notice this wonderful thing is only a dollar? And they don't, so we grab it and run.  What is a dollar these days? A candy bar is a dollar.
Because we find them one at a time, our collection of these little glasses is very mix and match.  We've found them in pink and green depression glass, etched with fruit and flowers, swirled, and hand-painted.
We have found them etched with the Lord's Prayer.
We have found ones that we can't believe have survived so long!
Some of them could definitely tell a story. We found this one from the first Queen Elizabeth in the little antique store on board the QEII.  It was not a dollar.  But it had our name written all over it. The Finding-Nemo seagull word formed on the lips, "mine" it said, irresistibly, as in take me I'm yours.
Over time, we realized that others, with slightly different shapes, make wonderful water glasses.  I know some of you understand this love of pretty glasses, because a couple of weeks ago we put three sets of these little glasses, colored and etched, in the Vintage section of our website, and they were snapped right up!  Sets are really hard to find but Joe and I got them out shopping as we were crossing the country!  So happy you (whoever you are) got them!  I will keep looking, when I'm out and about, for more.
We have found them in all colors . . . and have broadened our definition of "what is acceptable" to include different shapes.  We had to, there was no choice; do you look at these yellow jewels and say, oh dear, no, the ridges just won't do? No, you do not.  You don't even think it.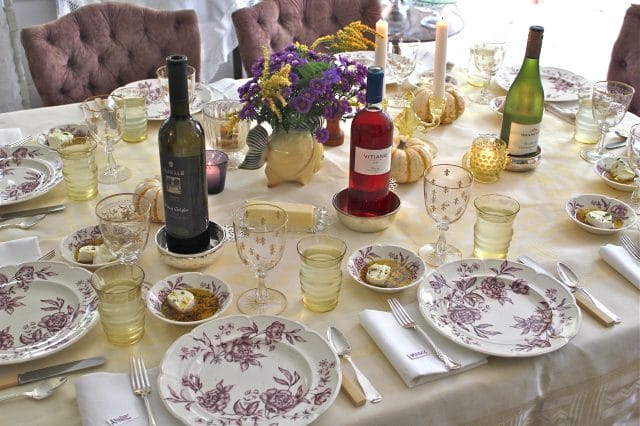 Setting the table can be like putting together a puzzle, a little of this a little of that.  But, for better or worse, however it turns out will be very unlike anyone else's, because, as you know, you can't walk into a store and just get this stuff any time, it takes a long time to gather this, a person has to be choosy and get just what she loves. ♥
Glass obsession knows no end.  It graduates from wine glasses, and gets its wings with serving bowls, candle sticks, and cake plates.  It was probably thirty years of antiquing before I found this at a price I was willing to pay for it.  I'm just not paying $200 for a cake stand, but I will pay $56.  Yes, I will.  Here it is, home at last!  Holding my mom's famous Coconut Circus Cake with pink sugar frosting. ♥
Pitchers and ice bowls call my name too.
Early morning light comes in through the windows and falls across the dining table, and this is what we get, free of charge.
Glass star bobeche and colored-glass votives are perfect for the holidays.
Yellow makes a fresh Springtime table!
Old glass sugars and creamers make wonderful votives and leave pretty patterns on the table cloth!
I think I learned to cook mostly because I loved setting the table!  But I discovered very early that no one was interested in my table settings unless there was food to go with them!  Secretly still "playing house," happy to cook in order to do it!  Finding your things at flea markets and antique stores is not only inexpensive and "green" it also means your table will never look like anyone else's — 100% Original You.