About My Recipes
(and scroll down for some good ones!)
hen I was trying to figure out how to write a cookbook all those years ago, I knew I wanted to decorate the pages with my watercolors and put in my favorite quotes — I knew I would handwrite it; I wanted it to be "real," like the recipes in an old family recipe box. But that meant my recipes had to be the best in the world (I was reaching for the moon) — they had to be delicious and dependable, many times tried and true — because no one cares about a pretty cookbook if the recipes don't work, right? A cookbook should be something a person
depend on kind of like a dictionary. The dishes should be so good they might go all the way, to the highest of all accolades: "family favorite," and therefore passed down to sons and daughters, sisters and best friends, creating generations of wonderful dinner parties, homey kitchens and successful cooks, providing a great big heart of the home for the whole world! That was what I wanted. Good cooking carries magic in it; a house, big or little, that smells good from cooking, is the place everyone wants to be.
asy, quick, elegant, and delicious" — I said it to myself over and over. I only ignored that phrase a couple of times and it was always with "quick" — because there are a couple of cakes in my books, some with three-layers, with delicious filling and amazing frosting, that had to be included no matter how long they took — my Orange Cake for example; people love it; always worth it for the bonus "kissing of the cook" that goes on after they taste it. Here is the recipe for that, and a few other favorites you'll find in my books. They're guaranteed to please, and make your kitchen the heart of your home.

Remember, Life is short, eat dessert first.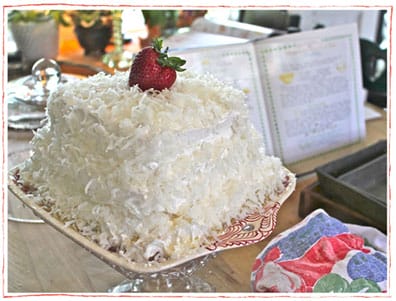 Orange Cake
p. 128 Vineyard Seasons
With a pineapple-orange filling; an orange-coconut icing.
Carrot Cake
p. 126 Heart of the Home
Three-layer, pineapple and coconut, walnuts, shredded carrots, and cinnamon. The perfect birthday cake.
Coconut Layer Cake
p. 108 Summer Book
Three layers; old-fashioned boiled frosting with lemon filling.
Banana Cream Pie
p. 127 Heart of the Home
This is the one that people oooh and aaaah over, and it tastes even better than it looks! I strongly recommend using a homemade pie crust so you get the flaky goodness with the banana and cream.
You bring the bread:
Three recipes for cheesy, herby, stuffed French bread
p. 41 Summer Book
Picnic Sandwich
p. 44 Summer Book
A sandwich-to-go, made in a whole, round loaf of French bread, layered with everything from roasted red peppers to herbs, garden tomatoes, goat cheese — all dressed in a mustardy balsamic vinaigrette.
Bean Salad
p. 60 The Summer Book
White beans, red onion, olive oil, perfect for any summer dinner.
Spicy Mango Salad
p. 82 Girlfriends Forever
Fresh lime, sesame oil, crushed red pepper, mint, cilantro and cold sliced mangos. Cannot get any better than this.

Gazpacho
p. 88 Girlfriends Forever
You may have tasted this before, but you've never had one better. Add shrimp or lobster pieces, and you have the entire dinner in a bowl.
Pine Nut Salad
p. 44 Vineyard Seasons
It's delicious, cold and flavorful with pine nuts, lemon juice, and Parmesan cheese — and it's also a cute salad because it's made with alphabet pasta.
Stuffed Eggs
p. 26 Vineyard Seasons
Spicy with a little splash of Tabasco sauce; Joe loves them.
Lime Salmon
p. 80 Autumn Book
Sesame oil and lime juice with deep-fried leek frisee garnish.
Lemon Chicken
p. 92 Heart of the Home
Lemony parsley sauce poured over sauteed chicken breasts.
Wild Mushroom Ragout
p. 53 Autumn Book
Serve this with barbecued steaks … mixed mushrooms, herbs, and cognac. Beautiful dish.
Clear Tomato Soup
p. 36 Heart of the Home
Make this when your garden tomatoes are ripe and juicy and freeze it for winter.
Cioppino
p. 40 Heart of the Home
An elegant soup filled with clams, shrimp, scallops, in a herby tomato broth.
Barbecued Chicken
p. 89 The Summer Book
Three grilling sauces; beer/lemon, brown-sugar/Cajun, and bourbon/apricot.
Roasted Vegetables
p. 74 The Summer Book
How to roast all kinds of fresh vegetables.
Linguini in White Clam Sauce
p. 100 Heart of the Home
The best recipe for this I have ever tasted…and the ingredients can be kept in your pantry for instant gratification at any time!
Lemon Linguini
p. 70 The Summer Book
Good hot or cold, your basic summer pasta.
Cheeseburger
p. 46 The Summer Book
The way I like to make them…
Cocktail Ribs and Chicken Wings
p. 32 The Summer Book
Chewy, spicy, ginger, soy, honey, brown sugar; delectable summer starters. Finger lickin' good.