"My kitchen is a mystical place, a kind of temple for me.  It is a place where the surfaces seem to have significance, where the sounds and odors carry meaning that transfers from the past and bridges to the future." ♥ Pearl Bailey
Here I am in my "temple," making "Curried Pumpkin Pots" from my Autumn Book.  I look like a mountain in Vermont in that apron, but I love it . . . I am a fall festival all by myself in my kitchen!  The third best place for me after we got home.  Number one, was of course, seeing my kitty; number two, we needed to go out on our walk and see how everything was doing out at the pond; and number 3, into the kitchen to nest like crazy and get ready for the holidays.
When I pull a card from my recipe box, where there are recipes from my mom, my dad, and my grandma inside, (and chocolates I saved from the QEII and a note from my girlfriend Sarah) and pick up one of my old wooden cooking spoons, I go right into that "significance," where the "past bridges to the future."
There's no better time of year to feel that connection and all the traditions that come along with it, than now.  And there is no better time for the nesting part of it, than when you are home (home!) from a long journey; you're alone in your kitchen, with your birds scurrying around the feeders just outside the windows; your guy is making hammering noises outside on the rose arbor (men making hammer noises, or lawn mowing noises is an aphrodisiac to me), because right that moment you know that all is right with the world. ♣
But all is not quite right if your cutting board looks like this, not really!  I promised you I would write about keeping your wooden things looking healthy, so this is the day; and here is the "before" photo!  Because #1, I love my cutting boards and old spoons and #2, I really couldn't be making beautiful fall food with dried up wooden things . . . it's really just not done! 🙂        (I'm nesting, leave me alone.)
I'll show you the cutting board first, because it's basically the same method for the spoons . . . the thing that solves the problem is Mineral Oil.  Because, unlike other kinds of oil, it will not go rancid.  You can get it at the supermarket, or at the drug store, and keep it under your kitchen sink.
You can already see how much better the wood looks under the puddle of oil!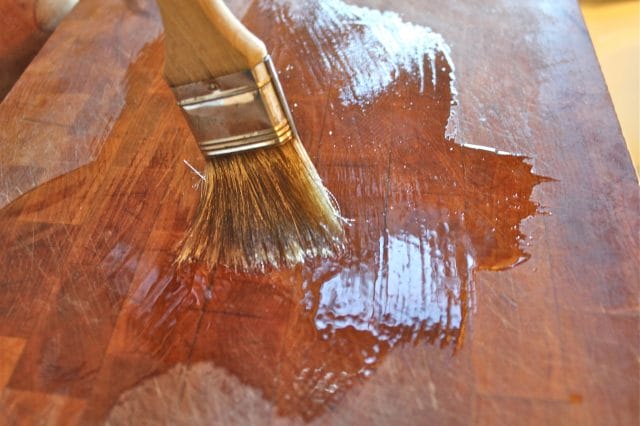 I use a pastry brush to paint the oil on.  And since it has a wooden handle too, I soak the brush part in a bowl of hot water and dish soap when I'm done . . . no dishwasher for wooden things, it dries them out, takes all the color out of them, removes the patina of chicken soup and creamed butter and sugar, all those cookie juices you worked so hard to instill into these things.  Just a quick hand washing for them is fine.
The cutting board is done; now here is the "before" picture for one of my favorite spoons  . . . a spoon that knows all my cooking secrets and the inside story of every dinner party I've ever given.  A very good girl.
And now, she is oiled.  We let her sit, absorbing, while we do the others.
This takes no time at all.  After they're all done I let everything soak up the oil for a couple of hours; it will all disappear.  See the "Sue" spoon in the middle?  My dad made that with his own two hands. ♥  You can also find old wooden spoons, even handmade ones, sometimes in antique stores, and all they need is a good soapy washing and some mineral oil to bring them back to life, carrying all their cooking history with them, adding more "mystical" to your kitchen.
This pig board is another thing that's been with me through thick and thin and cheese parties and sparerib servings too.  I got him when I was in my early twenties and he's followed me everywhere, from California to Martha's Vineyard, from small apartment to New England house, through cookbook writing and Joe-meeting too. ♥ 
I never use wooden cutting boards for raw meat or fish, I have a plastic one for that.  But every once in a while I will clean my wooden boards by sprinkling salt on them, rubbing them with lemon juice, then drying them well before I oil them.
Deep dark and delicious, that's what they look like when they're done.  Ready to return to their spot next to the stove, ready for the holidays, ready to help bring the past, through favorite old recipes (my grandma's Turkey Stuffing!), into the future, again, for another holiday season. ♥
Now your turn.  I have a very special wooden thing that I think fits right into the realm of mystical-kitchen making, although, in the end, it will be up to you to complete the picture.  It's a starter kit, and truly one-of-a-kind, a little original piece of art in my mind . . .
Would you like to have this?  I'm a big rescuer of old wooden recipe boxes.  I can't bear to leave them behind when I see them in antique stores, especially if they have some family's collection of recipes in them. So I give them for gifts. When I found this one, it had divider cards in it and a few recipes; of course I have no idea where it came from, because like quilts, recipe boxes aren't signed. 🙁  I made it a little more homey by writing words on the divider cards; I added my recipe for Sweet
Potato Casserole (it's used, as you will see; it came out of my box) . . . I also put in the words to the song Cinderella sang, a dream is a wish your heart makes, that I keep in my own box. ♥  One of you should have this box is what I think.  It has plenty of extra cards in it for your own recipes.  I wish I could do one for all of you, but I don't have that many!  It's a way to say thank you for giving me such a wonderful welcome home!  It's so fun doing this blog and knowing you're out there!!!  As soon as I find out the name of the winner I will write a note on the little gift card that you see under the box, and tuck it inside. ♥
All you have to do to enter the drawing for this box is leave me a comment telling all of us about your favorite holiday tradition. Or, even just say hi, and you're entered!  You may already have a recipe box, but maybe you want to add your own recipes to this one for your daughter, son, niece or nephew.  (If you're one of the Daring Girls Club, tell your moms about this so they can enter and do it for you! :-))  And then be sure to sign the box with your name and the year. ♥ xoxo
It will fly off Martha's Vineyard into your hands — we'll wait a couple of days for everyone to have a chance to see this posting, then we'll draw the winner and the wooden box will come, from my mystical kitchen to yours . . .