WILLARD started going out to everyone's email boxes today; it takes two days for the whole list to go, and even though you might have just read yourself practically silly, you know there could be a surprise for you here, and of course, there is! ♥  But perhaps we need a little mood music?  Here's a song to dance you down the page; great soundtrack from the movie French Kiss . . .
This is a photo of my heart-shaped Lemon Pepper Tea Biscuits, just out of the oven, still warm, ready for someone to slather them with butter and Cranberry-Orange Marmalade.  They are one of the recipes featured in a new cookbook I'm very excited about — it's from Where Women Cook Magazine, and it's called CELEBRATE!
I am one of the twenty-eight women featured in this book; honored to be included with such luminaries of the food world as Ree Drummond (The Pioneer Woman), Angie Dudley (Bakerella) and Molly Wizenberg (Orangette).  One of the special things about this book, besides the obvious, is that each woman is pictured doing her thing in her own kitchen; there are tons of wonderful photographs, sixty recipes, and lots of tips for celebrating life, with cooking as the magical ingredient.  My chapter is called "Kitchen Table Tea." The kind of everyday celebration we have in the kitchen with our girlfriends. ♥  Each contributor chose a different theme to focus on.
(Do I like tea, really, or is it just the dishes?  That's the question!)  Anyway, I have the first copy (still warm off the press) of CELEBRATIONS that was sent to me here on the island.  I'm going to sign it and send it to one of YOU as a Thanksgiving present!  Just leave a comment at the bottom of this post, and on Friday we'll let the RNG (Random Number Generator) pull a name out of our hat and see in what corner of the world this book ends up.  But for all of you, my girlfriends, scroll to the bottom of this post, and I'll give you the recipe for the Lemon Pepper Tea Biscuits. ♫ Do I love you, Oh yes I love you  . . . ♪
For me, the Thanksgiving countdown has begun . . . I started making my shopping list this morning . . .
Taking center stage is my grandma's stuffing, which requires real bread that has to be air-dried for three days. Two days won't do it. Don't even think about putting it in the oven to dry.  Those are the rules.  So, I need to be ready.  My ironing board does double duty as drying rack for the bread, spread out on cookie sheets in the pantry.
Plus, right now is gravy-making time; I need it for dinner, but I also need it for leftovers, so I start early and make extra.  I learned to make gravy when I was very young, but still tweak it a little bit every year; a little of this a little of that; vermouth?  Red wine?  Plain this year? Joe always has his family's 2¢ to add to the pot; sometimes requiring a restraining hand on his pouring arm.  Shall we have sage?  A teeny bit of cloves perhaps?  Perfect gravy is the mark of distinction in our family — no one can describe exactly what makes it perfect, but we sure know it when we taste it!
I'm already done making the butters:
One for each biscuit plate (the baking powder kind).  Yum.
I use leaves for place cards at Thanksgiving (as long as there isn't snow on them!).  I made these from rhododendron leaves, which are the perfect size, especially if you have a "Marjorie" coming to dinner, because her whole name fits on one!  Plus they're smooth and flat and don't break too easily. I pick the leaves the day before and keep them in the fridge so they stay fresh, then write the names on as big as possible with a correction pen (after first practicing on a paper towel!).
OK, so would you like to go to the grocery store with us?  This was yesterday!
We're almost there, I kept thinking the leaf would jump off, but apparently it really wanted to get to the supermarket parking lot, and wasn't going to give up until we were there!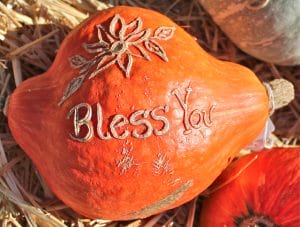 OK, that's enough of that.  It's been a red letter week for me, a feature in a new book, and another really nice article in the winter issue of Cape Cod Home Magazine.  ♥ You guys must be spreading the word, something crazy is going on; so much to be grateful for.  Plus, we have best friends coming from England next week!  And to top it off, I already figured out what I'm giving you for Christmas! And I'm excited because I think you'll like it!
 So I am off to the City (that's Domesticity City of course); I'm taking the day off to play with my house, nurk around in the guest room, organize the pantry, play ball with the new Kitty, hug Girl, kiss Joe, watch old movies, nap, and so on.  But before I go, I want to give you that recipe and remind you to leave a comment to enter the drawing for the book — tell us the strangest, most quirky, or favorite thing you ever had at Thanksgiving — for me it's always the same, Rainbow Jell-O, not very strange, but definitely quirky, and also a favorite.  How about you?
LEMON PEPPER TEA BISCUITS
If you want your biscuits to be heart–shaped you will need a miniature muffin pan with hearts!  I have this cast-iron one and I love it. This easy quick recipe makes one dozen delectable biscuits.
1-3oz pkg. cream cheese, softened
1/4 c. butter, softened
grated zest of one lemon
1/2 c. sour cream
1 c. self-rising flour, sifted
1/3 c. either chopped dried cranberries or currants
coarsely ground black pepper
sanding sugar (opt.)
Preheat oven to 400°F. In a deep, medium-sized bowl, beat cream cheese, butter and zest with mixer on med speed until smooth.  Scrape down bowl.  Stir in sour cream.
 Gradually beat in flour until well blended.  Stir in cranberries or currants.  Put a heaping tsp. of dough into each cup of an ungreased miniature muffin pan, filling the space completely and leveling the surface of the dough. Grind pepper over the top.  Sprinkle with sanding sugar (if desired).  Bake for 15 min. or until light brown.  Pop out muffins into a basket lined with a tea towel; cover to keep warm. ♥
Guess what?  A foghorn is blowing, I can hear it sounding out up from the water.  Later gators.  ♥ have a wonderful day! xoxo