It's Sunday!  I thought it might be fun to give you a Jack and Girl Kitty update.  Plus I had fun yesterday, stirring up a big batch of Spiced Pecans to sprinkle on our Thanksgiving salad — they turned out so good and are so easy to make, I know you will love to have the recipe.  And, as promised, we have a Contest Winner!
But first, look at these two!
This is the lay of the land as of yesterday.  Girl Kitty still hisses if Jack gets too close, but she's gotten very curious about him and plants herself in the middle of his whirling dervishness and just watches him.
 Jack does his best to impress her, moving quickly, a fur blur, staying just out of swatting distance.  Just in case.
He would really like to play with her, but he plays with his ball so as not to seem too eager.  Not fooling anyone for a minute.  He LIKES her.  And I'm pretty sure she likes him too.
He waits at a respectful distance for Girl Kitty to meet him halfway.  Which she isn't doing quite yet.  One reason I wanted a kitten was because I was afraid that Girl was bored and getting too lazy . . . she isn't bored anymore.  Her morning naps are over!  She wants to see what Jack is doing.
Her sweetness shines through; she's responding to hearing Joe's footsteps upstairs.  The part of heaven she is going to, that's the part I want to go to, too. ♥
Jack has staked out a perch on top of the warm fax machine.  This way when he wants to knock over a cup full of pens or dip his foot in watercolor water, he doesn't have to go too far.  What I love about Jack is that he's a true baby, getting into all kinds of mischief, tearing around the house, wearing himself out, and needs to "go down" for a nap every afternoon.  He doesn't let out a peep when I put him in his bed in the Peter Rabbit room. And while he was having his nap, I did this.
Just in case I went too fast in that video, here is how to make Spiced Pecans in really slow motion. Salty, sweet, peppery, crisp, and crunchy with a little bite to them, they have it all — so quick to make; a jarful makes a wonderful gift if you're looking for an easy and delicious gift to make for the holidays.
These pecans come from Trader Joes.  We all can't be lucky enough to have a Trader Joe's near us, which is simply proof that it is, indeed, an unfair world.  Our closest one is in Hyannis, a boat ride over the high seas and then a forty-five minute car ride away; but totally worth it.  My sister used to drive four hours (down, and four hours back!) from Durango, Colorado, to Albuquerque, New Mexico, to get her Trader Joe fix.  Besides many other wonderful things, they sell pecans in large and relatively inexpensive bags.  When we go to Hyannis, we take a cooler, and stock up on their organic chicken, and nuts which we keep in the freezer. I automatically just double the recipe for Spiced Pecans which I will give you at the end of this post.
So here we go, four cups of pecan halves go into a large bowl.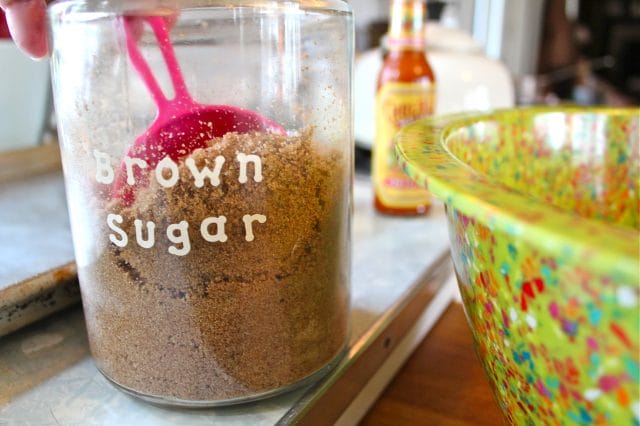 Then, a half cup of brown sugar,
. . . Stir it all up with melted butter, Mexican hot pepper sauce (Cholula), salt, and freshly ground black pepper.  And that's it.
Pour the nuts onto a cookie sheet;
. . . spread them in a single layer,
And pop the pan in the oven for ten minutes, stirring once halfway through.
Pull them out and allow to cool completely.  The sugar sauce will dry onto the pecans.
They're great to snack on, but also delicious scattered in salads, or chopped and sprinkled on desserts.  A perfect holiday-season accessory.  This jar is winging its way to my dad, where it would be a surprise except that the surprise is going to happen before he gets them, when he reads this, so Hi Dad!!! Happy Thanksgiving!  I'm sending you nuts!  (Blogging is so fun.)
And one of our wonderful girlfriends is about to get another surprise — because it's time to announce the winner of our Where Women Cook book CELEBRATE!!!  OK, drum roll please.
Here we go, the envelope please (random number generator is handing over envelope, I'm ripping it open, there, sparkling in beautiful gold caligraphy is the name . . .) And the winner is, Meghan Strauss!   Let's give it up for Meghan!
Anyone know Meghan?  If you see her, tell her she's the winner.  I sent her an email, haven't heard back yet — but she has a two-year-old, so she's probably a little bit busy!
And thank you all for chiming in.  I always wish I had prizes for everyone!!  Your comments were just great, made me laugh (or cry) the whole time I was reading them!  Here's a little consolation prize . . . Have a wonderful day!
S  P  I  C  E  D  ♣  P  E  C  A  N  S
Spray olive or canola oil
2 c. pecan halves
1/4 c. brown sugar, firmly packed
1/4 c. melted butter
1 Tbsp. + 1 tsp. Mexican hot pepper sauce (Cholula)
1 tsp. salt
1/2 tsp. freshly ground black pepper
Preheat oven to 350°.  Lightly spray oil on a cookie sheet.  Mix all other ingredients and spread in pan in one layer.  Bake 10 min. until lightly toasted, stirring once during cooking time.  Cool completely before packing in air tight container.  If you double this recipe, you get a quart of nuts.