Here's my very own House of Creativity, all decked out for Valentine's Day!  Wouldn't it be great if I could make smoke rings in the shape of white hearts come from the chimney? (Someone should invent a Valentine heart chimney insert!). Right now, snow is pouring down outside my window, big heavy flakes, a little bit heart-shaped, filling the sky . . . Of course, there is perfect music for this . . .
♥     ♥     ♥     ♥     ♥
See my windows full of hearts?  Our house is at the end of a long street; people come to a stop sign here and face my house, just like this.  Because of all the one-way streets, pretty soon everyone has to pass this stop sign in order to get where they're going on this island. ♥ I feel a certain responsibility to provide a some entertainment for people when they get here; it's perfect for the short attention span!  So I decorated my windows with leftover spray snow from Christmas.  I made heart templates, little and big, from a piece of clear acetate.  I've also made templates from cardboard, but they get a little soggy after about the twentieth heart!  You could probably do it all faster with heart doilies!
We got a Valentine from a very special person yesterday!  She knows who she is! (Thank you 1000 times ♥) Here it is, on our kitchen wall this morning, before the sun came up.  This will be here from now on, every Valentine's Day, forever! ♥ I love it!
What, I asked myself, can I give the girls this snowy Saturday that has it All?  It needs to be sweet and Valentiney, it needs to include chocolate (yes, of course it does), it needs to be delicious enough to give away to someone they love, but simple enough so it's not a lifetime in the kitchen; it needs to look good on a tea table; it needs to make the kitchen smell good; and it would be very handy if the ingredients were in my cupboard NOW.  I thought about my chewy, bendy chocolaty Brownies (so here's the recipe for those, particularly appreciated by kids, in case you are so inclined ♥) but I was looking for the true Valentine coup de grace, I wanted something heart-shaped.  And, so, Voila!
ORANGE and CHOCOLATE CHIP TEA BISCUITS!
I love the flavor of orange with chocolate . . . this is an easy-to-make heart-shaped tea biscuit with melty chocolate chips, the perfect little thing to put on a saucer next to a cup of tea.
Here's how it's done; a concise recipe will be waiting for you at the bottom of this post, (if you make it through this whole thing 🙂 and actually, that's not all that's waiting for you at the bottom!)
Preheat the oven to 400°; put softened unsalted butter and cream cheese into a deep bowl . . .
Add grated orange zest (P.S. I hope you have one of these wonderful zesters!  They're like razor blades you drag lightly across the fruit, easy, painlessly, gathering the zest in the tray; then pop into your recipe! Best new invention since a MacBook Pro!)
Excuse me, time out:  Water came to a boil, need to stop and fill my cup!
OK, toss the orangy goodness into the bowl . . .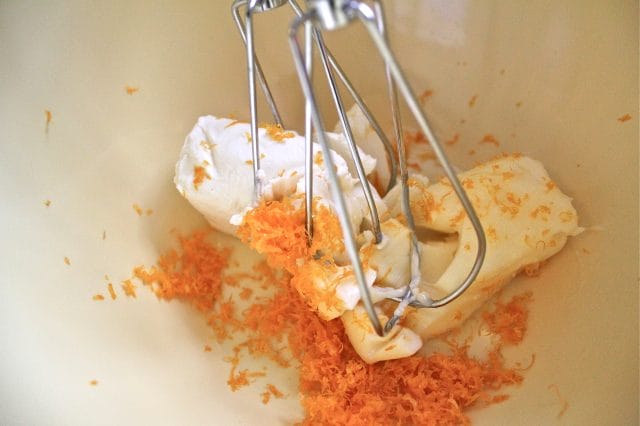 Use a hand mixer to beat everything together until smooth . . . mmm, cream cheese, butter and orange . . .
Scrape down the batter in the bowl . . .
Add sour cream for richness and tender crumb.  BTW, Don't you think that when the world lost Louis Armstrong and Ella Fitzgerald that an overall mistake was made? Don't you want to say, please, put them back?  They left us music divine.
♥ H E A V E N ♥
Stir in  two tablespoons of granulated sugar . . .
Gradually beat in a little flour until well blended . . .  Oh-oh, check out the top of the refrigerator, we have company . . .
Speaking of Valentine's! ♥  ♥  ♥
More beating of the flour . . .
Add mini chocolate chips  — if you like walnuts, which I do, you can add them here too . . . which I would if we hadn't run out!  Almost had all the ingredients; but trust me, with them or without them, the word is  Y U M.
Stir well, my little darlings . . .
Put a heaping tsp. of dough into each cup of an ungreased miniature muffin pan (I took this photo to show you what a heaping tsp. looks like) . . . I used my black-iron heart muffin pan, which I've had for a hundred years — I've truly gotten my money's worth out of it!  When it's not in use, it makes my pantry wall look cute by hanging there.  I know a secret about this muffin pan, I'll tell you at the end of this post!
You want to fill the cups completely down into the little points, around the curved tops, so you have good shapes, and level the surface of the dough.
And bake 15-17 minutes until light brown . . .
Now look who showed up . . . Girl Kitty!  Speaking of heaven!
We are complete: we have Beauty on the table, Beast is on the fridge, biscuits are in the oven, and all's right with the world.
♥   ♥    ♥
Have a basket ready, line it with a clean tea towel . . . pop the biscuits right out of the pan into the basket, you don't have to let them cool first.
Beautiful and delicious, they can bake as you put on the tea water, and be done by the time the tea has steeped . . . the orange is what you smell first, the chocolate melts on your tongue, and you are happy. ♥
I'm only tellin' it how it is.
I tried them with this delicious new honey I put on everything these days (it came from Door County by the way, Pat, and all you others who know about and love that neck of the woods — you have the market cornered when it comes to butter burgers and honey!) — but I have to say, although it was delicious, it was gilding the lily; these tea biscuits are good just as they are, straight from the oven; you don't need butter, you don't need jam or syrup; you need nothing more.  If you are looking for additional cuteness, and who isn't, you can always sift over a little powdered sugar!
Serve one of these tea biscuits next to a cup of breakfast tea; put them in a basket for a tea party; or if you have a fun Valentine's tin — they are a wonderful surprise, arranged on a lace doily and dropped by a friend's house.
And, the secret I had about this muffin pan?  Are you ready?  OK, this pan, along with the heart-shaped Emma Bridgewater tin in the picture above — they are my Valentine gift to one of you. We're having another drawing, and even though every one of you is totally deserving, one lucky girl is going to walk away with these two memories of Valentine's Day 2012!  Just leave a comment below (click on the tiny gray letters that say "comment" and you'll be entered!  I figure if I do this often enough and long enough, sooner or later, every one of you will win something with love from the heart of the home and me!   That's my plan.
♥  ♥  ♥
SATURDAY MORNING MARTHA'S VINEYARD 
XXXXXOOOOO
Have you heard Paul McCartney's new Valentine song?  Go get a tissue, this is wonderful.  I hear love for his new wife in this song, but I think I hear a bit of yearning for Linda too. ♥  Sad. 🙁 But Beautiful.
Bye for now girls . . . have a wonderful weekend!
ORANGE & CHOCOLATE CHIP TEA BISCUITS
1/4 c. unsalted butter, softened
1 – 3oz. pkg. cream cheese, softened
grated zest of one orange
1/2 c. sour cream
2 Tbsp. granulated sugar
1 c. self-rising flour
1/3 c. mini semi-sweet chocolate chips
1/4 c. chopped walnuts (opt.)
Preheat oven to 400°.  In a deep, medium-sized bowl, using a hand mixer on slow speed, beat together butter, cream cheese, and zest until smooth. Scrape down the bowl, add sour cream and sugar and beat well. Gradually beat in flour until well blended. Stir in chocolate chips.  Put a heaping tsp. of dough in each cup of an ungreased miniature muffin tin (heart-shaped if you have it, but just as delicious if it's round), filling the space completely and leveling the surface of the dough.  Bake 15-17 minutes until light brown.  Pop biscuits out into a basket lined with a tea towel … cover to keep warm.  Can be reheated.  Makes a dozen tea biscuits.  Make these for you and someone you love. 

♥