So the countdown begins. . . and what was the very first thing I did when I found out we were going to England again after all these years?  A trip to the knitting store!  I love a project when I travel — I also thought you might enjoy seeing our little knitting shop.  With music of course!
I took my camera to take pictures in case I saw anything pretty along the way! The shop is only about a block from my house, so past the little houses I did go, hyacinths popping all around . . .
And like so many shops and restaurants in New England, Knit Works is in an old house; right at the end of Main Street.
There's a kitchen in the back, complete with kettle and cups, where the girls drop in to knit together on Wednesday nights; no appointment needed!  Isn't it perfect that it's in a kitchen?
It's a house of color and creativity.  The mind boggles at the possibilities!
This little project was on the kitchen table, a hat, being knitted by Michaela, one of the women working there. Look at the beads she's knitting in!  Isn't that adorable?  You can just catch a glimpse of this whimsical variegated yarn in the lower left of the photo.  I visited with Michaela while looking around the store for the perfect little project for me.  First requirement: it must be something that requires absolutely no knitting knowledge.
Oooo, the colors!  I do remember sitting on my mother's knees, leaning back into her, her arms around me, the knitting needles in front of me, her fingers working my fingers, teaching me to wrap the yarn around the needle and make a stitch.  I loved it, but with all the other fun things I love to do,  that's about as good as I ever got. The last time we sailed on the QE II, the lady next to me on the deck chair taught me to use my little finger to wrap the yarn around the needle, that was a BIG improvement to the way I'd been doing it.
 So I will make a nice long scarf.  Easiest thing in the world and perfect to do on a ship; perfect to do while watching the Chelsea Flower Show on BBC.  There will be no thinking involved, but it will make me feel like I'm accomplishing something, and that will be enough. The biggest problem is what color???  I always have such a hard time choosing.

But this time, I came armed — I had my new secret weapon with me, my colors!  Remember a few months ago when I went with my girlfriends and had my colors done?  (Click there if you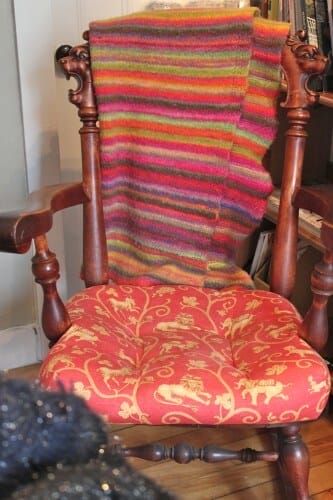 missed that post and want to see it.) Everyone received a wallet like ←this with individually chosen color swatches that were just right for each of us.
It changed my whole way of life.  Now I don't have to wonder what color yarn to buy!  And I can get on the Landsend web site, hold my colors up to the screen and get the right shade of whatever!  It's really wonderful.
The other thing I love about knitting stores . . . they always have comfy chairs where you can just sit and knit if you want to . . . particularly good when it's winter (or looks like winter) and you want to get out of the house, talk to friends, or learn something new!
♥      ♥      ♥
So I said good-bye to Michaela and Alix, (if you ever come to the island, and need a project, go say hello to them!). I picked up my bundle and my camera and headed back home.
If I ever went to prison, which of course I will never do (I'm so not the prison type), I know I would come out of it better than I went in. Because I would have projects.  I would either get thin, speak French, knit scarves, make a diary, or something. A long trip is a little like prison, no normal things go on, you're out of your element; so I'm determined to come home having accomplished something … I'm gathering my projects . . . I have a little collection of books to read, now the scarf to remember the trip by, and a diary!  I won't come home speaking French or thin.  I would really need prison for those things.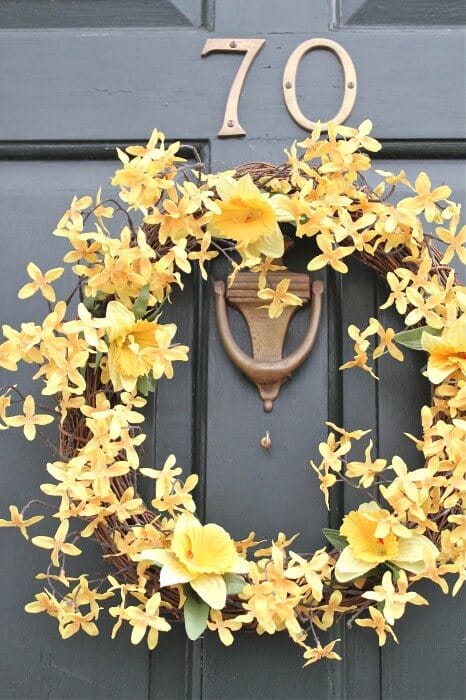 Back home I went, past my own front door, and up the driveway . . .
I laid it all out to show Joe (who was fascinated as I'm sure you know; he could barely contain his excitement when he said, "Are you talkin' to me?").  It will be a royal purple scarf (so appropriate) that starts with a thin stripe of lime on the edge, then purple, then another thin stripe, then the whole rest of it will be purple!  Pretty?  My colors!  That dark purple is supposedly one of my "wow" colors.
A couple hours later, I was painting in my studio when I swiveled around in my office chair to go to the kitchen, and there, on the floor in front of my feet, was my lime yarn in stages of unraveling.  Jack, my kitten, brings me gifts; usually it's his ball!  I forgot about kittens and yarn.  I feared for the purple and ran to where I'd left it.
Lime is the color of my true love's eyes.  Funny to discover I just love men with facial hair! 🙂
♥ So innocent, and pure as the driven snow.  He didn't get the purple!
So that's the end of the story, a happy ending.  All is well.  LOVED your comments about the trip. SO excited to have you along, as excited as I am to take me!
I think about showing you the wild Atlantic over the ship's rail in a video; isn't it just amazing that we can do that?  And that's just the beginning.  We're going to Beatrix Potter's House!
It's much more fun to go on a trip when you have someone (s) to share it with.  I have such plans for us!! ♥ Only five weeks before we go!  Have a wonderful day girlfriends!