Never do I feel more loved than on my birthday! My favorite thing, contrary to most other days of the year, is my answering machine!  I love the messages and singing I find there. This year I added a new "favorite birthday thing" to my list . . . the comment section of this blog!  You are darling people, that's all I can say! ♥
The only true non-fattening birthday cake!  Cute, but just not good enough.  Can't make a wish on this! But it's festive!  My birthday dishtowel!  (A fun, quick sewing project, and a good way to use a bit of that special stash, in case you're looking to make something easy.)
Of all days, yesterday my new Birthday Fabric came in for approval!  So exciting to see designs and art becoming fabric!  I approve!  Now it goes off to be made, and when it's done we'll have it here on our web site . . . isn't it cute?  I just can't wait to make an apron out of it!  Maybe in time for Joe's birthday!
And here is the perfect surprise Joe had for me!  A very old copy of Cranford, by Elizabeth Gaskell!  I screamed (in a soft and feminine way) and hugged it; isn't it wonderful???  I'm an old-book person; he couldn't have found anything I would have loved more.
It's filled with illustrations!  Crying out for me to make a coloring book out of it with my watercolors!
And there were all kinds of things inside . . . this thick, creamy program from a Woman's Club event; I can only imagine what this event looked like, sounded like, the dresses!  There was even entertainment with this entertainment!
There were dried flowers between the pages!  The book was signed, as a gift from "Georgie," and dated 1900.
And I found this photo in the back . . .  There's nothing written on it so I have no idea who this woman, wearing the ruffled blouse and cute hat, standing in what appears to be a garden, is.  Maybe it's Georgie.
Have you all seen the movie Cranford?  I think you would love it if you haven't seen it yet.  It's so darling . . . and takes place in a beautiful town in England called Lacock that Joe and I visited last time we were there.  The beauty you see in this movie, is real!  That's how the town really looks!  I'm excited to see how the book compares to the movie!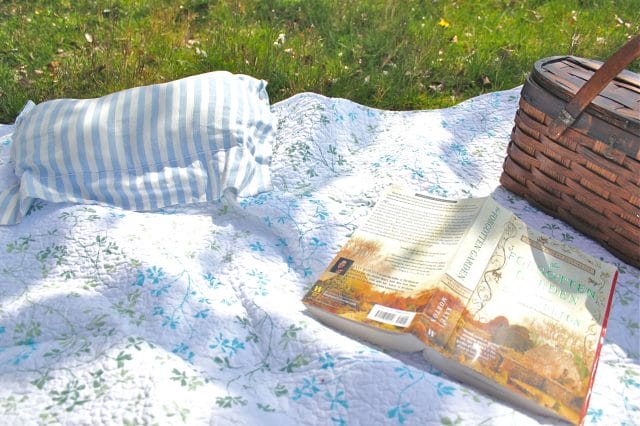 So then, because it was my birthday, and such a beautiful day here, I went outside, spread my blanket on the lawn under a tree, and read my other book, which I am loving, called The Forgotten Garden by Kate Morton (who really knows how to tell a good yarn)!  I tried to read this book slowly, so I might have it on the boat, but there's just no way; I'm practically skipping ahead to see what happens!!
Looking UP from my quilt!   I had to show you the view from my back! ♥
Yes, it was a little bit of Birthday heaven.  Just me, my book, my pillow, a juicy apple, one stuffed egg, the sunshine, the trees, and the birds.  And the lovely faint hammer-pounding coming from the arbor where Joe was working (the aphrodisiac sound I adore).  That's why you didn't hear too much from me yesterday!  Later, we went out to lunch with friends, then to my favorite place, the nursery, to browse and look for a new magnolia tree.  For the second year, we cannot find the kind of magnolia we want!  We were told, the variety we like is "too old-fashioned" and they don't carry it anymore.  It's the prettiest one too, a Saucer Magnolia "soulangiana" — now all they want to sell us is the purplish one; I want the light pink.  It's always good to have something to look forward to; we'll find it someday!
My birthday party is tomorrow night, and guess who's in charge of making my birthday cake?  Me!  I volunteered!  Now I'm trying to decide between a flourless Chocolate Cake (almost diet food), with the creamy texture of peanut butter — OR my Orange Cake with the pineapple filling which is my true favorite.
That's my day today.  Oh yes, and besides that, a brand new WILLARD will start to go out next Tuesday!  To you, as always, with love from me.
XOXO
Have a wonderful day; it's Friday the 13th, the luckiest day of the year!!! Thank you again for all your sweet Birthday Wishes.  You made it extra special this year. ♥ Also want to wish a Happy Birthday to our Girlfriend, Gladys Taber!