~ P r i d e ~ a lovely word; I think this quote is the perfect description, and here's a little proud MUSICA to go with it. 
I have to say, we take inordinate pride in our compost heap, it's homemade, with love . . . but no matter how high it gets and how varied it is, with the sweet-potato peels, egg shells, coffee grounds, a little wood ash,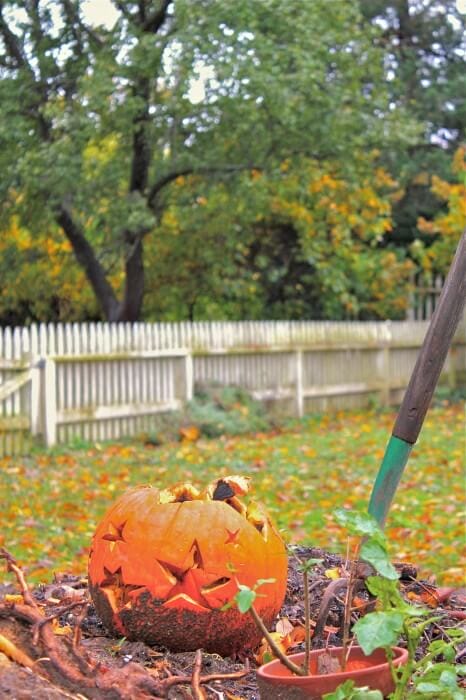 and maybe a pumpkin with stars on top, making me feel like mother nature herself with the earth-feeding I'm doing . . . this crazy wild pride I have in compost . . . still . . .
. . . yes, and even after an afternoon of digging in the dirt,  planting sixty new bulbs, tulips, daffodils and crocus, under the roses, around the bird bath, thinking of the bowers of spring flowers we're going to have in April and May, brightening our neighborhood and thrilling, what I know will then be, my winter-worn heart — even that; even coming in all tired and dirty, so proud to cross "Plant Bulbs" off my list . . . still . . .
. . . and in the morning, before the sun comes up, when the house is quiet, just the hum of the furnace, the water is on for tea, I can't help but count my blessings as I hang a clean dish towel and stand there, letting the warm air travel over my slippers, admiring my kitchen, thinking how much I love its surfaces, how it speaks to me of home and our life here . . . how very proud I am . . .
Even when I'm patting myself on the back and polishing my fingernails on my shirt for getting the ironing done, or the laundry on the line, crossing those things off my list, Saying, Done!  Feeling proud.
Maybe I shouldn't be, but I can't help but feel proud that my neighbor's dog Iris, likes me enough to come over on her own and hang out with me.  She's here now!  ♥ I love her.
I feel pride when I surprise Joe with a German Pancake for dinner,
. . . after he's been such a good boy and put the storm windows on this old house . . . battening down the hatches for winter . . .
There's the deep and abiding pride I feel in watching my two men work,
They are my dream team.
And I can't begin to tell you the pride I feel when I get a page for our new book done, and think maybe you are going to like it . . .  not to mention the TEN new pages I've done since I did my last post!  I'm about to start page one hundred!  So proud.  So grateful. ♥ You're my inspiration.  Thank you xoxo
I have many blessings, and reasons to be proud, but the number one, most prideful moment of  all comes only every so often . . . and makes me feel just like the little kid looks in this photo at our Memorial Day parade!
Proud.  For some reason, nothing, makes me feel quite the same as sticking that little oval sticker on my jacket that says, "I voted."  Putting a ✔ next to "show you care," on my to-do list.  I usually leave that sticker on my jacket for at least a week!  All proud of myself!  ☆✫✰✩✪☆✰✫✪☆
 Proud to make my little contribution.  Feel so lucky.
Looking at the history of the world, it's a miracle that we get to do this.  I would like to do my part today by encouraging all of you:  Go vote!  You'll love it.  Even if you have to
stand in line!  It's such a blessing that we can.  It's important for the rest of the world to see that we care enough to do it. It's their world too. ♥ I know I'm probably preaching to the choir, but I just couldn't keep my mouth shut … woke up this morning, thought, "OH! Voting Day!"  Was excited!  Had to tell you!  And if you can, take someone with you!  Let them feel this good pride too!  I promise, at the end of the day, you will be standing taller if you do it.   No matter which side you're on in this election, we're all on the same side when it comes to our country! ♥
Love you girlfriends; we are the world!  ♥ xoxo Have a wonderful day!