Hi Everyone!  Guess where we are?  Here's a hint:  MUSICA
Yes, New York! This is the view from our room. It thrills the cockles of my heart.
This was probably my first awareness of the Empire State Building. I watched this movie about a thousand times long before I ever saw New York in person. An Affair to Remember.  Cry your eyes out.

Our room is so comfortable!  We got here last night and I watched the Invasion of Normandy (OMG) under a blanket (a true nap blanket, came with room, on bed below) on that sofa while Joe sat next to me studying up on where we're going to eat today!
Isn't it just wonderful?  I love New York. Growing up I never imagined I would be the type to go to New York.  I was more the type to camp in Yosemite.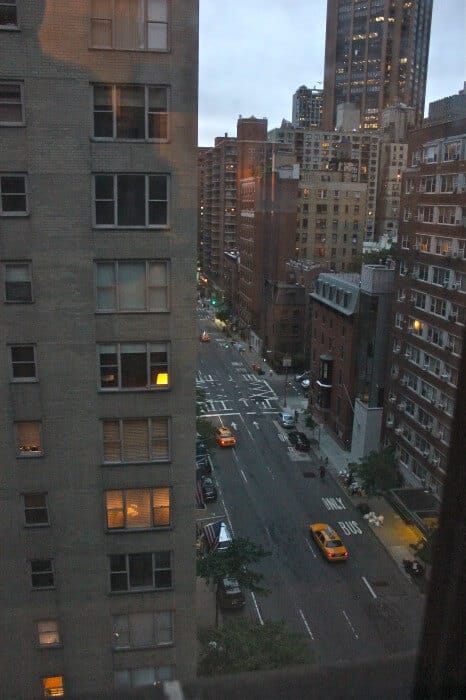 Every window comes with a view.  See those cabs?  We'll be getting into one of them this morning to careen wildly through the streets (because that's what you do) to BEA, Book Expo America, at the Javits Center where we've been invited to sign Our book, "A Fine Romance" in the Baker & Taylor booth. So excited.

We're in the "Murray Hill" area of Manhattan, I'm sure some of you know where that is.  Lexington and 37th, lots of pre-war brick buildings, a real neighborhood with old trees.

The view from the bed. It's really there!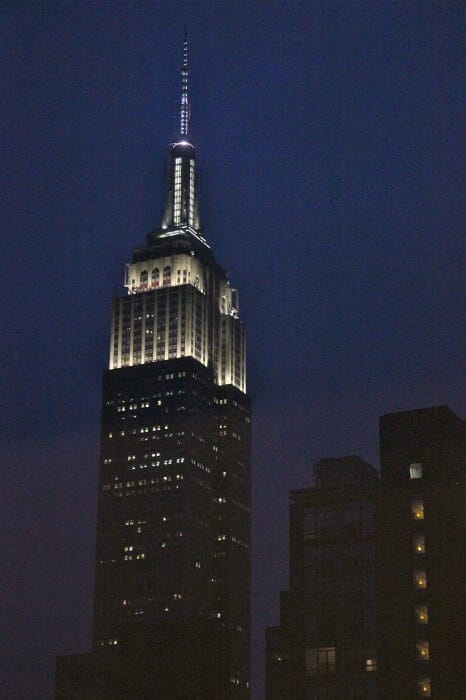 They call New York "America's Home Town" and this strikes me as one of the reasons why, there's a lot to love in this beautiful city.
But of course, we take "real" home along with us wherever we go.  I'm sitting here having tea this morning, listening to this musica, writing you and about to put pink polish on my fingernails.

One more picture from the room with a view early this morning.
But, I hear you say, what about the kitties?
Never fear.  Girlfriends Elizabeth and (her cousin and best friend) Diana are visiting the island from California, working on Elizabeth's new house, staying in my house and on the job for Kitty Love.  Kitties will be properly spoiled while we are away.

  I did my part and made Peanut Butter Cookies so no one would starve.  And this recipe has no flour ~ it's so easy, I thought you might like to have it (so easy I memorized it! That should tell you something.) . . . preheat oven to 350°.  There are only 4 ingredients: 1 egg, 1 tsp. vanilla, 1 c. sugar, 1 c. peanut butter.  Lightly beat egg and vanilla together, whisk in sugar, then peanut better; mix well.  Roll into 1″ balls, place about 2″ apart on ungreased cookie sheet, press with fork to make tine marks across dough.  Bake 10-12 min until golden around edges. Cool on waxed paper. Makes 2 dozen.

Don't worry, I haven't forgotten our June celebration.  We'll be celebrating five years with FOSB, Friends of Susan Branch,
with our wonderful Facebook Friends, and three years for my dear and darling Blog ♥ Girlfriends with a very fun giveaway that I think everyone will like, quilters and non-quilters and just regular people.  I want to be at home where I can wrangle the comment section better than I can from here . . . so just a few more days.  Tell your quilter, sewing, or quilt-loving friends.  And Have a lovely day everyone.  Wish us luck at the Javits Center!  Love you! XOXO ♥