Good Morning Girlfriends . . . Thought I better write now, because there's a storm coming!  MUSICA It just started snowing on the island, soft and light, but "an unprecedented blizzard is bearing down on the eastern seaboard," the TV is saying, "heavy, blowing, drifting snow, even thunder snow; a catastrophic, crippling, potentially historic, rapidly-building, MONSTER of a storm, with hurricane-force winds, coastal flooding, and wide-spread power outages (for days if not weeks) that will leave millions stranded in their homes." That's what they're saying. Yikes! 
I took this photo out our dining room a few minutes ago just before the snow started; it's so quiet, the sky is white and it's 28°.
I thought I'd tell you what happens around here during a snowstorm so you don't worry, even when the boats stop running, the planes stop flying, when the wind blows like a hurricane, the electricity goes off and we are stranded in our homes and can no longer communicate with the outside world, I don't want you to worry.  Because I'm telling you we are fine. Actually more than fine.
We're lucky because we'll be here at home and our house is very sturdy.  It was built in 1849 . . . this is it from the front around the turn of the century . . .
Here she is, from the back, in the lovely calm after a storm.  She was built by an arctic whaling captain, she's like a strong ship in a white sea; Captain Smith gave her very thick walls; so far, she has seen 166 winters and through them all she's kept everyone safe. We are confident that she will do it again. We love snowstorms. Especially here, it's almost like a little party.
All magically decorated for the party . . . our world is hushed with a quiet grandeur.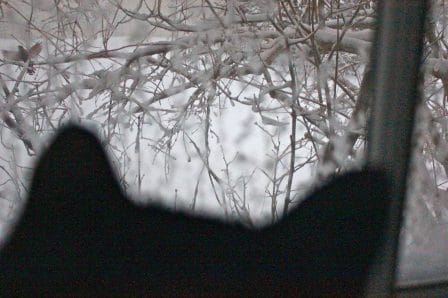 Fun to watch for the whole family.
We are ready.  First thing to think about: food.  We've been turning down corners on the pages of the January issue of Bon Appétit, the "healthy issue" ~ there were so many delicious-sounding recipes to try ~ right now we have enough food in the house to feed the whole neighborhood.
we are ready
We're set with lots of extra batteries, flashlights, dozens of candles, several oil lamps, a big stack of oak wood in the back hall . . .
How bad could it really be?
Joe brought in the snow shovel and put it in the pantry (so it doesn't get buried) ~ he's filling the bird feeders now ~ and most wonderfully perfect of all, we have a gas stove just when we need one. We can boil water for tea, and heat up slices of delicious Boston Brown Bread . . .
. . .(so good with butter for tea), and keep ourselves toasty in the kitchen (in case the furnace goes off).  Blog Daddy just called to talk "storm-talk."  Yesterday, over the phone, I told him I'd read in Bon Appétit how to fry "juicy eggs" (which is what we called "over-easy" as kids) so the edges are really crispy. We made them for breakfast yesterday . . . they were gorgeous, edges so crisp, as Joe said, "you don't need toast!"  My dad tried it this morning and gave it two big thumbs up; he said I should give you the recipe.
SO, here you go, it's really more method than recipe: for crispy-edged fried eggs:  over medium high flame, heat a heavy skillet until it's almost smoking, add 1-2 Tbsp. olive oil to pan, gently break an egg into the pan, s & p, and cook until it's done the way you like.  (I cover the pan with a lid ~ that way it cooks from the top too and I don't have to turn the egg and chance breaking the yolk.)  For this, you get a perfectly cooked egg, a bubbly white, edged with well-browned crispy egg white.  Yum!
And while we cook and stay warm . . . just outside our kitchen windows, we are entertained . . .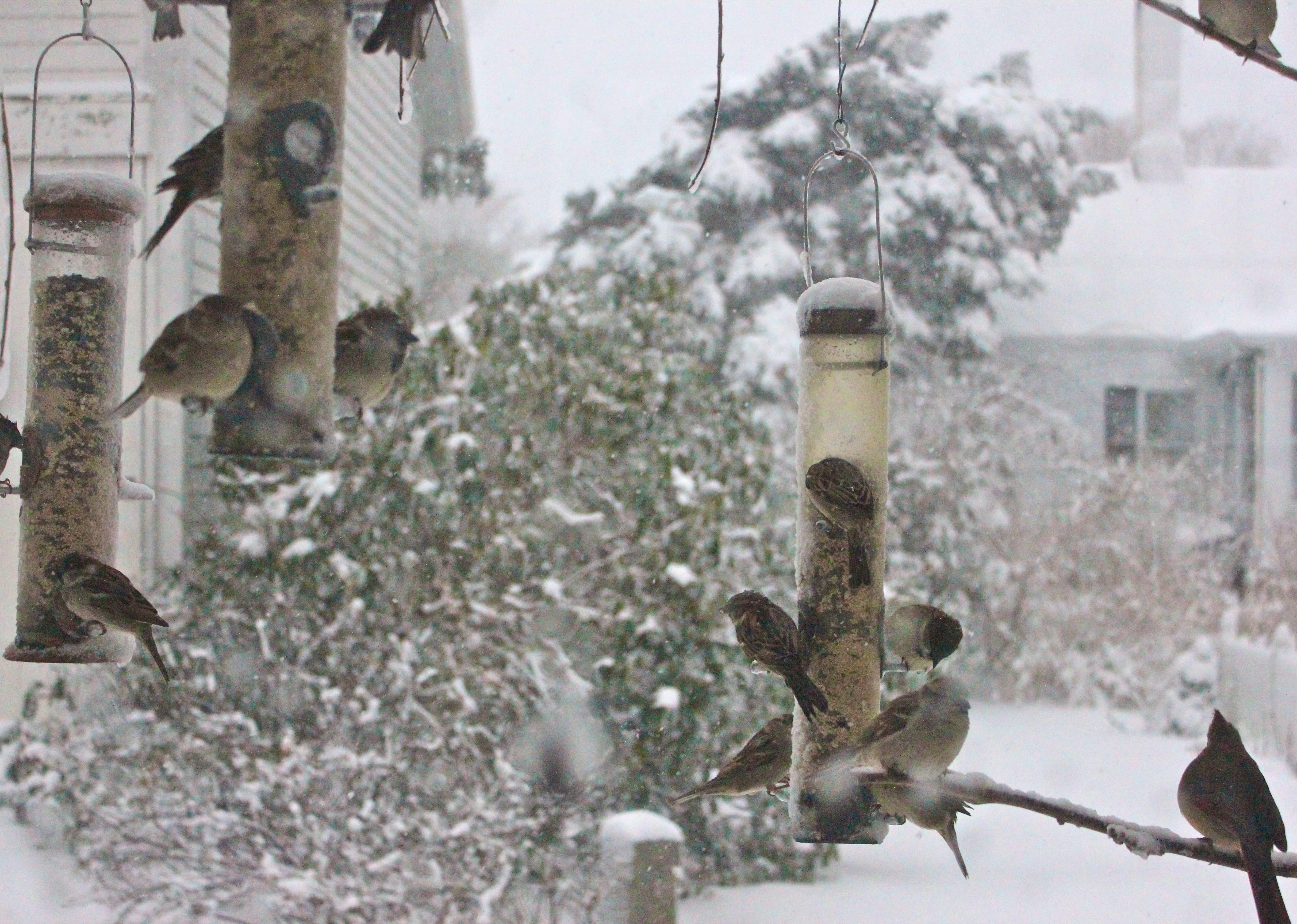 . . . by cardinals, chickadees, finches, nuthatches, and sparrows
And woodpeckers . . .  we can watch the birds fluttering on the feeders while the snow whirls around them.
Between the birds, the wild turkeys and the squirrels there is lots to keep track of!  So you don't have to worry about us!
We have sweaters, down blankets, books, and kitties . . .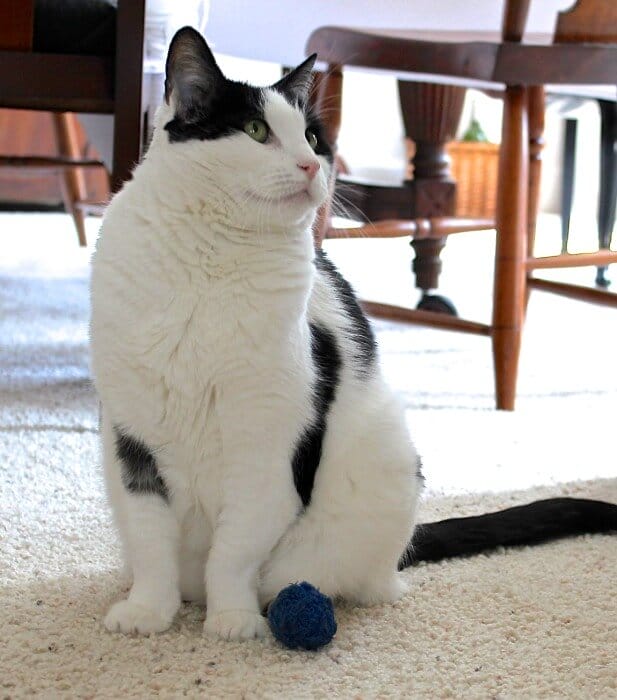 Who could ask for anything more . . .
. . . than warm cozy fuzziness in a winter storm . . .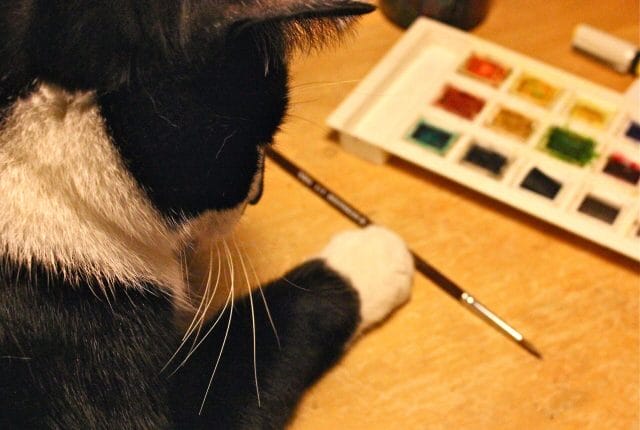 I have lots of painting to do which I can easily do in candlelight.  I like it.
It makes me feel like Beatrix Potter.  All quiet, suddenly it's 1899, no machines can talk yet, just a lovely silence of crackling fire while the storm beats against the windows, me in candlelight, wrapped in blankets my grandma knit for me, drinking tea and eating crispy eggs. Really, how bad can it be.
This was me early this morning . . .
So don't worry about us.  We're excited.  It's one of the reasons we love living here.  We are never bored.  If it lasts too long, we walk two doors over to Martha's or Lowely's and drink.  🙂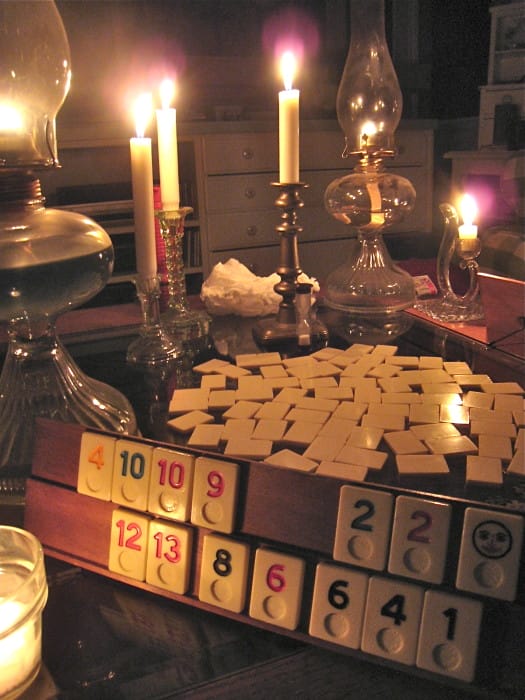 And play mahjong or Rummy-Q.  And if the snow lets us, we'll do our favorite thing, bundle up and crunch down the middle of the street (no cars) into town and explore, maybe find something open, go in, see everyone from Smallville, out for an airing, pink-cheeked in big jackets and boots, hats with snow on them, clomp our feet to get the snow off. My prayer is that everyone is safe in their own versions of Smallville.
Joe just announced, he's going to the market. "What for?" I said watching the fire flickering, knowing that we have more food than we need right now.  "I don't know," he says already wearing his beret, tying his shoes, leaning back in the chair, "just feel like browsing.  Any ideas?"  "No, well, yes, I said, "I have this feeling of . . . cinnamon rolls."  He laughs and gets up to go.  We are in accord. We are storm-proof.
So do not worry.  We are fine.  Even if the worst happens and I'm cut off from computer for a couple of days, unable to "moderate" comments.  Don't worry. I jolly well shall return!
Now, last thing, Downton?  Wasn't it GREAT last night?  I mean, I can't wait to eat cinnamon rolls tomorrow morning and watch it again! I don't know, but the dresses just seem to get better and better . . . last night was just amazing.  And the lighting! And then, Granny! Edith! Poor Edith! (Granny was so mean to her ~ I would have cried at the dinner table.)  Isobel and romantic Lord Merton ~ Marry him Isobel, have a wedding, get a dress! . . . and Mary!  Mary!  Mary!  What's wrong with Barrow? Big dark circles under his eyes, syringes in his room? I like Shrimpy, "who hasn't got a bean." But
not the nightmare dinner guest, Miss Smug Bunting.  She is beyond the pale.  I gasp when she speaks.  Look at that expression (in the picture)!  I love her, in one way, she is a character that is fun to hate!  How could anyone be that rude in someone else's house while eating their food?  Bring up Mrs. Patmore? During dinner?  Has she gone mad?  OK, must go get work done.  Hopefully, I'll be back soon.  Until then, I hope you are safe at home (I'll try not to worry about you either!), making the best of your day, eating cinnamon rolls and crispy eggs! Stay warm! XOXO