Hello Lucky Girls . . . from your other lucky girlfriend!  MUSICA?  Something old and delicious?  OUI!  Let's celebrate SEPTEMBER!
Hi Girls!  It's the month of the changing light (as you can see), and one big wonderful moon coming on the 27th. Are we lucky or what?
Mark your calendars for this moon.  Try to plan a picnic and go somewhere to watch it rise.  It's going to be a big one!  A "Super Blood Moon Eclipse!"
Also, it's the month of my sister Shelly's birthday . . . this is the photo she found on her phone on the 15th.  Her twins made the hat for their dog Lucy. Aren't they adorable? Imagine finding this on your phone!  My sister is one lucky woman! ♥
HAPPY BIRTHDAY DEAR SHELLY!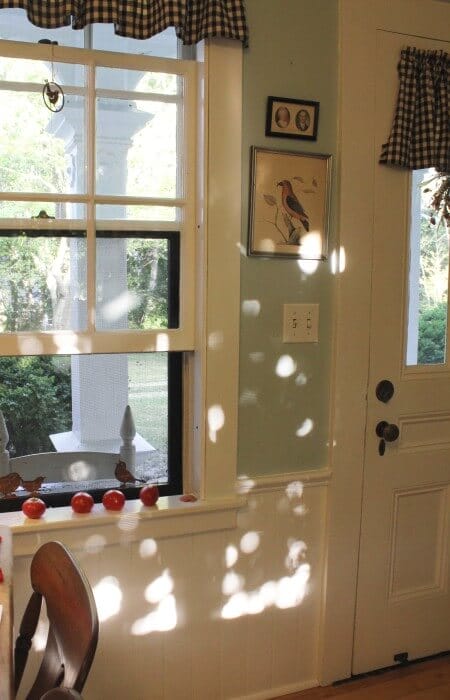 And me?  I'm one very lucky woman too . . . because I have diamonds on my walls and I didn't have to do a thing to get them!
Shimmering away . . . sparkling up my kitchen!
And this too!!!!  Not quite as sparkly, but just as exciting to me!  It came last week.  I showed our Girlfriends on Twitter, but thought I better put it here too, just in case you didn't get to see it.  A "BOX" arrived!!! I grabbed the camera thinking . . .
Because I just "knew" what was in it.

The printer had promised me she was going to overnight a copy of THE FAIRY TALE GIRL to me the moment it was off the printing press.  And so she did! I went real slow.  Savoring the moment.  In a ripping and tearing sort of way.
My first peek.  Thar she blows!  EEEEEK!
Oh my, oh my.  Words fail me.  It's the best and the scariest and the funnest feeling I have.  Pure butterflies in my stomach. My baby is born!  Ribbons and curls, oh what a girl . . . ooooh, she's heavy!
I could never get used to this.
I thumbed through it really fast, just to see.  The paper is perfect, just what I hoped it would
be.  The color? I could not ask for more.  The ribbon?  Oh yes, just where it should be.  "Printed in the USA" is prominently displayed. (Because, as you know, we're worth it. ♥)  Thank you R.R. Donnelly in Crawfordsville Indiana, for doing an excellent job for me and my Girlfriends!
Here's a little peek inside . . . you should smell it!   And very soon, you will! !t won't be long now!
Because today (Monday) it arrives by the truckload to our Studio in California and Sheri, Kellee and
Alfredo are all ready!  They'll begin packing them up and sending them out to YOU!  They are so good and so fast, I believe they will have them ALL out to everyone by the end of this week, or very close.  The first books will go to the winners of the give-away we had a couple of months ago, and after that, it's first-come first-serve.  I'm SO excited that it's finally happening!
That's my Summer Book, and that thought is as good now as it was then.  Those little girls are two of my sisters, I painted it from a photo of them figuring out their outfit for Halloween, wearing the same pair of pink pants and same jacket.  Mary is on the left and Shelly is on the right. They are very enthusiastic!
We've had a busy week!  We took a day and went off-Island to go shopping (and out to lunch to delicious BLEU in Mashpee on Cape Cod, so good, so FRENCH!  I had escargot!  Oui! I vill eet zee snails eef zay come in zee gahlic buttair!) . . . this is the way the harbor looked from the front of the boat as we were pulling out of Vineyard Haven.
And these are my favorite thing I bought while we were off . . . fuzzy new slippers.  Because we're going to the far north next week, and we think it might be cold up there! We HOPE! Leaves are beginning to blow across our yard, so we think the time is just right.
And here was the sky as we came back into the harbor later that evening. . . . Hello. Welcome home. Thank you very much.
We also went to Lowely's gallery opening to see her beautiful new art . . . it was a group show and several of the artists gave away cards with their art on them ~ I brought them home and made a little kitchen gallery of my own.
If you look at the card in the center window on the lower right side, you will see what a little splotch of sunlight, in just the right place, can do.
And Him.  Mr. Precious. Jack. These days he LIVES to go outside.  I'm out, taking pictures of the turkeys in our yard, and he's inside and not happy about it.
"Please Mommy!"  He rubs himself on the screen, "Please please please!  Please take me out!" He doesn't get to go alone. I have to carry the little lord.♥
"Grrrrr," he says, trying to stare me into submission. Never fear, I do his biding, I carry him out so he can get his greens.  Lawn munching is his favorite thing.

And this one of MY favorite things.  Letters.  When we got home from our little trip off-Island,
I found this letter waiting for me.  I knew you would love it.  Who doesn't love a handwritten letter!? Anyone who thinks the world has changed too much for their liking should read this and know there are kindred spirits in every generation. Many, many more than we might ever suspect.♥ Look how wise 15-year-old Emily Pulver is already!  My kinda girl! 
Bye Bye Girlfriends . . . watch your mail, XOXO