Good Morning Dear Ones, On with the Dance! . . .  MUSICA
Well, this is my house in the snow, but this is NOT how it looks around here. That's why I love this blog, it can be just the way I want it to be despite what is going on in the real world.
I prayed for a long fall and got it!! It's been gorgeous here, long walks every day, just lovely. We know it will end soon, so we are glorying while playing outside much more than normal for the middle of December.
In the meantime, inside we MAKE our own Christmas . . . We've had lots of snowflakes in our web store . . .
Because I love to hang them in front of mirrors this time of year and thought you might like them too . . . maybe no snow outside, but inside this house, oh yeah, it's snowing . . .
I found this on the Internet, just in case you'd like to make your own!  This works like a charm!
And Happy Hanukkah, Happy Kwanzaa, Happy what ever this season means to you, because A. it's all about respect, and B. we earth people have SO MUCH MORE IN COMMON than we have differences, but most of all, and I think Jesus would agree, Happy Love. From my folks to your folks, my heart to yours.♥
Did you get your Cookie Jar yet?  You will if you're signed up for Willard! We started sending out our Cookie 
Jar yesterday, filled with wonderful cookie recipes for your exchange parties, everything from butter cookies to Rum Balls, chocolate dipped Macaroons, and cornflake wreaths, yummy! It will be going out to everyone this week, look for it in your emails! And here are some ideas for special things you can do with them if you want to turn them into "more"~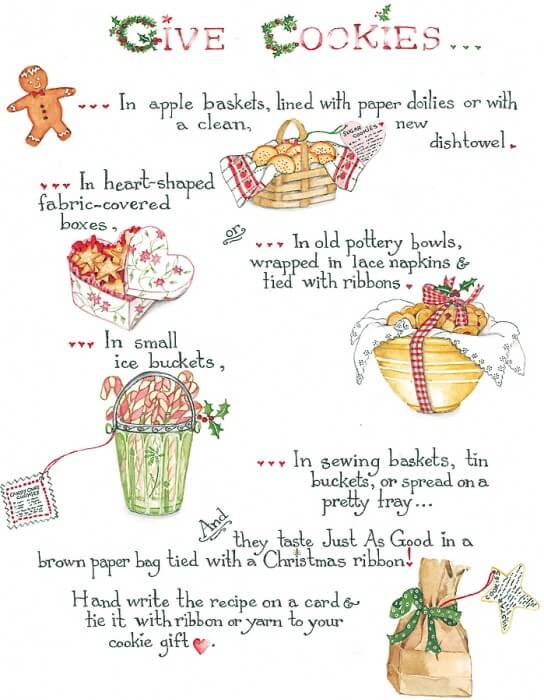 These beauties were made by my nieces, Annie Hall's Butter Cookies, the height of creativity!
I still have a cookie on my tree I made YEARS ago with this recipe! They last! Mine is a cookie cutter heart with a smaller heart on top of it, painted red.
We have our tree . . . that little kitty right there is sitting on my art table now . . . I just picked him up, had my arms around him, rubbing his belly and thinking he is just like a furry soft wiggly teddy bear. He is my perfect Christmas decoration.
We did it, we took out the table, put our tree in its place, because we love the twinkle in the windows. In this photo it was only wearing lights, but I discovered yesterday that talking on the phone is the perfect time to multi-task ~ I visited with both my mom and dad while I decorated the tree!
Joe made the porches twinkle too . . . When it was dark, we got in the car and drove around the block a couple of times to look at our house . . . we are LIGHT people!
And of course, some of my favorite little things are on the shelf on top of the stove . . . lamb and rocking horse, cozy Christmas houses, a stove, trees and holly,
and a doggie and a cardinal!
City sidewalks, tiny
sidewalks, dressed in holiday green, in the air there's a feeling of Christmas . . .
The birds seem happy too . . .
I hung our paper angel on the tree . . .
And put on lights for the house on the stove . . .
There are so many little ways to celebrate. . .
When you go out shopping, try to be a decoration, wear something red, put on a cute hat, a spring of holly and 
More than ever.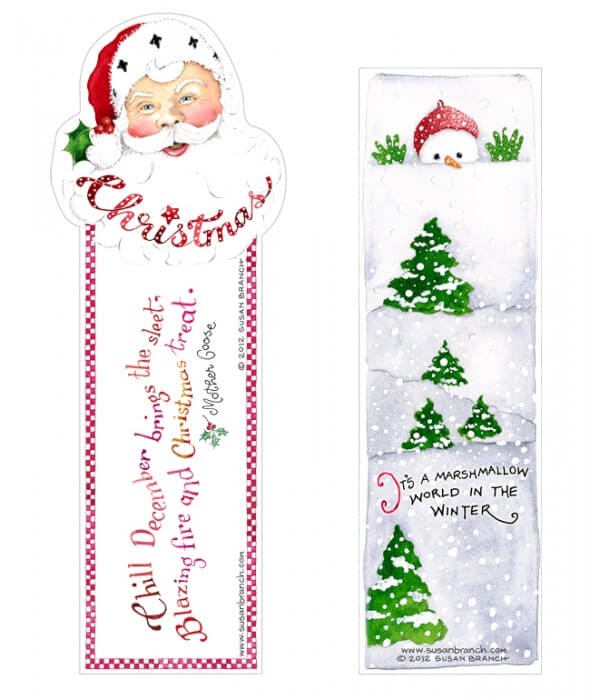 Here's a BOOKMARK you can get elfish with, give to your friends and family, stuff a stocking! Just click there and print it out on cardstock. 
MUSICA A song I learned in Sunday School as a child that I've sung all my life and still LOVE and believe with all my heart.
We live together on this small beautiful planet, any other way won't work. We win, not through fear and reaction, but by deliberation and through love and the spirit of Christmas. Besame, besame mucho.❌⭕️
He drew a circle that shut me out, heretic, rebel, a thing to flout.  But LOVE and I had the WIT to win, we drew a circle that took him in. ♥ Edwin Markham
Blessings on you my Girlfriends. Hope you are having a wonderful season. Please don't forget the most important thing of all . . . the time you make for the little things, including Little YOU♥. With Love from your Girlfriend, deep breaths, Little Me.❌⭕️