Hi Everyone! How are you?  We are home safe and sound, and happy, so happy to be here. Here are just a few photos of our family reunion at Vallecito Lake, "a beautiful spot, surrounded in tall pines, sheltered in a secluded mountain valley" at 8,000 feet,  just outside of Durango, Colorado, and more proof that . . .
This was the moon-set at 5 am across the lake the morning we drove away, all packed up and heading back for the train and home.  Stopped in the dark, tires in gravel, in the cool mountain air, with lake lapping on shore, for this photo of paradise.
Here's just one of the jillions of group photos we took . . . My fandamly, not all, but lots. The kind of fandamly that likes to stand in freezing water. Note who's not in picture.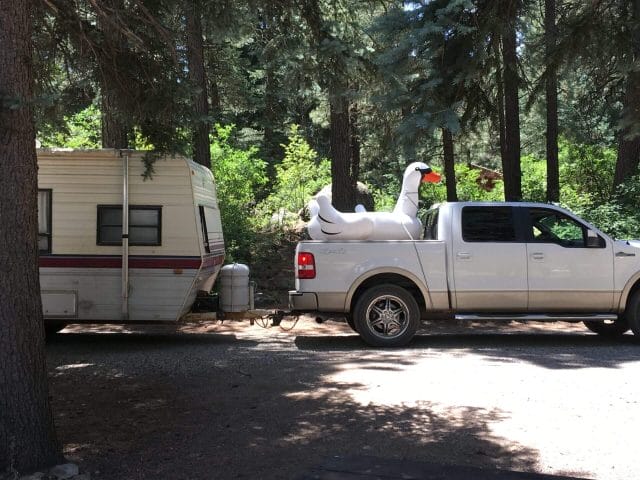 My nephew Ben, arriving with the "equipment."
In this very lovely, spiritual place which has been a gathering place for us for years . . . ever since my brother Jim moved here years ago . . . the lake is  surrounded in wildflowers . . .
Where we did what we always do, we ate, we told stories, we sang . . . this is my brother Chuck dancing with my niece Heidi, daughter of my other brother Brad, at the campground.  Chuck sang too, songs he wrote ~ one of my favorites that I requested so I could record it for you ~ is a sad song called "To Be a Man" (not about my dad) . . . want to hear it? Listen close to the words . . .
And lucky me . . . these are the three "kids" that Joe and I took to England and Paris on the Queen Elizabeth 2 in 2001, when, from left, Heidi was 11, Holly was 12, and Matty was 18. That's Auntie Mame in the middle there, basking.
More wonderful moments than I can tell . . . Shelly's twins, Paden and Mason, and my great nephews, Ben's boys, Wyler and Beckett.
Mas Musica? Something old, something wonderful . . .
This was our cabin with the screened in porch … at Croll Cabins, right next to 5 Branches campsites … perfect for a family reunion ~ you could have a cabin, or set up a tent, or bring your camper, park next to the lake, and walk to each other's places. It was heaven.
More wildflowers in the campground.
And now, before we talk about an important birthday celebration, and have a new giveaway ~ I just want to say thank you . . . your 900 comments in the last post were so beautiful!💛 When I was sad and missing my dear Dad, Jack to some, Blog Daddy to many, but John Patrick Stewart, Jr. in real life, all I had to do was read your words, filled with comforting, loving, life affirmations and I felt so much better! My dad would have loved them too. 💕 He so enjoyed reading your comments.
T H A N K    Y O U
And now, here's Joe . . . bringing in the cake . . . because we want to extend heartfelt

T O
. . . who would be 150 years old on July 28 . . . wouldn't she love to know how many wonderful events are taking place this year in her memory!  (Actually, I think she would feel humbled by it.) But I want to add my own respects and admiration to the many voices (you can read some of them at the Beatrix Potter Society, and become a member like me! They send the most wonderful newsletters, both online and in the mail, and there's more information about the celebrations HERE  and HERE and good shopping for BP stuff, HERE), and it all keeps coming. Because she was truly something else.
As most of you know . . . I took a trip to see Beatrix's famous Hilltop Farm a while back, something I'd wanted to do for many years. And it was everything I'd hoped it would be, filled with the little bits of her life that she saved just for us, so that someday we could go there and be in the presence of magic.
Most everyone knows about her "little bunny books" and that they are the best selling children's books of all time . . . and that they started with her illustrated letters like this one below that she wrote to the children of her former governess . . .
Many words have been written, both by her and even more, ABOUT her including a wonderful movie I know you would love, Miss Potter (if you haven't already seen it). 👏 But her charming books are only the beginning of what made Beatrix so very special.
Before she ever wrote a book, Beatrix was a serious scientist whose discoveries were summarily dismissed by the scientific community, simply because she was a woman ~ this was Victorian England where women were not supposed to be scientists (or much of anything else).  Her scientific discoveries were a fascinating part of her story ~ she discovered something which is still viable today, but the loss to the scientific world was nothing compared to what she was able to offer through her creative love of nature to the imaginations of children the world over, when she picked herself up, dusted herself off, and self-published her first book, The Tale of Peter Rabbit. And the rest is history herstory.
Because the story didn't end at that misogynistic defeat, nor even at the glorious success of her books, she was just beginning to find her true place where she would leave her real legacy. When she lost her first love, she was inspired to buy a small farm in the Lake District of northern England, a place she'd been drawn to since she was a child. And, not long after, she left book writing behind her and found a new passion in farming and raising sheep, preserving a breed that was almost extinct. She loved the old ways and bought her 
furniture for Hilltop at barn sales and auctions. She hand-embroidered her own bed coverings and never put electricity in her house, so you can just imagine the quiet sounds of birdsong and wind and snow fall and teacup-in-saucer noises that she spent her life enjoying. And she took her bunny-book money and bought 14 farms and over 4,000 acres of the Lake District to keep them from the greedy hands of developers. 👏 And she helped to start the National Trust. She married late and was happy with her husband for 30 years. If you'd like to read more about Beatrix Potter, try the wonderful biography by Linda Lear, Beatrix Potter, the Extraordinary Life of a Victorian Genius. 
Beatrix saved this land for forever enjoyment because she was far-thinking, not just thinking about today, but thinking about forever. She was ahead of her time, and  
This is her little town of Far Sawrey in the Lake District where she made her home with her husband in that house on the far right of this photo. When you walk there, you walk where she walked, and really, nothing much has changed. I can't wait to go back. Just to breathe that rarified air.
We're going in the fall and I can't wait to see the colors. . . we've only been in the springtime ….
Some of us discover Beatrix through her books, some learn about her through the National Trust, but I came to her through her little figurines, my "Beatrix Potter people," which I found in my early 20s and have been in every place I've lived since then ~ I fell in love with the colors and the charm of her little critters, beautifully made in Beswick, England in the 40s and 50s.
Her life, once I learned about the things she did, as been an inspiration for me. I would love to do what she did.   And all those wonderful animal figurines but, surprisingly, no lambs! So I painted this one in her honor.
And these are my People . . .  some of them, there are more in other parts of the house, (and more in our webstore that I gathered as we drove across country) this is a gathering of the minds.  They are coming together to have a little tea party to celebrate Beatrix.  They made a cake . . .
for a Tea Party in honor of Beatrix Potter . . .
Try one of my favorite Tea Cakes EVER!  Invite someone to tea, and make a little toast to Beatrix.
I've promised you this recipe for a long time, and now you have it, here and I also put it in my new, revised and expanded, 30th Anniversary edition of Heart of the Home, just out and available only here on my website and in some (actually any) independent bookstores (who contact us) until September.
It's even more delicious than it looks!
Yum, Happy Birthday dear Beatrix!  And also, in her honor, and in yours, a little giveaway … this wonderful little book . . .
Filled with descriptions of the woodland walks through the place Beatrix loved so much . . .
This useful book is filled with Beatrix's charming color prints . . .
And lots of photos . . . it's a great help for making plans for the next time you go . . . like a little dream book . . . I had one when we went and we followed the directions and the walks were wonderful…
 I signed the book and will personalize it to whoever wins this drawing . . . all you have to do is leave a comment at the end of this post and you will be entered, and in a few days we'll get "Vanna" to draw the winning name, and I hope it's YOURS 💖. . . but that's not all …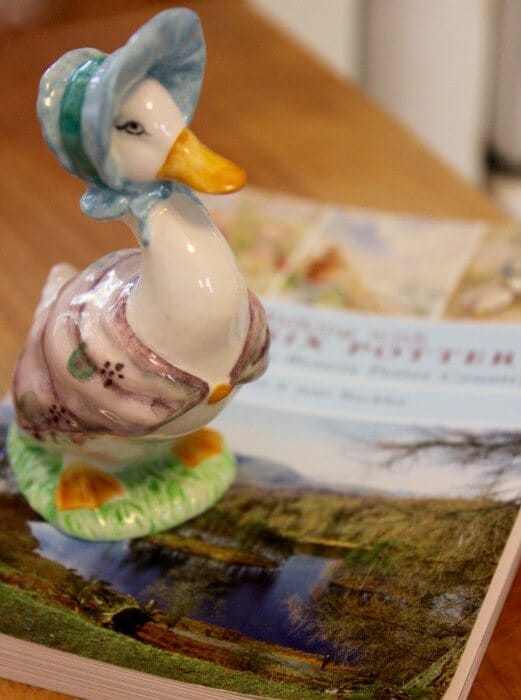 Oh, yeah, Jemima Puddleduck wants to come too . . . .
This lovely old 1948 edition, the very first Beatrix Potter Person I ever bought, way back in  the 1970s.
She stands tall and proud and perfectly dressed. We'll do the drawing after I get back from Cape Cod where I'm going on Thursday, on Beatrix Potter's actual birthday, to celebrate her life at the Brewster Ladies Library with the Beatrix Potter Society and 400 like-minded Girlfriends where I will be reading the story of my first trip to Hilltop from my book and signing A Fine Romance Falling in Love with the English Countryside. So excited! And humbled. and thrilled. And will probably cry.
That makes sense to me. Thank goodness there are so many.💛
Hello you adorable thing.  . . if anyone will be on the Island on the 25th of August, I'll be doing my last talk and signing in the USA (for this year) for Martha's Vineyard, Isle of Dreams, for the Aquinnah Library at the Old Town Hall in Aquinnah at 5 pm. 📚 It's free, so you would just show up and voila!
THANK YOU GIRLFRIENDS.  For everything.  Have the most wonderful day! XOXO 💚 Love you!