Sailing away on the Queen Mary 2 . . . heading on board . . .
Up the gangplank we go! We look so normal here, but we are actually beside ourselves!
Put everything down for a photo op . . .  So excited, it's truly a thrill.
Was a warm day, much prettier than the last time we sailed . . . bluer skies, and schooners in the harbor!
Seems they put on the show just for us!  Love this view!
"Give me your tired, your poor, Your huddled masses yearning to breathe free, The wretched refuse of your teeming shore. Send these, the homeless, tempest-tossed to me, I lift my lamp beside the golden door!"
Of course, straight to the Chart Room for old time's sake . . . a cup of cheer, and a toast to smooth sailing! While wearing seasick bracelets and still in port. Always careful.
Off we go, at sea, and sunset from our room . . . on our way to Halifax, Nova Scotia, which is where we are right now. Which is why I have a bit of connection, but barely, just enough to do this post!!! Yay!
Zee bed in zee cocoon… is SOOOO comfy!!! Better than it looks even! Got up at 9 am this morning. This is an unheard of event. It must be the sea air, or maybe the late nights!
First thing in the morning, tea in our own cups . . .
The lovely Princess Grill . . . our round table for the crossing seats six. The other two couples are both from England, one from Kent, and the other from Yorkshire, and so fun and nice, we were the last table to leave the dining room last night!
Stanley, the head waiter, usually doesn't prepare or flame the food . . . but in honor of the sweet potato I special ordered at lunch (to be served at dinner), which came out the size of someone's head, he had to do it for the laugh!
Which he definitely got! Yes, that's it in the pan. Usually when they do this, it's quite a bit fancier!
So funny! He cut me off a couple of slices.  I hope he saved the rest!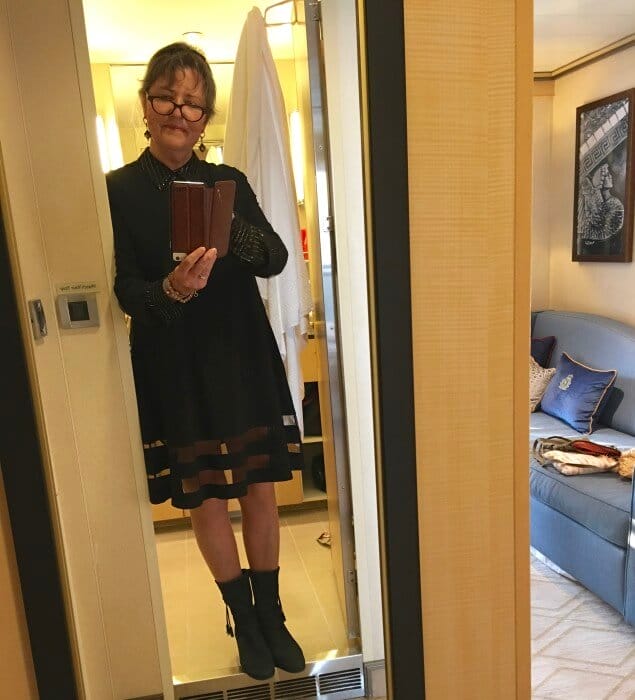 But hey, a girl's gotta do what a girl's gotta do!
I'm reading a wonderful book! Getting me in the mood for the English countryside!
Well girls, I personally could go on all day, but I think that's it and I should consider this done and not push my luck . . . it took me about 4 hours for this teeny little post, and maybe all the minutes I was allowed, but I wanted you to see the beginning … maybe when we get to sea for real, I'll be able to do more. I'll try!! But until then, I'm thinking of you…writing everything down and taking millions of pictures, and when I can show them, I will . . . ❤️
XOXO Your girlfriend, Susan (p.s. we arrive in England on Sept. 16.)