MUSICA!❤️ Well, first off, I promised you a photo of the wool coat I bought in England ~ the one I wrote about a couple of blogs ago … And I finally managed to remember to do it. And, btw, while out and about on the Internet,  I happened upon a website in the English Lake District that sells them (just in cases you want one too! The label says, "handmade."). It's a wonderful store Joe and I visited when we were there called Stewardson's of Hawkshead .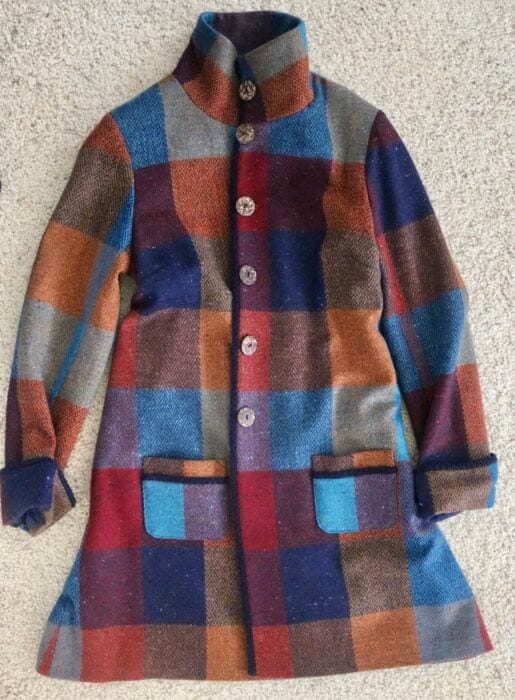 Welcome over from the new Willard if that's where you've come from (he's just starting to go out today ~ takes 3 days for him to get to every email box, so if you're signed up, he
should be there soon!), and if not, welcome anyway! As lots of you know, Joe and I are on the train right now, in our "room with a view," actually in the beautiful Berkshires as I write, heading down the tracks for Chicago, then on to LA ~ and right now, out our window, is the most gorgeous sunset between the leafless tress and across snow fields! It's kind of a miracle, to be on a moving train and writing you at the same time! I've been sending photos and videos of our views over to Twitter … hope you've been able to see them (you can click on the link and take a look if you like, you don't have to join Twitter in order to see the pictures).
Yesterday, before we left (which was just this morning), I needed to do some ironing for the trip. I'm sure many of us remember our mothers starching clothes before they ironed them ~ rolling them up while damp, putting them in plastic bags and keeping them in the fridge until they were ready to iron. Seems so old-fashioned to us now! My mom did it, there were always bundles of ironing in our fridge, she ironed all my little sister's puffed-sleeved dresses with starch, and taught me to do it too. And my dad's shirts ~ we were all very crisp around our house. And it wasn't spray starch, it was the real thing. Liquid starch, the kind she used, is hard to find, at least where we live . . . our supermarket doesn't sell it anymore, I had to go to Amazon to get it. Mostly, these days,  it's used for crafts, but I have this linen jacket I was bringing along that is no good without good old-fashioned starch, spray starch just doesn't do it. In fact, I have a lot of things I use real starch on. There's actually a really good reason to do it! I'll show you! (Jack, as you can see, was there for the whole thing!  But he was more interested in . . .
. . . what was going on outside our kitchen window, than what was going on inside . . .)
So, just in case it's been a long time, or maybe never, since you starched something, and just in cases you'd like to try it . . . here's how.  It's really easy.  First off, you can read on the bottle how much starch to mix with how much water to make the fabric as stiff as you'd like it to be.
I wanted  my jacket to be slightly stiffer than medium, so I mixed 4 c. water with 2 c. starch in a very large bowl. My summer potato salad bowl if you want to know.
I swirled it around with my hand to mix it . . .
Then I put my clean linen jacket into the liquid and got it soaking wet.
I took it out and rung it out as best I could … then I noticed all that left over starch and thought, what else do I have?  Then I remembered I'd just washed a dresser scarf from the bathroom and thought, perfect timing!
 I like dresser scarves to be really quite stiff, so I added a bit more starch.
And in it went.
Then they both went out to the pantry to partly dry on the clothes rack. Soaking wet is not good for ironing, you want them damp. So while that was happening . . .
I wrapped birthday presents for my mom, we're heading to California to celebrate her 87th birthday (on the 27th)! 🎁 She loves it when I wrap her things in my own paper, so I ordered some from Spoonflower, (the people I do the fabric for … they make all the fabric patterns into wrapping paper too!) which I'd never done before, I was interested to see the quality. And was happy because it's the thick stuff! Very nice.🎈My mom will love it!
And then, for a couple of good reasons, I made a cake ~ An Orange Marmalade Cake, because Jack's other Mother was coming from California to stay with him while we're away . . . and we were making dinner for her . . . and also, because every time Lowely makes something delicious, she always brings me half.
And I wanted to do the same for her before we went away.
Which I did. She only lives two doors down, so I walked it over, and got a goodbye hug. The next time I'm doing a blog and NOT on the train, I'll give you the recipe! It was delicious!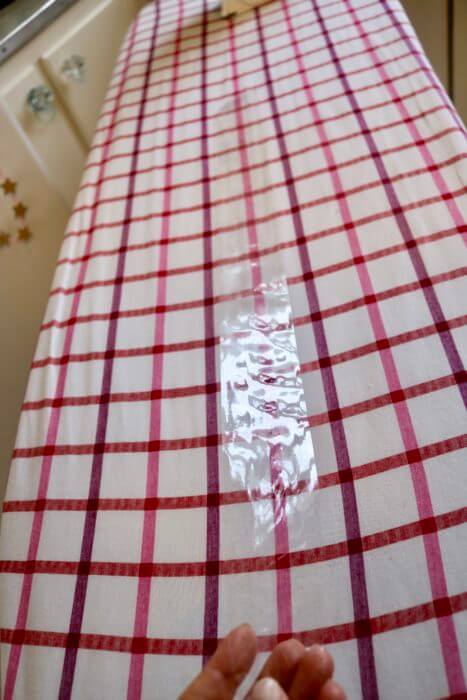 So then it was time to iron.  And what is the first thing I have to do?  I have to get Jack's hair off the ironing board, unless I want to iron it into my clothes. The ironing board doubles as his perch at the pantry window to watch the world go by. So I got out my packing tape, laid a big long strip down, and moved it along until all his little hairs were stuck to it!
And now, I'm ironing. And it's coming out beautifully.
Voila! When you starch something, it stays fresh looking so much longer. You can wear it and re-wear it and it doesn't look wilted.
And that, in a nutshell, is why I love starched things. They last forever.
Here's my dresser scarf, back on the table in the bathroom. Note shadow under table.
Old linens are one of my passions, loves, downfalls. The beautiful cloth, the delicate embroidery and the cotton lace ~ irresistable! Smoothing an old damask tablecloth onto my dining table is one of the simple joys of life. Lighting a candle on that table, where it almost reflects in the sheen of the cloth, is another.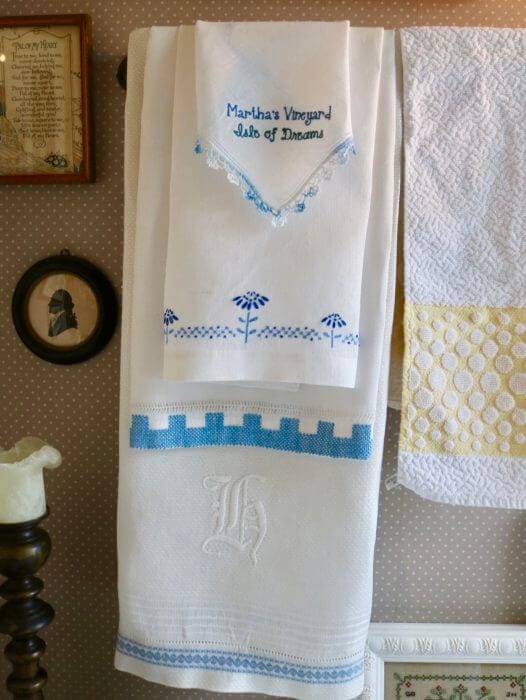 Here is an example of starch and what it does. I haven't ironed these in over 6 months. No one really uses them, because a terry hand towel is right there, so they are really more decorative than anything, but they look as nice today as they did when I hung them up 5 years 6 months ago.😜
These are the bathroom curtains in that same room, made from an old lace tablecloth, the last of the ones I brought from California when I moved into my first little house on the island. Starched and perky, I won't have to do it again for a long time. You could never do this with spray starch. Not even with the one that says, "Heavy."
And here are a few more linen things, just so you get the picture, which I'm sure you do by now! I should be a door-to-door liquid starch salesperson!
One more tip, and that is, you may have starched something a while back, like this linen jacket. But maybe it was crushed in the closet and got kind of wrinkled again. No problem…
As long as it's clean, you don't have to rewash and starch, you just spray on a little water, and iron, and it all that good starchiness comes right back.
And there they are, ready to go into plastic bags and into the hanging bag … yes, they will need a touch up when we get there, but it won't be much! So there you go, adventures in  ironing from the Heart of the Home! Pure
Okay, enough about ironing, how about some maple syrup? I LOVED your comments in the last post, like I always do, thank you so much.💞  And yes, we did stuff poor Vanna into our duffel bag, she's  here, fluffed out, head to toe in pink cashmere with a leopard faux fur collar (she knows how to be comfy), complaining because she broke a nail and there's "no manicurist on board." It's okay, we'll fly her outta here when we get to Chicago. Her and her "little pink zipper bag"👛 which we have had to find for her about six times now. She's a princess. Not fit for train travel.  We knew we would need her for the drawing for our Vermont Valentine Giveaway . . . and so, with no further adieu … Vanna? Come here darling…  (oh, the look on her face😱) ~ here we go . . . the WINNER of this delicious Vermont syrup (I know because we got a bottle of this too!) is . . . . PAMELA TASKER!!!!! Congratulations Pamela! You will love this! Be sure to heat it up before you pour it on everything! Look for an email from me in your box . . . I'll need your mailing address so I can send it to you.
And now, so it doesn't have to end . . . there's more . . .
  Hello. Remember I showed you these cups I was designing a while back?  That's the one I designed on the left, my glued and pasted paper cup without a bottom. And on the right, that's the sample they sent! Pretty darn wonderful if I do say so myself! So I did more!
This one is called
and it has Ms. Lambikins on it, amongst other recognizable doodads from my flora and fauna art repertoire. Plenty to read early in the morning when the brain requires quiet time.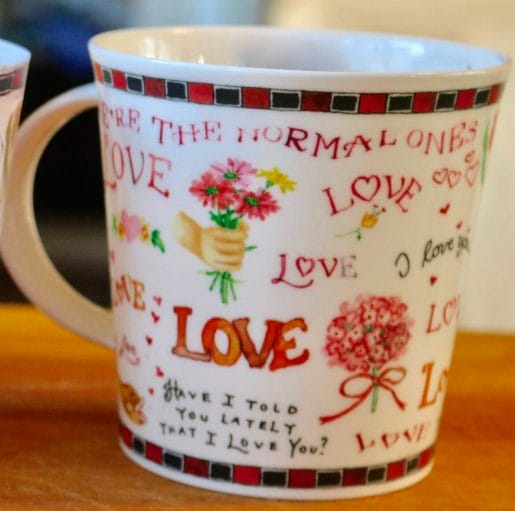 And this one is called
for us, the normal ones.💞
Last but not least, we have "Little Things," because 
All three are being made right now, of fine bone china, in the potteries, in England. Yes, real, bonafide English cups. ❤️ Each holds a truly magnificent 16 oz (if filled to the very top). I'm so excited. You who have hung out around this blog for a while, know how much I have wanted to do this. Finally, the time has come.  They will likely be here in May, in time
for Mother's Day, if all goes as planned. And if you leave your name in the comment section of this blog,😁 you will be entered in a drawing to win one of these. There will be 3 winners, and the moment they come in, those winners will be the very first on our mailing list! And yes, just in cases you don't win, they are available now for preorder. Which means, if we haven't ordered enough, we should know fairly soon, and can get more into the works right away. After a decent amount of time, each of the designs are going to be retired, and replaced by new ones (I have so many fun ideas!) And the only place on earth where they will be available, at least for the foreseeable future, will be here in our web store. I hope you like them.💖
The last time I was in California, Joe and I were driving across country … I picked these two roses, one from my Grandma's garden, and one from my moms. They sat on the dashboard of the Fine Romance Van the entire way. And when I got home, I took this photo of them. As beautiful as they were when they were first cut. In two days I will be in my mother's arms. 💞 The dearest person, who was in labor with me for so long (72 hours) that a tiny piece of her soul broke off, and went into me. And that is the way it has always been and will always be. I feel so lucky. Thank you all for being here. Have a wonderful day! WILLARD'S on the way! I'll be back soon!