May 4, 2012, Five years ago today . . . we, including lots of you, were here . . . sailing out of New York Harbor on the Queen Mary 2, beyond giddy (and not just because of the champagne!) . . . for our dream-come-true two-month ramble through the English Countryside. MUSICA!
So many of you came along with us, remember? That's why we had to bring all this luggage.  Okay, I know, you were virtual, and we have no excuse. Darn! Lots of art supplies in those bags, cameras, batteries, chargers, wires, and converters, not to mention Musica! . . . we were ready for desert-island living, just in cases!
And so the love affair began, over hill and dale we went, along narrow lanes, on the wrong side of the road, on the wrong side of the car, through hedgerows overhung with bowers of hawthorn and cow parsley, popping in and out of three-hundred-year-old pubs, listening to the birds sing, winding through stone villages festooned with bunting, wandering through gardens in sun and in rain, everything the slow way ~ and all just perfect for a house-crazy person like me . . .
Visiting the tea rooms the National Trust so kindly provides at each of the lovely properties they own, and writing everything down.
We learned about and could feel the history . . . they took such good care of their country, in most places, you can feel yourself in 1756 or 1835 or even 1250! It's amazing for the imagination.
From Kent (The "Garden of England") and Sussex, up to the Peak District and the Lakes, through the amazing Dales to York, back to the Cotswolds, Wiltshire and Hampshire. And it all basically looked like this.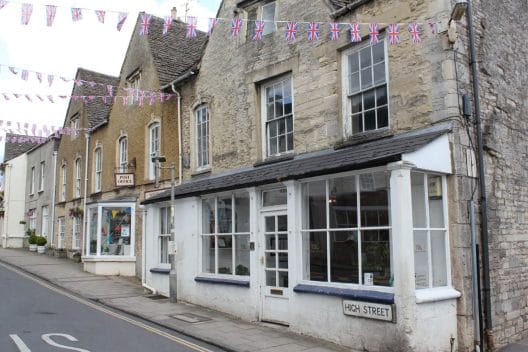 This is where I first saw bunting in it's natural habitat! Festooning doors and windows, and criss-crossing streets . . .

Gardens and gardens and gardens. Remember? And it was never boring. How could anyone get tired of seeing this?  This one, considered a "small garden" was designed by the famous garden designer Rosemary Verey. We were so happy to be there. Lunch waited on the other side of those windows on the right, and cold Pear Cider.
Visiting kindred spirit William Morris's house (where I bought that scarf . . .) learning about the guy I'd been quoting for years . . . and finding out just what an amazing person he was 💞but this quote had already told me . . .
Everyday was a discovery.
They mow paths through wildflower fields . . .
Then of course…to Beatrix Potter's Hill Top Farm, a place I'd dreamed of seeing for a very long time.  I was beside myself. 
Alone her garden, with her darling Bee Bole . . .
Sketching the whole way because they didn't allow cameras in the house . . . then turning the sketches into pages for the book I knew by that time I was definitely writing!
Honored to be there . . . Grateful for all that Beatrix Potter left behind . . .
I kept a diary of everything, took lots of pictures, and when we got home, I spent the following fall and winter watercoloring and writing everything down in my "good" handwriting . . . I had to tell the whole story . . . because if you fall madly in love with something you want everyone to feel it! You want to share that feeling!
It turned out to be part love story, part travel guide, with recipes too . . . not really knowing if I was succeeding as was doing it, but trying very hard to include every bit of the magic we found in our travels . . .
Day by day I wrote, page after page piled up, and then one day . . .
Still another dream came true. I hadn't written a new book since 2004 and I really wanted to try something different with this diary, and here it was, bedecked with ribbon, hanging out with Petey who saw the whole thing first hand. And off it went, out to the world, introducing itself and saying Howdy Neighbor while I quaked in my slippers, waiting to see what people would think!  Then the reviews started coming in . . .
This was sent to me by one of our Girlfriends, you might remember it . . . her daughter had her own review system, I cried when I saw this! All of my books have been, for the most part, just like this, word of mouth.
And reviews started coming through on Amazon, and more crying ensued. And still does. Probably all authors think of their books as their babies, and I'm no different.  Course, then Paul McCartney had to get involved!
Or kind of. Not so sure he actually knew about it! But I love this anyway. And that's it Girlfriends, just a little go-back-in-time celebration of a luvlee memory. Hope you enjoyed it!
So what else have I been up to? Same ole, same ole, actually . . .
Making new things. Thought we might like a Martha's Vineyard cup!  What do you think? Selfishly, I admit, this will look wonderful in my new blue kitchen! Want to see the back?
. . . just a little something to celebrate the magic . . .
And then I thought, how about a cookie plate, tea cup and sandwich plate, wall hanging plate . . . combo? Like this . . . good for almost everything … with lots of good old-fashioned white space!
And I thought they look cute together. Mix and match. You can fit a sandwich on there, or a cookie!
Off I go! Just wanted to say hello. Off to the garden I go. Hope all is well with you. By the way, my computer person, says everything should be working with the 'comments' correctly now. Thank you for letting me know the troubles, and if it happens again, feel free to say something. Love you Girls! You Boys too! XOXO