Hi Everyone, First MUSICA!  I hope you received your Willard! If not, don't worry, it just started going out this
morning and it takes a while these days, it has to go in batches so we don't break the Internets . . . but it should be in everyone's mailbox no later than Saturday afternoon. If you are new to my Blog and are wondering What in the heck is she talking about? ~ Willard is my Newsletter, go HERE if you'd like to sign up for it (it's free), and read about how Willard got its name.  Past Willard's are there too, just in cases you need a little something more to read! 🤓
This is the blog where we like to talk about all things Home Sweet Home.  Since we've become acutely aware that we have no control over World Sweet World (not that we eschew it totally; we don't, since we belong to it and are proud citizens of it) but we have narrowed our interest to our own little bits of Paradise where everything is just the way we like it, because for once in our lives, as opposed to school or work, or the fickle finger of fate, at home we are totally in charge! 
We can turn off the MUSICA any time we want. The curtains can be lace, or linen, or shades or blinds ~ or none at all. And if we want something, and it's too expensive, we figure out how to make it. Or save for it. TV can be on all day, or never 
. . . We can feed the birds, or we don't have to. And no one cares because it is our own world and no one else's. It is highly empowering to realize that it's true, our home IS our castle, and that we all live much better than the king of England, Henry VIII did on his very best day, no matter how many jewels he had, because jewels don't keep you warm and because we have heat and indoor plumbing, and we recognize how lucky we are, so the other thing we enjoy doing is counting our many blessings.

We do it by kissing our little petty pets (who know you want to take a photo and so they do this),
 by admiring our clean kitchens, and hanging wet laundry on the line ~ by baking birthday cakes, or knitting socks ~  
Or digging holes to make the garden beautiful . . .
Then taking pictures of it . . .
And celebrating and loving just being in the place that means the most to us. I've felt the honor of living in this old house every day since we bought it in 1989. I give it things. I give it old lamps and old dishes I find in second-hand stores. And when I come home, its arms wrap around me. We are symbiotic.💞 We belong to each other.
More blessings . . . out picking flowers from the garden for my little vases then inviting somebody wonderful to lunch. And one of the wonderful people I invited to lunch lives here . . .
In the house on the right . . . look familiar? Is anyone screaming yet?
It's called Castle Cottage, does that ring a bell?  And my guest for tea lives there
right now, the only person in the world to live in this exact house has come to America for a visit. How impossible is that? When you think about it? Totally not possible. But there she was!
Yes, my guest for tea lives in the house in the village of Near Sawrey in the Lake District in England where this couple lived and loved for thirty years, lived their very abnormal normal little lives ~ Beatrix Potter and William Heelis.
So, I started to get ready . . . I brought in spring peas from my other blessing, this picket-fence garden. Twenty years of loving this spot. Want one? Here's how! First? Mas MUSICA! (We're in the groove…)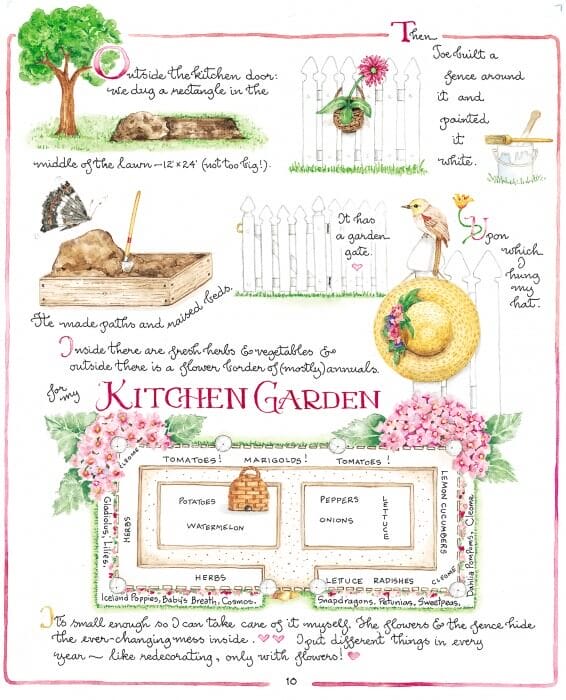 There might be one or two of you that don't know that Joe made my picket-fence garden ~ I wrote about it in 1996 in my Summer Book . . . it's been a gift that keeps on giving.💞
. . . and I watered the lawn and came back in and there Jack was waiting, behind the screen, my shadow.💞
I made lunch and added the peas to my coleslaw . . .
And gave the Beatrix Potter People a bath . . .
And dusted my studio shelf of BP love . . .
 And had a wonderful little lunch of Coleslaw with lobster chunks (For recipe, scroll down HERE) and Clams Casino in the garden. Joe joined us, along with Betsy Bray on the left, who is the first overseas Trustee ever elected to the Beatrix Potter Society (which I know several of you belong to too!) ~ if she looks familiar, it's because some of you
saw her last year with me at the 150th Birthday Party for Beatrix Potter . . . and Betsy brought her friend Mandy Marshall (don't these girls have fairy tale names?) the current resident of Castle Cottage. BOY! Was I ready for some brain picking. And my first question was and always will be, what was Beatrix Potter's kitchen like?  Because Castle Cottage has always been a private home, and rarely open to the public. I may never get the real answer to that question, because, as Mandy explained, it's been changed and moved and is no longer the kitchen where Beatrix made her tea. 😩 (I took it every well.) So my imagination will have to suffice. But I learned a lot. About the views from the sitting room across Post Office Meadow to Hill Top, and the life Beatrix and William lived there, we gossiped about them like we were in high school and they were the popular kids every one knew but didn't know . . .  and Mandy told us that when they first moved in, she and her husband had discovered a secret garden so overgrown that from the ground it was just a wall of thicket and nothing more. Time had made it invisible. It was only from an upstairs window that Mandy's husband was able to spot some sort of outline that made him curious. Anyway, Mandy brought a whole book of detailed photos of Castle Cottage, and it all came alive. She was so good, answered every one of my questions with a smile. Now I think I better go visit her. We toasted to that great idea with tea in two of my brand new English cups that I've been telling you about (samples came in! Real things are being made right now!)
Beatrix, in her third life re-invention (after scientist and author), became a farmer committed to the preservation of Herdwick sheep, she won awards for them (that's her proud self in the hat). She was an amazing person. The Life Story of Beatrix Potter is something to be reckoned with.
And Mandy, being a business woman, honoring all things BP, has gone into the sheep business herself  . . . having beautiful products made from the wool from these very particular Lakeland sheep.
Betsy is about to lead her first tour called "Beatrix Potter's Lake District Legacy" ~ she's the perfect person to do it, she's been there dozens of times, gives talks on Beatrix Potter's life and knows all the secrets, including how to get inside her friend Mandy's house! Some of our Girlfriends are going with her! I'm so jealous! She is so excited, she leaves on Saturday… The tour is full, but that link I gave you is for this time NEXT year, if any of you have a yearning to go, she'll be doing it again . . .
So everyone's gone, and here I am, just me and Jack in my studio, writing you . . . and this is the view I have from this very spot where I sit, window wide open, birds landing in the rhodies, spring is out there sparkling away. And I'm going out to get me some of that! I hope you enjoyed a little Beatrix Potter in the Heart of the Home.
Blessings on you all! XOXO