On a day like today, what would be better than a quest for beauty? Let's leave the heartbreaking 😢 world behind for a little while and go see Maine! It's October, and we have MUSICA . . .
We planned this trip a few months back . . . to drive north to see our friends Sharon and Jeff who were coming from California to stay in their camp on the rocky coast of Maine . . . so here I am, your own private tour guide, just in cases you've ever wanted to see Maine, which I have to say is a destination that could keep a person enthralled for a very long time. 💝
Doesn't it look fun?
Happy, as always, Joe and I travel better than almost any other thing we do. All our troubles and long work hours stay far behind us, and we are free. We have more stuff than we will ever need, big cups of ice tea with shots of lemonade in them from Micky-Dees, the radio is playing, the trees are beginning to turn colors, we're on the open road, who could ask for more?
We stopped at the BEST farmstand. Herricks ~ and while we were there, they brought in fresh corn, just picked in the field. Be still my beating heart!
Hill and dale we go, past villages and rivers and church spires, and the only thing breaking the old-fashioned-ness of it, were the myriad of telephone wires, my pet peeve in life. You can't get away from them these days! If you are a time traveler like I am it's hard to pretend it's 1800, even with the luv-lee church spires, when your view is criss-crossed in black wires.
Fields and meadows . . .
We traveled north on Sunday, look at everyone going back home after the weekend ~ which was nice, because the rest of our trip was pretty much traffic free! See the throngs of people on the left of the photo? They are standing in line for lobster rolls at a famous eatery called Red's Eats in Wiscasset . . . we thought, yes! We will stop there on the way back, we'll be there in the middle of the week and have it all to ourselves. And across the bridge we went… breezing along with the breeze . . .
Into the small town of Damariscotta . . . very adorable, would look like 1845 except, of course, for the wires. I promise I will never talk about the wires again. You will just have to see them without me pointing them out.
The Damariscotta River runs right through the middle of town and they make the very best of it. Damariscotta is also famous for their yearly PumpkinFest!
Lots of small charming ma-and-pa shops, excellent yarn and quilt stores that people drive from miles around to visit!
Sharon and Jeff invited us to stay in their Air BnB apartment ~ it was a lovely place with a darling kitchen, filled with books and comfy places to read them. This was my view from the sofa on our first morning where I was sitting drinking my tea and writing back to all the lovely comments you left on my last post, thank you so much! 💓
The next days we went over the river to walk through the old neighborhoods to take pictures of houses because we love  New England architecture so much . . . walking along, kicking up leaves, listening to the birds and the wind in the trees . . .🍂
This was the street we (too many wires but don't tell anyone I said that), filled with leafy shadows and the ghosts of days gone by . . . 🍂
Most of the houses were late 18th, early 19th century. I wish when they said 18th century, they meant 1800s, because I am never-endingly confused by hearing 18th century, then immediately having to re-compute weak brain to 1700s. It never seems to get automatic, I have to think. 🤔

Porches and bird feeders . . . and porch ceilings painted traditional blue like the sky . . .
Out of focus, but there is no way I am leaving out this cranberry enchantment.

Picket fences and rock walls, all handmade . . . In a thousand years I will never get tired of this view of a peaceable kingdom, where all is tinged with the sounds moths beating on porch lights, of baseball games on the radio, slamming screen doors, the smell of cookies baking . . .
Very interesting upstairs windows on this one . . . perhaps that's where they practiced piano . . .
Love the blue door with the little "lights" over the top, the trellis's on both sides, the criss-cross windows with the reflections in them, the glassed-in porch, the big ole tree . . .
Porches and low branches and pots of chrysanthemums . . .
And wild asters everywhere . . .
Bunches and clumps of them all the way down to the river . . .
A huge harbinger of fall in New England woods and coasts . . . Free, they re-distribute themselves every year, seeds fly through the air, and there they are the next year, for the picking.
And in Maine, as here on the Island, huge hydrangea bushes, turning colors like everything else . . .
And right in the middle of this neighborhood, is a graveyard, from a time when families stayed nearby even in death.  (I loved how they painted the telephone pole white to make it "blend"  . . .)
See? There are houses on all sides, the barbecue is there too . . . your history was as much a part of you as your now . . .

The tree of the goddess, the magical hawthorn tree's red berries hanging over the fence, the world decorates itself for fall!  MUSICA

Of course, we did lots of this . . .
Another thing Maine is very good at . . . and nice prices I might say!
Baskets full of vintage Christmas linens. . .
And we stopped for lunch, warm goat cheese to go with the lobster salad!
Maine lobsters, Maine oysters, YUM!

Then out for more antiquing . . .
I bought a silver serving spoon and a white cotton lace cloth for my bread basket . . . thinking holiday dinner parties!
Signs like this everywhere . . . farmer's and fish markets too, fresh local delights.
And they still hand out these flyers from the 1960s.
The recipe for boiled lobsters is just like Joe's, except he puts cut lemons in the boiling water.
And off we went to Sharon and Jeff's camp, near this little fishing village called Christmas Cove. Don't blink or you will miss it, and for sure, you don't want to miss it.
Out of town and onto a finger of Maine coastline. . . the Maine coast is ALL FINGERS. A travelers delight, so many little crevices to explore. We're about mid-way up.
See? There's a finger right now . . . smells of salt and pine. . . and takes us to
. . . a dirt road leading to the cottage, then a path through the woods.
Deep in the woods, voila, we find it!
All kinds of wonderful critters populate this area, fox and moose, chipmunks and red squirrels, too. And although Sharon is a master gardener, not a bit of a garden here, hard to garden on rocks . . . she lets real be real.
And she lets candles be candles. This is the living room, their house has perhaps ten rocking chairs in it, most of them on the porch.
Which you get to by going through this door. Note reflection, because that's what's behind me.
 Speaking of reflections: I'm outside, on the porch, looking back inside through a large plate-glass window with the reflection of the sea behind me and my own reflection in the window glass . . . on the far wall inside is a mirror made like a window, you can see me in it, and the lamp that's in the foreground of this photo, AND the view behind me.  Plus a cozy chair with quilt . . . and the unlit candles on the coffee table. I love this photo.
And now, I've turned around, the window is behind me and view is no longer a reflection. The sound of the waves, the rocking of the chair . . .
Here I am, rocking with Sharon's husband Jeff . . . Note delicious edibles on table . . . we wanted for nothing . . .
At one end of the porch is this tiny screened in room; no bug dast destroy ambience of deliciousness . . . table is set . . . pears are lined up on the window sill . . .
Into the kitchen we go.  I love seeing our cups on other people's shelves!
 Sharon and Jeff, being from California, despite Maine connections, are weenies such as I, and will not cook a lobster. Joe was our only hope, and he came through like the hero that he is. We may not cook it, but we will totally be the hypocrites that EAT it. ☺️
We also had farm-stand corn on the cob, dripping in foreign butter, salt and pepper and this wonderful healthy kale salad from our blog girlfriend Martha  . . . here's the recipe . . .be sure to massage the kale to make it soft.
And took it outside, to eat with the sound of the waves . . .
lots of candles, glasses of pink wine . . . we stayed out there forever because it was a gorgeous evening . . . stars and crickets and the waves . . .
Then we came inside and made a fire with the owls whose eyes light up . . . and basically, to sum up, we did this every night while we were there, as we solved all the world's problems and rocked the night away . . . We've known each other many years, our rocking is different than it used to be!
XOXO
Just your basic evening in heaven . . .
Another dinner . . .
Sometimes we couldn't see that finger of land north of us because of the fog . . . but there it is!
More candles . . .
And another cozy fire . . . but this one is different . . .
Because it's our last . . . we go home the next day . . . we are talking about Joe's legs, because I think they are like the legs of a four-year-old roller skater.
Sharon talks with her hands . . . she's a communicator!  MUSICA
Before we go, we need the love photo . . .
We now pronounced them man and wife, kissed them good bye, said thank you, thank you, see you in California . . . And off we go, down the long dirt road . . .
And the next day, we head straight for the little town of Wiscasset, the one we passed on the way in, where that crowd of people was waiting in line . . .
We are nice and early, they haven't opened yet . . . not a soul around . . . perfect.  We'll be back.
Such a famous place, they even have paintings of it in the art galleries . . . must be good! We can't wait to find out why! Off we go to work up an appetite . . .
By shopping this luv-lee little town . . .
Look what's in the window of the antique store!!! All Petey's friends! (If you've read A Fine Romance, you know who Petey is!)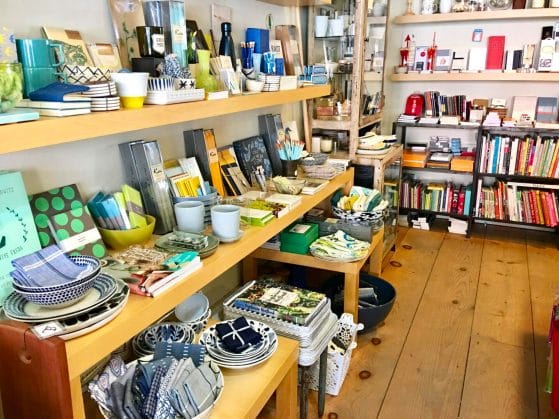 There was a wonderful women's clothing store called In the Clover with fabulous sweaters and scarves. . . and across the street, this fantastic shop filled with original and wonderful stationery and gifts, called Rock Paper Scissors … I had a great time visiting with the creative owner and buyer, Erika, and found the perfect handmade diary for our next trip to England. I also did some rather magnificent Christmas shopping, just little things, but really special little things. 😘
She had interesting and creative jewelry too ~ go there if you can, but try to go on week days, when it's not crowded, because this is a very popular little town. We started back over to Red's Eats to get our Lobster Rolls, and AGAIN, there was a line around the BLOCK! 😱 But, we had to catch a ferry. No Red's Eats for us. Must go back another time.👍
Time for one more antique store stop. And in the parking lot, we saw this! Oh, to be famous! Ha ha ha!
And we needed to get our pumpkin allotment . . . The little ones for over the front door, the big ones for the porch and garden . . .
Off we go! Leaves blowing up behind us!
This is the sky out the car window as we're heading for Woods Hole to catch the boat . . .
And from the bridge that goes over the man-made canal that separates the Cape from the mainland . . .
As the clouds followed the sun into the sea, we followed them to our boat . . .
We were on our walk yesterday and, like we often do, stopped to see our friends Bruce and Gail Kissell. They live in a little camp like Sharon and Jeff's, right on the water, and asked if we'd seen that gorgeous sunset.  I said, "Not from your front row seat!" Gail had taken photos! She sent them to me, and these are them ~ wasn't it amazing? Love the reflection in the sea and wet sand.
The clouds chasing the sun into the sea . . .
And this wiggling, squiggling, green-eyed fuzz ball was our reward for coming home . . .💕

We unpacked, and put up the pumpkins and hung the wreath . . .
And distributed the pumpkins . . . 🎃🎃🎃
I need to go out and see the world sometimes, to bring home the juicy creativity that lives out there in such abundance, but I'm just a homebody at heart. 🏡
POLDARK started last night!!! Did you see it? We did, and I recorded it so it could play while I was working on this post. So good. Look how long her fingers are. I think my little finger comes up half way to hers.

Odd view, but this was us last night watching Poldark. That's my shawl on my leg on the left, Jack's between it and the arm of the chair, but for some reason he liked hanging his head over the edge . . .
I used my camera to look down there and see if he was happy, and he was. The paws are my favorite. My little prince.
Yup, home, and back to work. Today I have to choose the embroidery thread colors to include in the new cross stitch kits we are having made!!!! This is the fun part! More info on that to come!
I designed two little cards and sent them to Kellee this morning. You are going to be able to print them out to include with your cup-gifts for the holidays  . . . two kinds, one for a Merry Christmas one for a Happy New Year. Soon I'll give you a link so you can print them on card stock.💞 And I think Kellee did lots of fall "Free Stuff" for you to print out ~ Enjoy! 😘
I hope you enjoyed our Maine Adventure! I loved reliving it! Best part, the memories! Have a luv-lee rest of the day. The Constant Nymph, with the impossibly young Joan Fontaine, just came on TCM, leaves are falling 🍂, you-know-who is waiting, and my new British Country Living is here! Happiness! Wishing you the same! XOXO