I just got the most wonderful thing in the mail from some very adorable children and their very excellent teacher! I couldn't wait to show you!  MUSICA . It's all about Remembrance Day, which I wrote about last week …. my mail is proof that you just never know who might be checking in!  ❤️❤️❤️ Look at this! ⬇️
I knew it would be special when I saw the envelope! Look at the return address! "Mrs. O'Brien's 4th Grade Class," all the way on the other side of the country, from Wolf Creek Oregon, and I couldn't wait to open it. But I knew I should be careful!
I turned it over, and saw this. Poppies! Someone made me something wonderful. It wasn't even light yet when I was opening this, I was still in my jammies, and it was like Christmas!
The note from Mrs. O'Brien was wonderful and explained everything … it's from Kari, one of our Girlfriends!
She and her students had read the Remembrance post, and then they all wrote me
illustrated letters and put them in a book! Kari said most of the kids live in "deep canyons and forests of Southern Oregon" (doesn't it sound magical?) and they go to Sunny Wolf School where Mrs. O'Brien teaches. I couldn't just choose one or two letters to show you, they were ALL so good, so I thought I would just photograph the whole book. 💞
I have to tell you, I cried all the way through this book, it is so beautiful.💞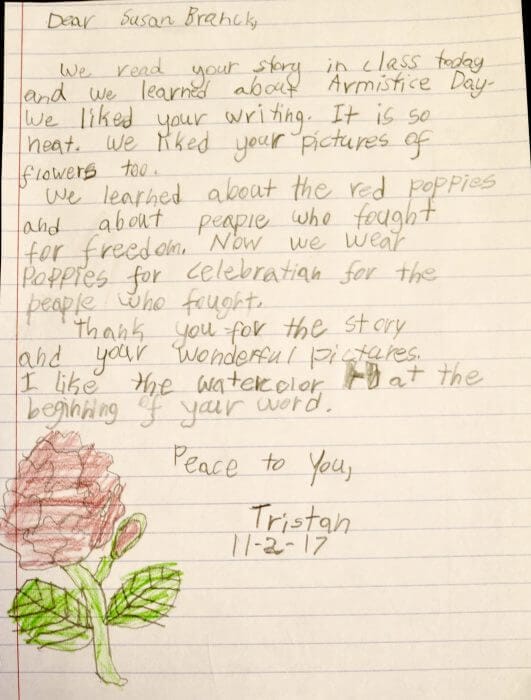 The children are so talented!!!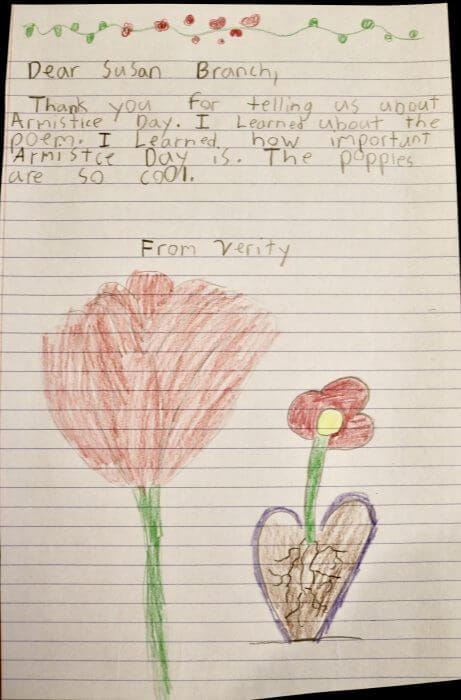 That book was like a bouquet of letters!
I wonder if they know how creative they are? Oh yes!
I hope they are always brave and paint and color and draw and write about the things they love.
Because when they share their hearts through their hard work, they make a big difference in the world.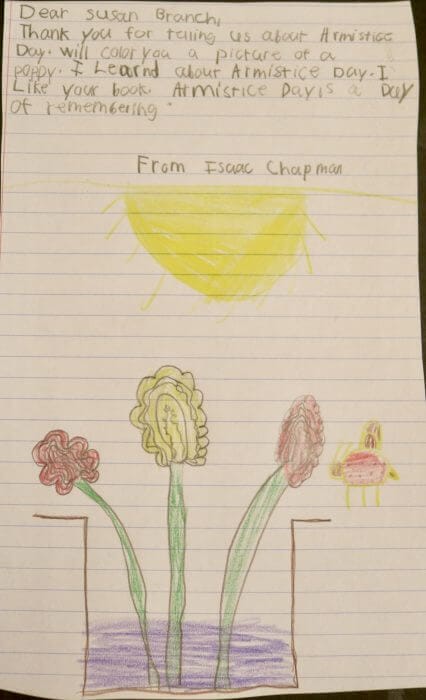 And they tell stories . . . their own stories, and other people's stories . . .
And they keep important memories alive for everyone!
They are lucky to have a teacher like Mrs. O'Brien… I remember my 4th grade teacher, he had a funny name, Mr. Fishbacher, but I loved him.  He taught me a lot. He liked my handwriting too! More MUSICA? (This song was written in 1917! About WWI, the war that brought us Armistice Day.)
This was my handwriting when I was in Mr. Fishbacher's class!  Looks a lot like Mrs. O'Brien's kids!
And I loved to draw flowers in my class too!
Wonderful teachers are never forgotten, especially ones that talk about poppies and Armistice day and make books and teach about our beautiful world . . . the kids are reading a book called A Year Down Yonder by Richard Peck ~ Mrs. O'Brien says it's "fun, funny, true-to-history and set in 1937!" Lucky Kids! So good to read interesting books in a group and talk about it and hear what everyone thinks!
Students are no good without a teacher, and a teacher is no good without her students! 
I think they all have beautiful handwriting . . . see how it's different for everyone? As many different noses as there are in the world, that's how many different kinds of handwriting there are. Forming letters is just like drawing a flower. 🌺 You can make them all different ways! You can look at the way someone else makes their letters, and copy them! It's fun!
And no one draws the poppy flowers quite the same. Which makes each of these kids a 100% original person who can hear the very same story, then tell what they learned, each in a very different 100% original way. 🌺
I bet they went home and told their families about Armistice Day!
As the poppies in this picture got further away, they got smaller, and lighter and some became hearts. Good job!
They learned that "people fight for freedom in the war" . . . and that's why we remember them and are grateful to them forever . . . and one way we show our gratitude and honor the people who died is working hard to make sure war never happens again.💖
B  L E  S  S  I  N  G  S
They learned that they like "peace instead of war ". . . because then everyone stays alive and at home, painting pictures, planting gardens, making cookies, and planning secret presents for the people they love . . .
for their moms or dads or brothers or sisters or grandmas, for their best friends . . . or even for their teachers!
Learning about Armistice Day (which we call Veteran's Day now) is important, because if we know about our history, then we know better about what to do in the future to make a better world.
And tomorrow is the day . . . The 11th month, the 11th day, the 11th hour, and 2017 is the 100 year anniversary of when America went to war in Europe.🇺🇸 We will be quiet and say a prayer for the souls that gave so much, in America, England, and Canada, and all over the world. And in my prayer, I will add blessings for the good kids at Sunny Wolf School and their magical teacher, Mrs. O'Brien. 💖
You made my day!
And look, one more thing so I will never forget . . .
They made me a great big poppy!!!  I 'm wearing it right now! I love it! And when anyone asks me where I got it, I will say, from the 4th grade class at Sunny Wolf School!

If you kids are reading this, I just want to tell you what a nice thing you did!  I think you are very special, creative, smart little people. Don't grow up too fast! You're in charge of that! Go nice and slow . . .
And thank you for helping me and everyone on my blog "Remember."
Blessings on you all, Thank you Mrs. O'Brien and all your lovely students, be good to each other. XOXO