Hello dear ones! How are you this fine day? I'm good. Time for Vanna to go to work! Lots more to tell you . . . but first, MUSICA! 🎵 And then, more good news!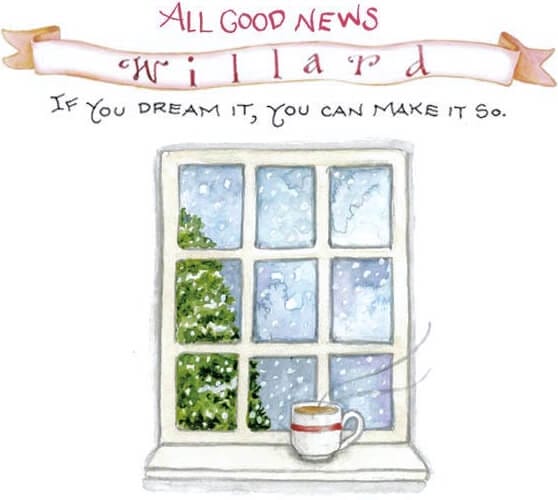 First off, I want to make sure everyone got their WILLARD?  Sometimes he takes a detour into spam files … if you are signed up but didn't get it, you might check your spam file and see if he's there. And, if you're having trouble, a new suggestion from one of our brilliant Girlfriends: put 162.240.10.175/~susanbs3/susanbranch/ into your address book! It worked for her. It's like a "welcome home" when Willard tries to enter your email box. And last but not least, here's a link to the newest newsletter! 
And now, shall we get right to it? The hardest part of every giveaway is choosing the winner. I'm SO GLAD it's Vanna's job ~ she is the responsible one, not me. 😜 It's not my fault! But I wish this was loaves and fishes and everyone could win! Cup-half-full, cup-half-full, at least there will be two winners, and with all my heart, I hope it's you. Because you deserve it, leaving all those gorgeous comments! Thank you!
So here we go, Vanna is here, perched on the edge of my art table, pink-cheeked with red lipstick perfectly applied, wearing a costume of lime green leotard with yellow-polka-dots, and her yellow daisy-topped bathing cap, perfect for swimming in paper, with just one tiny curl of her red hair peeking out. Poised to leap! Toes curled! Her knees bend and Up Up Up she goes (good thing we have high ceilings) and then, a perfect jackknife in the air, she's DOWN! GONE, twirling and whirling dervishly amidst thousands of precious names . . . slips of paper are blowing all over my studio like confetti, and suddenly, breathless, she's up! She's just handed me the names of our two winners! 👍 And so it is: Behind door #1 there's a signed (personalized if you like) copy of my hand-painted A Fine Romance (which, btw, if you already have it, makes a very good Valentine present❤️), AND, in addition, my new and very adorable England cup coming in April. Okay, I'm reading, I'm reading . . . . . and so, wasting not another minute, the winner of this luv-lee prize is, ding-ding-ding. . .
L Y N N   B A R L O W !!!  (hint: the Lynn Barlow whose website ends in cox.net)
Hi Lynn, Congratulations, you now have all the essentials of happiness: something to do: drink tea. Something to love: love cup. Something to give: give book. Something to hope for: you got what you hoped for! 💞

And for our second winner: Behind door #2, my new Home Sweet Home embroidery kit, 

. . . AND my new Spring cup, also coming in April! Here we go once again. The winner is

A B B I E   B E C K  (hint: the one whose middle name starts with an M)
Congratulations, Abbie! I hope we've made your day! I'll email you both so you can give me your address! Makes me so happy. Only a little thing, a giveaway, but at least it's something to show my great appreciation for all that you do, not only in the lovely comments you leave, but in the lives you lead. Amazing people, Girlfriends, one and all. And here's another little Valentine thing I thought you might like, because it's . . . so YOU!
A Valentine Bookmark you can print on card stock, cut out and laminate if you like, and give to yourself and to everyone you love! Just click HERE.
So, what else?  I've been working like crazy on the new calendars . . . I thought you might like a preview of the 2019 wall calendar! This is January! You see why I love doing this, it's like a Calgon moment, totally taken away while planning each page, thinking, "how can I make this month special, what would the Girlfriends like?"  I put a video of my Studio "in action" on Instagram yesterday, in case you'd like to tour the mess! I have to get everything done before we sail away early next month! 🚢 Not only the four 2019 calendars, but the summer cups too because we won't be home until next July! I'm thinking about designing a Royal Wedding cup for the Summer collection. What do you think of that? If I have time before we go, I would love to do it! So romantic. And speaking of cups. . .

FYI to our British Girlfriends, Nursery Thyme has finally received the winter cup collection at their shop in luv-lee Devizes, or, you can find it in their online store HERE. They can deliver to England, Scotland, Wales, and to Northern Ireland.
Yesterday it poured snow, but today the sky is bright blue, the sun is shining, and this morning was filled with a wonderful sunrise that spread golden light all through our house.
Even on my crown! Very inspiring when it comes to dreams. A quiet joy. When the world was all in candle light and lamplight, I imagine people lived in shadows like this much more than we do now. Wavering shadows from flickering flames. 
Something else, coming soon! New Castle Cottage kits, art printed on fabric, requires finishing and just a bit of embroidery embellishment. Everything happening at once since I'm trying to run out the door!
But so cute. The tiny company we're working with to make these kits is called the Posy Collection ~ only two people, three counting Posy's husband (which of course we DO) ~ we love each other already ~ they are such go-getters!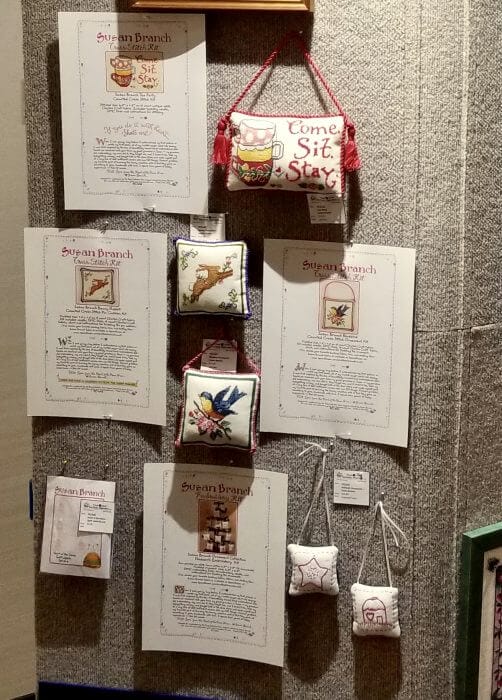 Posy just came home to Texas from their first show at the National Needlearts Association and sent me a photo! She's so excited! Makes me love working with them. Nothing like a bit of positivity in this little world of ours!💞
You know Joe and I are sailing into Charleston, South Carolina on the Queen Victoria? 😲 We are! Parking right downtown in the historic district on March 11 (that's like tomorrow!). At 6 pm that night, we'll be meeting whichever of you Girlfriends that can make it at the Barnes and Noble Bookstore in Westwood Plaza. Read more about it HERE, and try to come if you can. 💞 Bring everyone! We can say Bon Voyage to each other because the next day we leave to sail across the wild Atlantic!
I'm calling it a spa boat this time. We'll be on it for two weeks, and I plan to take advantage of the trappedness of it and arrive well slept, well fed, and well exercised! After racing to get ready to go, it will come as a shock to come to a full screeching stop at the gangplank! All the normal things I think about and worry about at home, I have to suddenly give up and learn to think about other things! Ommmm!
Petey is beside himself. He LOVES hanging out in England.
If you feel like getting in the mood for going back in time along with us, watch the movie Mrs. Miniver. It's a lovely movie on every single level, including history . . . but the house!!! That's the killer. See the kitty on the floor? Need I say more? This is their dining room.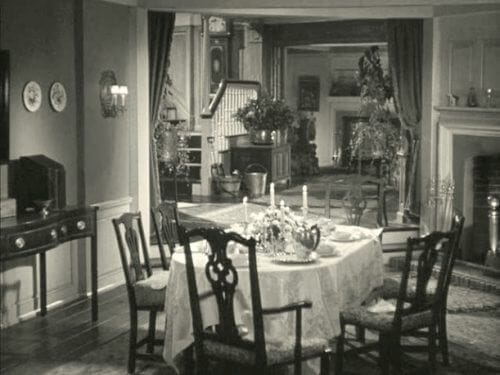 You see the fireplace on the right? Then if you look through to the chintz-covered chair in the living room, you see another fireplace. Heaven. And the stairs to the bedrooms are on the left. I loved how, in the old days, they would put curtains, not just at windows, but also at the entry way to rooms ~ perhaps, at one time, before heating, to keep drafts out. Isn't it cozy?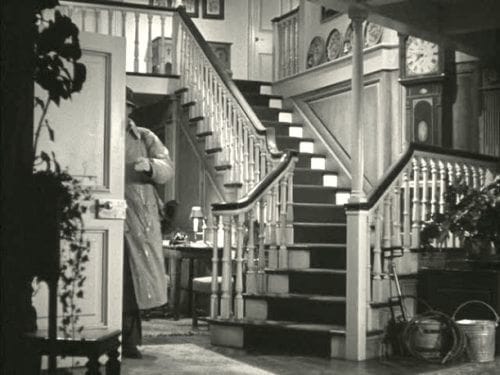 The stairs. The grandfather clock. Just lovely. Not sure why the hose and buckets are on the floor, but I love the plants on the left, and the plates on the stairs, all so cozy and real. These old movies are what taught me what I wanted in life. Mostly, old houses, curtains, candles, lamps, wallpaper, tablecloths, and family. Wonderful old movies like this one helped me to find my dreams.💞
    Greer Garson and Walter Pidgeon and the Mrs. Miniver Rose. You'll love it.
So, off we go, Oh, Girlfriends of Mine 💞 . . . back to work! Wishing you all the most wonderful of days. Count your blessings, we are all so very lucky. I'll see you later! XO 
In case you see something like this: Gotta be ready! 😘