Hello Everyone! Snowdrops ~ my favorite Valentine bouquet. 💋 Joe went out to the compost pile and came in with these on Valentine's Day! 💝 Surprise!  And quite early ~ despite know-it-all groundhog.  MUSICA. (Try not to fall out of chair when Helen starts to sing. . . 🎵 rock and roll!)
They're the perfect flower for one of my little vases. And really, for all of us. The
folklore, superstition, and myth around Snowdrops is endless . . . They've had many other names: Fair Maids of February, White Ladies, Eve's Tear, Dew Drops, and White Queen. Snow White's name in the original Grimm's Fairy Tales was Snow Drop! In most countries they're protected ~ collecting bulbs from the wild is now illegal. Go HERE to read a lot more of the who, what, where, why, and when of the lovely brave snowdrop.
 It's still very cold here ~ they show true courage and huge nature-hearts by daring to peek out this early, but they come prepared, they make their own heat and melt the snow around them. It's not a surprise to learn they are a symbol for optimism, the emblem of hope and rebirth.
Still winter, but we have our bright blue sky days . . . and courage flowers . . .
And roses, symbols of love, honor, and faith ~ and lighting a candle for the intrinsic goodness of mankind, for grief, for children.🕯 Not so into platitudes or finger-pointing these days ~ throwing arms around ballot box, the symbol of hope. 🙏
I had to show you the Valentine card I found for my darling Joe. Isn't it perfect?  He's REAL! I still can't believe my luck, coming so far away, to a tiny island, and there he was. (I decided he's the Unicorn and I'm the Fairy . . . clearly neither wins an award for beauty! But, equally magic and he's the big guy!)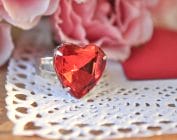 Beloved gumball-machine gift from the unicorn to the fairy.
While a frantic mentality, minutes, hours, and days on the calendar that rule each day at our house, little piles of stuff are everywhere in the house . . . we had a luv-lee time packing up Valentines for our loved ones . . .
I did, I did, I did, love making brownie bites, tying them with heart ribbon, and sending them off in LOVE cups.
We hid all the stuff that's been piled on the sideboard, making room for a Valentine Dinner Party . . . we cleared off the table . . . and I set it with my red Copeland Spode Tower dishes and lots of candles . . .
Plus sweetheart roses, tulips, and white hydrangea . . .
I took so many photos of this! I'm keeping it down to a dull roar for you, because to the naked eye, I'm sure these photos all look exactly the same. I love Valentine's Day, it's the perfect time to pull out all the stops for gushy Queen Victoria romanticism. (Which, by the way, I had my DNA done ~ it just came back this week ~ and I'm in the same haplogroup as she was, whatever that means. Still figuring things out! Very fun. Wanted to do it before we left so we have a clearer picture of our origins. Joe too, my mom, my brother, my sister . . . all in on the action. But I digress! I'll write more about it later!)
I made all comfort food for dinner (for eight). Spicy short ribs with buttered wide noodles, a green salad, HOT crunchy bread with salty butter, YUM. And here are the desserts,
homemade pound cake with fruit, and lots of bakery delights, like strawberry shortcake and coconut cream cake. And in case you missed it the first time, here's the short rib recipe.  SO delicious! And easy, you don't brown the meat, just throw the sauce over it ~ it cooks for seven hours in a 250º oven, till the meat turns to buttah and falls off the bone. There's gravy for the noodles, to sop the bread into. I rest my case.
And here's a new little short rib tip from the learning curve: This time I took the finished beef out of the pan and set it aside … I thickened the gravy still in the pot (as the recipe suggests), but then I poured the gravy into a shallow pan and put it in the freezer. There was too much grease last time! The fat rises to the top in about a half hour, I scraped it off, and put the ribs back into the roaster, poured the de-fatted gravy over,  and back to the oven for another hour of cooking. Worth every second of it. Still enough fat for flavor, but nothing like before. Eat with abandon! 😘
So this is us, going a mile a minute! The old fashioned way.
With Time-Outs for kitty kissing.
Here's one the piles we'll need to take along! Talismans of luck and love. We are turtles and carry home on our backs when we travel. A few little tastes of home, to make us feel cozier in a new, exciting, filled-with-all-new-things, world. Like my pillow for instance. Of course. And maybe one tiny vase, like the one Joe dug up in the back garden. Tiny. Would look so cute with a bluebell in it. Like that.
And this is Charleston . . . the good ship Queen Victoria (starting to sense a theme!) will dock right downtown next to the cobblestone streets of colonial Charleston on March 11 … I hope those of you in the area can join us at the nearby Barnes and Noble for a book signing! Arriving by ship is a definite first for us! Read more about it HERE.
I'm lucky because I can work no matter where I am. Kellee and I are getting expert at it, we've been 3000 miles apart for years, producing calendars, cups, bookmarks, and books,
with the help of our machines ~ cameras, phones, and computers ~ couldn't do it without them. I can't really take four months "off" ~ this will be a "working" trip with really nice work perks and surroundings. Like pubs, for example, and castles. And darling English friends. And the amazing, heart-stopping English Countryside. And Ireland. And Wales. And a Picnic at Beatrix Potter's house. Somebody stop me. I get up early, so I'll paint and write while Joe is sleeping, and then, OFF WE GO! Discoveryville!
So, I'm excited because the "Real" samples of the newest Spring cups came in! I thought I would take a pretty photo in front of the roses. I got it all set up, then suddenly, as usual, a shadow popped into the lens of my camera.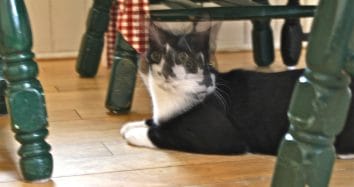 "Outta the way Jack!" But nooo . . .
I was sitting in the chair on the right, camera pointed at the cups, and this is where he chose to sit. I love him so much.
So I moved to the kitchen shelf where he would have to be able to fly to get in my way! Here they are! Tomorrow's the day I have to give my final number for how many they should make . . . I always add a couple hundred to make sure everyone gets one, but sooner or later, we always run out . . . I hope you have yours on the way, they will arrive with the daffodils, in early April. You can read more about them HERE. 
I finished the 2019 calendars too! Yay! This will be the February page of the new Mini Calendar. "Think on these things. . ."
And here's the January page for the new Wall Calendar, coming in July if you can believe that! I previewed it on Twitter the other day. Shhhhhh . . . 💞
When we get home, I'll start thinking about making this tiny vase. I think we all need one. Hang it around our necks. Keep whiskey in it.
Love you Girls, so filled with acts of love, making peace wherever you go. Kindred spirits forever. Enjoy your day. I'm going to pack some more and design some summer cups! XOXO
"It's believing in roses that makes them bloom . . . "
P R A Y ,   L O V E ,   R E M E M B E R . . .