We're on the road! Neither rain nor hail nor sleet nor majorly obnoxious east coast nor'easter will keep us from our appointed rounds (or something like that…) We're off!
Was very iffy for a while . . . boats quit running, branches blowing off the trees, shore beat to death by wind and pouring rain, flooded downtown, and then, the electricity went off. . . but through it all, with faith in our mission, we packed. And cuddled with Jack. MUSICA? O yes! Joe, suggested this one, isn't it pretty?
Jack put up with most of it, but loss of electricity worried him enough to make him crawl up on my lap for kitty comforts. To my joy. Isn't he ADORABLE? I don't think I'll ever get over this boy's cuteness. Don't worry, we have left him in perfect hands.  Trained hands, adept in ponytail-band shooting.
I understand England is experiencing their own "Beast from the East" ~ a huge snowstorm
that doesn't seem to have an end. But before that happened, Mandy, at Castle Cottage in the Lake District, sent this photo of the snowdrops in bloom in the English countryside. I'm selfishly happy about their snow,  s l o w it all down, please, put those daffodils on ice until we can get there! And baby lambs, stay inside mummy where it's cozy, until we arrive! And BTW, for anyone going to the Picnic, Mandy has planned something special ~ we get to tour Hill Top and play in the gift shop, all open that day just for us!  Email her for times of entry at MandyMarshall.bbg@gmail.com and reserve your space!
I know, it's all so wonderful. And again, don't worry if you can't make it, I'll do my very best so you'll think you did!
It's okay if I miss the snowdrops (sorta). I think our boat ride might just be worth it, you can't be everywhere (but sometimes I can't help but wonder, why not?)!
Before the storm landed on our doorstop, the sun was beginning to touch the pillow tips in the morning. Despite the cloud cover, we trust that spring is on the way.
What to pack. Try it all on. Then give up and pack it all.  You should have seen us this morning, what a mess! Had a 9:30 am boat, still wasn't SURE it would be running, and hauled ourselves out of the house at 9:20 after safely installing the kitchen sink in the back of this rental car. Made the boat, saw two crashed sailboats at the dock, battered by waves and storm. Eeek. Met two of our best friends on the other side, in line to go OVER on the boat. They'd been trapped off-island during the storm, so we had a small goodbye party in the parking lot! And now we're driving to Florida, catching the Queen Victoria 🚢 on Friday and having all fun in-between. One night in Williamsburg. A visit with Joe's brother. A wee bit o'shopping ~ need new knitting project for "knitting club" on ship and some other cute thing to wear for fancy dinner on boat. 🍷
Did pretty good with my art packing 🎨 . . . new diary (with heart), garden diary (light blue linen), mushroom pencil sharpener🍄, pencils, new paints and brushes, lots of paper and all the rest of the necessary goodies. Happy! Plus, I got my DNA done! And Ancestrydotcom has been my home away from home these last months! I have us all figured out! We're finding HOME both in Ireland 🍀 AND in England 🇬🇧 ~ a brand new quest!  At least one of them! So many wonderful adventures to take you on, I can't wait. Our first two weeks will be in Cornwall . . . I'll let you know more itinerary when I'm not rattling down a highway wracked with fear that any moment this entire post may disappear!
Also, got all four of our new summer cups designed! Had to, they will come in before we get home. Summer waits for no man. Will show you more later, but here is a preview of the smaller cup (fake paper mockup, color will be way better in the real thing) . . . this one will round out the four seasons we started last year!
And I put up new photos of your Spring, England, Mother's Day, and Jack-in-the-Books cups ~ you can now see the bottoms, backs, handles when you go look at the cups ~ I placed the order, they're in the works in England, and should be in our studio the second week of April. Lord willing and the creek don't rise ~ 😜 I'm doing this while Joe's driving on the Merritt Parkway at about a hundred miles an hour ~ so forgive my shortcut writing! Hard to help him drive and write at the same time.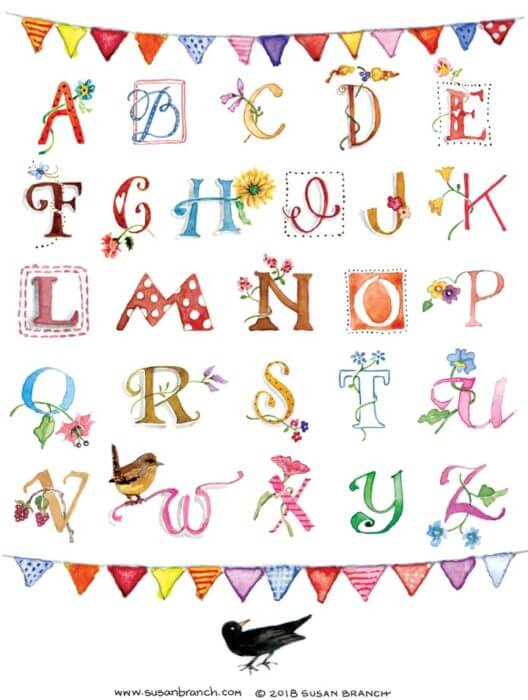 Two new embroidery projects in the works too . . . don't want you to be bored while we're away! This will look different when it gets the final layout, but this is the art we're working from.
And remember this draft-stop in my kitchen? I had so many requests from Girlfriends wanting one, and I got tired of no one making them anymore, soooo . . . .
We made a printed cross-stitch kit. The Blueberry border is printed on really gorgeous fabric, so you can either embroider it or not, or just do the cross stitch in the middle, this photo does not do it justice! It's as long as your door, and all you have to do is put a dark blue corduroy back on it (or anything you want), fill it with sand, and voila, you have your very own, and you can say, "I made that!" I can't have enough celebration of home in my house . . . and in July, when we come home, this is going to be the way I feel:
But not yet. We're in "road mode." But here comes spring ~ it's time to celebrate by making your neighborhood cuter ~ here's an idea for a Spring wreath I made for myself a while back. And yes, if you drove up my street right now, you would see my forsythia wreath on the door where I put it this morning before we left. Because I may not be there, but that's not going to stop spring, and I want Jack to be proud of his house! And that poor beaten island could use a little floral light right now!
So off we go . . . I will stay in contact to the best of my ability. If you were EVER going to join Twitter or Instagram, this would be the time to do it. I still don't quite have full understanding of how Instagram works, but what I do know is that I can put photos on both of those accounts directly from my phone, which means I can do it from the road (I did some this morning!), I don't have to get out the computer (which doesn't always have connection) . . . makes it a wee bit easier, and we're out and about so much more that we are at home, lots of photos can go flying in all directions. I'm "dearsusanbranch" on Twitter, and "susanbranchauthor" on Instagram. Because . . . and don't we know it . . .
Petey's in the back seat. He kissed his little lamb goodbye, and it's just the three of us now, heading down the highway, singing to the musica! Off on the biggest adventure of our lives.  Don't forget to print out your badges for the BYO Picnic Basket Party at Beatrix Potter's Garden! Eeeeek! Dream-come-true time! We're on our way! Planning to put you under my invisibility cloak for sneaking aboard ship . . . prepare yourselves. Out of Connecticut, into New York, heading for the Tappen Zee Bridge! Have fun Girls. Thank you for coming along. 💝 Talk soon! XOXOXO