Oh yes, we have our winners! And here comes Thanksgiving! But first, let's go for a walk along the shore! It's the sweet and delicious antidote to modern times!
All you need is some flat sand and a sharp stick! November by the sea!
XOXO
MUSICA for my Earth Angels, the ones I adore . . .💞
We followed our nose through the woods to one of the old fishing shacks out at the water's edge that belongs to our friends where we stop to say hello ~ most of the little cottages out there are closed for the season, but our friends stay late, kindly providing us with luv-lee morning smells of coffee and woodsmoke on the wind.
Through the golden woods and drifting leaves we go, to the water and back.
In every place I've ever lived I've gone searching for "my walk" ~ I need to walk everyday for peace of mind and joy of life.  I had a special walk when I lived in California, and when I moved here in 1982, I found this wonderful dirt road that ends at the water and have walked it ever since. In 1987, it got even better, because that's when Joe joined me. We know every rock out there.  Him: "Hey, was that rock there yesterday?" Me: "I don't think so!" We call this kind of stimulating conversation, "Morning Science" and I wrote about it in my Autumn Book.
As we wander along the shore, we find all kinds of beach glass, edges tumbled smooth by the sea, in many colors and shapes, even heart-shaped glass, and lots of heart-shaped rocks too. We're always thrilled ~ we show each other, "Hey, look at THIS one!" Claiming how different it is from ANY OTHER we've EVER found 💞 . . . but this ⬆ wins, I found it last week, it's my very first angel's wing.
Sometimes, when we're out there, I think of something I want to remember, or I see something I want to tell you about ~ I have a pen, but no paper to write on, so seashells come in very handy.
Just a part of the collection! Searching for rocks, shells, and glass with the sound of waves rolling in, the cry of gulls, crunching the leaves underfoot, wind rustling through the trees, wrapped in jackets and scarves, hats and gloves, breathing cold, clean air, is a perfect way to start the day.  So is knitting with just the sound of needles clicking and furnace blowing. Laying on the floor, stretching out your body in all directions, very good too, especially if your petty pet does it with you. Also, wooden-spoon noise against bread bowl as stirring commences. All the perfect antidotes to modern times.
I usually like to surprise you as you turn your calendar pages . . . but with the holidays coming, I thought you might enjoy this . . . it's the January page for the new 2019 calendar reminding us

. . . and it's in the peace and quiet that dreams are born.

Such a clear, clean, blue-sky day, perfect for washing the Peter Rabbit Room curtains and drying them on the line . . . the things we do to make a house a home.
Every day I do at least one little something to get us ready for the holidays.
Cleaning the votive candle holders . . . freezing them first to make it easy to remove the bits stuck at the bottom.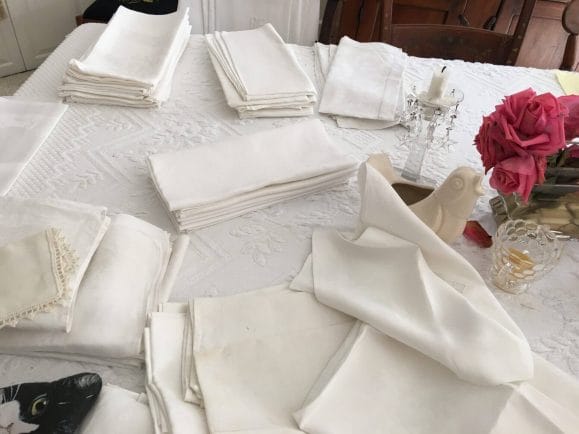 And sorting napkins . . . all of these were found in yard sales or antique stores, some match and some don't but all are heavy, old-fashioned, starched linen . . .  as big as small tablecloths so when people come to my table, they smooth their napkins on their lap and feel like they're five years old. 💞 Perfect for the holidays.
I've been looking at photos from other holidays to see what I've done before, thinking about how to decorate this time, inspiring myself! This red tablecloth is actually a vintage blanket.
This setting is a little more casual and homey . . . with plaid napkins and purple Johnson Brothers WindsorWare, a really good color for Thanksgiving ~ it goes with everything!
This one, even though it's all mix and match dishes (two Vernon Kilns patterns, "Mayflower" and
"Chintz") is still a bit more formal and elegant, and even has bread plates (Johnson Brothers "Garden Bouquet"). Everything on this table, and in all my tablesettings, comes from yard sales or antique stores. I'm a huge recycler of other people's stuff. Have been haunting second-hand stores since I was in my early 20s ~ this represents years of slow-speed collecting. Old stuff has a soul, and my house likes it too . . . these old things, along with wonderful old music, let me go back in time and live in a world that doesn't exist anymore. When you're a grown up, you're totally in charge in your own house and can have it (or at least a certain corner of it!) just the way you like it! This all came from being addicted to old black and white movies when I was young. I thank my mother every day for introduction to movies that came out before I was even born. They taught me everything I "know."
Love the orange flowers . . . the table cloth is a vintage bedspread. Wonderful because, like the red blanket, I don't have to iron it! Wash and dry in machines and voila!
Flowers, mis-matched chairs, old bowls . . . lots of candles on the table . . . all ready for what really counts, what's on the chairs!
I found this plate that teaches a child where the spoon and fork go! And remind myself too,  because I always forget, does the water glass go inside the wine glass or out? But luckily my Girl Scout Handbook taught me, so I painted this:
Planning the food too . . . although we sort of keep to our traditions. Can't wait for this wonderful cranberry sauce! And the amazing Christmas Jam you can make from the leftovers (the recipe is up there under "The next day") ~ so good I always make extra!
To bring back memories, serve your favorite foods you had growing up at your family's Thanksgiving dinner . . . or make new memories:  serve what you always wished you could
have! Joe and I have had every kind of Thanksgiving, at our house, or at others, with lots of guests, or all by ourselves. One of my favorite memories was a time we were alone, we weren't sad, we reveled in the peacefulness, we lit the fire and kept dinner very simple, stuffed a chicken with my Grandma's Stuffing, and roasted it with carrots and onions, made gravy, and served it with mashed potatoes and cranberry sauce while Little Women played on the TV for background noise. We had hot apple crisp with vanilla ice cream in tiny casseroles for dessert and read in front of the fire until bedtime. 
Here we are last year. Love Joe's tie.
Speaking of manners, the other day I found this little blurb about manners-free Black Friday. I might not have written this quite as harshly but I couldn't agree more with his message:

Black Friday has apparently been around for a long time, they even (irritatingly) give it the hallowed name of "tradition" as we are pounded with ads and commercials . . .  although it really didn't start sinking into my consciousness until around fifteen years ago, and when it did, I thought, really? The day after
Thanksgiving? 🎃 When we are all full of gratitude and contentment and feeling blessed by all that we have? They want us to drag all our relatives and our children, the day after Thanksgiving, to a seriously soul-less place like Best Buy or Walmart to celebrate consumerism? Way too much "modern times" for me. I hope I'm not offending anyone. Because if you have managed to find heart in this event, then, that's what you should do! To me, it's a whole different thing to take everyone shopping on a small-town street, outdoors, where there are bell-ringers, pine wreaths, and lights, everyone enjoying life in the slow lane ~ supporting the small businesses that give our towns character, buying wreaths from your local Girl's and Boy's Club, smiling at strangers, having lunch in a too-warm restaurant, piling colorful scarves and mittens on the chair next to you, eating a warm cider donut, and licking crunchy sugar off your fingers. All that gentleness seems to me to be what the holidays are about. So, if you feel that way too, let's turn Black Friday Green! GREEN FRIDAY!
I LOVE it already!
Work off Thanksgiving calories, on Green Friday take the whole family for a walk, hug a tree. Remember the first Thanksgiving was held in the woods. It's the organic place to be. And so green.
When you come back, make tea. Green tea.
Fix a healthy green salad . . . play MUSICA or watch an old movie (nap with kitty is perfect for this moment) . . .
If you live in snow country, see if you can find someone to take you for a sleigh ride!
Bring turkey sandwiches, a blanket, and thermos of hot cider.
No snow? Maybe everyone would like to go outside and help you plant bulbs, so you'll have a surprise in the spring. Or do it for the lady down the street. Or, make
. . . and hot chocolate, let everyone help, toast them in the fireplace. Or, none of the above, these are just ideas, for something that honors ourselves, our families, our neighbors, and our world. And check HERE to see what you might do to help victims of the devastating California fires who've lost EVERYTHING just two weeks before Thanksgiving. Their homes and animals, so many have died, and our hero firefighters who've lost their own homes while trying to trying to save others. We can't fix this nightmare, but we can help. We can let them know the nation is behind them. Be sure to do this in front of your children and grandchildren, let them help and know who you are and why you do the things you do. If you're a teacher, have your class write letters to another school in the affected area. Pages of crayon hearts in every color would be perfect.
The night of our very first Green Friday will be extra special because we'll be watched over by the full Frost Moon.  Make a wish for your family, and say a prayer for the world. MUSICA
So, just to remind you how small this world is . . . you remember in the last post when I wrote about finding a box full of my Grandma's things and especially, her high school
diploma from Central High in Sioux City, Iowa in 1927? WELL! I opened up my email a couple of days later and found a note from one of our Girlfriends, Linda Wilson, who was writing to tell me that her dad graduated from the same school as my grandma the year before she did, in 1926! Linda had her dad's year book, which I had never seen . . . and she sent me a picture of my Grandma's class . . . and there she is, second row, far right, eighteen years old, my Grandma, Florence Orr, in high school. A photo I've never seen before. Another piece of the puzzle. Thank you Linda, for thinking of me! So very kind of you! 
And here we are, finally, you patient people! Ready for our drawing for the first chapter of ENCHANTED? Me too . . . and Vanna has already come and gone! She, of course, has a LUNCH date at the Yacht Club, and sashayed out of here, dressed to the nines, all in pink with a pink fluffy shrug jacket and short leopard boots, completely inappropriate (I love her but she is a nut!) on this cold fall day, her silver-pink fingernails flashing, diamonds sparkling on her pinky, as she handed me five names, the five winning names! So HERE WE GO! Ooops, some aren't showing last names, so I'll give hints as to who everyone is! Here we go!
 Mary Lou Shipman, who recently got a new fridge 👏
Linda Freymark, who lives in Idaho 👏
Gert, from Iowa! 👏
Samantha D., who will honeymoon in the UK next year 👏
Hyacinth Sarah, from Texas 👏
C  O  N  G  R  A  T U  L  A  T  I  O  N  S !!!!!!
Soon all five of you will find an email in your box . . . write me back and give me your address and your little book will go right off to you!
And for the rest of you . . . Cake! But, I'm sorry,  you have to make it yourself! Throw some flour around and count your blessings, it's good for what ails you. And please, try not to drink the sauce.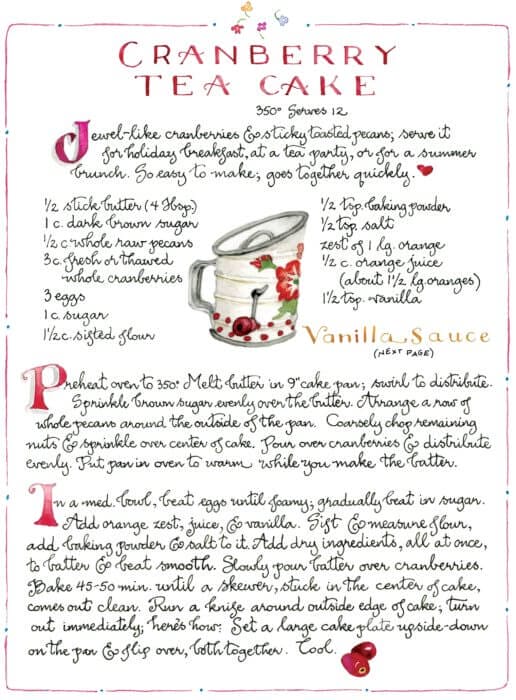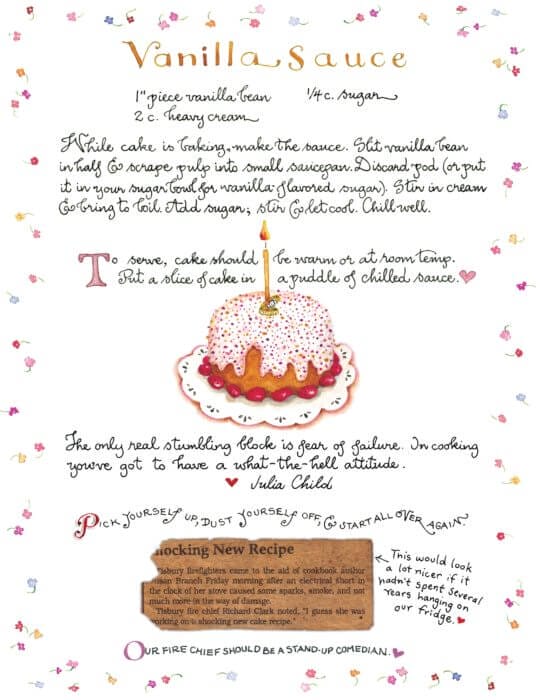 Hope you LOVE it. One other bit o' biz … WordPress, who hosts this blog, seems to have changed their format. It no longer says "waiting for moderation" when you post a comment. Your comment just disappears and it looks like maybe it didn't go. But it does go. I wish they would let you know, but I have zero power over them! I didn't even know they'd changed it until these last couple of weeks. So sorry for mixups! But at least your comments are going through!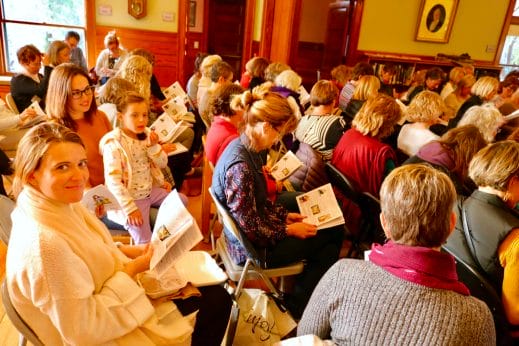 I have lots more to tell you ~ but it's time for our walk! We haven't gone yet, wanted to get this up first! Just a quick note . . . it was a luv-lee book-talk across the water in West Falmouth last Saturday ~ met so many wonderful girlfriends . . . moms and dads, grandmas and grandpas, sisters, aunties, best friends, and kids too . . . loved reading to and meeting everyone. As the librarian said, "The nicest people come to your book signings." And that's the truth! They do!
All the money raised from the tickets went to support the Library, so thank all of you who were able to come! Another bit of interesting info: I think Mandy, at Castle Cottage, might be putting together another tour of the Lake District next fall 2019. I will be so jealous of whoever goes because I will be here finishing up the new book. But if you are interested in joining Mandy on the best tour ever, you can contact her at MandyMarshall2012@gmail.com. And, I still need to tell you about the movie! But that will have to wait for next installment!  Happy getting ready for Thanksgiving everyone! Keep in touch! XOXO